MIT OpenCourseWare has released an online training course entitled Poker Theory and Analytics and it's as free as the smog filled air that you breath. 
I would rather take the umbrella test for venereal disease than attend math class. That's how much I hated it. But if I deploy the classic "Can-If" constraint-removing technique to this issue that I can learn math.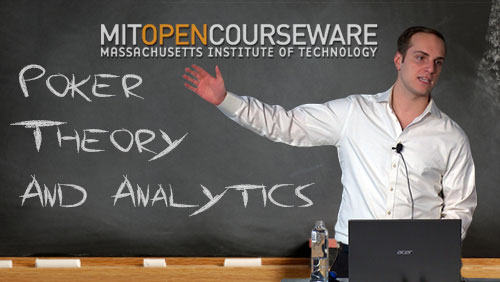 "I CAN learn math IF the lessons are fun."
So how do we make math fun?
How about using poker as a methodology and teach it in schools?
I've been a big advocate of this approach ever since I learned about the mathematical side of the game. Introduce game theory at the comprehensive/high school level and watch the level of interest rise.
So it's good news to hear that at least one school had cottoned on to the benefits of some poker training. A very good school in fact. You may have heard of it? It's called the Massachusetts Institute of Technology (MIT).
Late last year, Kevin Desmond, a former online MTT grinder and Master Finance student in the class of 2015, decided to teach a course on Poker Theory and Analytics to 150 students because he believes: 'coming into a career in finance already understanding risk management on a personal level is critical.'
The course consisted of the following eight lectures:
1. Introduction
2. Analytical Techniques
3. Basic Strategy
4. Preflop Analysis
5. Tournaments
6. Poker Economics
7. Game Theory
8. Decision Making
Whilst Desmond conveyed that the course was created to teach people the way that he approaches the game, he did get a little help from a lot of friends.
PokerStars got involved and the MIT course students played their online tournaments in their Play Money Home Game mode. PokerTracker donated 150 licenses to the group, and Joel Fried was invited to create a demonstration on how the analytics would work, and poker players and brainy geniuses Matt Hawrilenko and Bill Chen took a few of the lectures.
As real money online poker is outlawed in the state of Massachusetts real money online poker is not available. So to ensure the students got the real money feel sponsors Akuna Capital and Optiver were brought in to supply gifts such as PlayStation 4s, iPads, Kindle Fires, GoPro Cameras, Apple TVs, Beats Headphones, Bose Speakers and gift vouchers. Students also participated in both online and live tournaments as part of their study.
It's all ended.
The snazzy equipment is all gone.
The reason I am banging on about it post-event is because the course is currently available for free over at MIT OpenCourseWare. So head over, check it out and let us know your thoughts.
Comments