Spaniard Samuel Bernabeu has won the $5,000 re-entry $2m Guaranteed event at the Venetian Deepstack Extravaganza III, after beating Doug Lee in heads-up action, on his way to his half a million dollar first prize.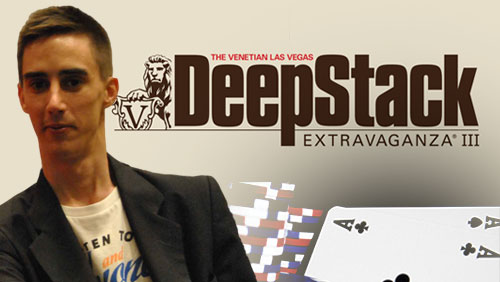 Samuel Bernabeu has won the last big buy-in event of the Venetian Deepstack Extravaganza III after the silky Spaniard walked away with the top prize of $513,017 in their $5,000 re-entry $2m Guaranteed event.
It was the second largest cash prize of Bernabeu's live tournament career, and it came at a time when his Hendon Mob live earnings graph line had started to flatline.
In 2013, Bernabeu capitalized on an impressive run of form with a fifth place finish in the $10m Guaranteed Seminole Hard Rock Poker Open. He earned $494,490 for that win and it's a good job that he did. For the next two years he either took some time off, had a run of luck akin to an anaphalactic beekeeper, or was stood minding his own business when some creepy aliens were doing their crop circle business and decided to erase his memory.
He slid to a Global Poker Index (GPI) country ranking of #48, a worldwide ranking in the plus 7,000's, and suffered an appalling WSOP with just one minor cash to his name.
How quickly things can change in poker.
It was his third cash of the Venetian Deepstack Extravaganza and his biggest yet. The event attracted 547 entrants, created a prize pool of over $2.5m therefore crushing the guarantee.
Unfortunately, the tournament will be remembered for all the wrong reasons as it was the event that Ben Warrington was found guilty of overselling action to his investors. I interviewed Ben earlier this week, and the details of that incident will be revealed for all in due course.
Here are the final table results.
Final Table Results
1st. Samuel Bernabeu – $537,107
2nd. Doug Lee – $329,882
3rd. Hans Winzeler – $240,379
4th. Scott Efron – $179,006
5th. David Nicholson – $135,533
6th. David Patterson II – $102,289
7th. Javier Zarco – $79,274
8th. Mark Newhouse – $61,373
9th. Senouio Ramirez – $48,587
10th David 'Doc' Sands – $38,358
Other notables that cashed included Roberto Romanello (11th), Marvin Rettenmaier (24th), Galen Hall (50th) and Bryn Kenney (63rd).