With post World Series of Poker sensational news stories harder to find than a talking potato I turn poacher and plagiarize the hell out of a Matt Savage Facebook post on excellent tournament structures and why I think it's all connected to sex.
A lot of my friends believe I know a thing or two about poker. Maybe that's because I've played a few World Series of Poker (WSOP) events, talk a lot about the game, or write about it for a living?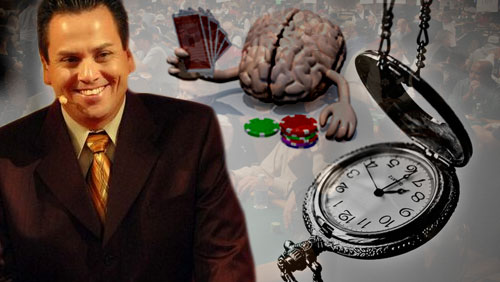 Who knows?
They ask me a lot of questions:
"How do you calculate pot odds?"
"What does leveling mean?"
"How does anybody ever win over the long run?"
"Is this tournament worth playing?"
I never have an answer.
Take the last one for example. I don't have a clue what a good tournament structure is. I have never given it a single moment's thought.
I play the WSOP Monster Stack because I get a ton of chips. I play the WSOP Millionaire Maker because there are a ton of people in it and if I get lucky I can win a million. I played the WSOP Colossus because it was the cheapest WSOP event ever held. I played the WSOP Extended Levels event because I had more time to play. I played the WSOP Draftkings 50/50 event because I was sure I would cash. I play the Sunday night £45 buy-in in the Grosvenor in Cardiff because it's down the road and my mates play. I never play the 3x Turbo events on PokerStars because I always end up spending 10x more money to qualify for the event I am trying to satellite into and end up with a taste of rotten chicken in my mouth.
To summarize:
I want a tournament structure with a ton of chips, a huge prize pool, a cheap buy-in, long levels, a better chance of getting into the money, and I want the venue to be close to my house, I want to know someone else playing, and I want to know exactly what I am paying for when I begin and to be assured that doesn't change when the tournament ends.
Apart from that I don't have a clue what a good structure is. I pay and I play, because first and foremost I enjoy a game of poker, and I find it's my own idiocy and the fact that I want to coat myself in tar and light a match when the deck turns against me that destroys that vision – not the structure. But I don't do this thing for a living.
One man who does know a thing or two about tournament structures is Matt Savage. The great man recently polled his Twitter and Facebook followers to ask for their opinions when it comes to defining an excellent tournament structure. This is what he wrote after listening to his legions.
Whilst acknowledging that there were various components that made up an excellent poker structure, he thought that four were integral. Here they are in order of least importance.
4. Chips
3. Player ability
2. Levels
1. Time
Chips
"Chips are the least important component for a good structure. I do agree at least 100 big blinds is mandatory to start for maneuverability and so you can lose a couple hands and still come back but I can run a tournament with 100 in chips that will last 4 days and a tournament with 1,000,000 in chips last 4 hours." – Matt Savage
My Uneducated View
I'm not the only recreational poker player not hanging upside down like a bat with eyes focused squarely on tournament structures. Buried in my sub conscious is a mental note that having more chips improves my chances of winning. So although I bow down to Matt's knowledge on this, I still wonder if hosting tournaments with more chips is advantageous because it attracts one dimensional tournament structure thinkers like myself i.e. recreational players?
Player Ability
"This is both a tough one to argue but also a tough one to explain. Most amateurs believe that more chips, time, and levels are what they want but I truly believe all of those things actually favor the pros so why would the casual player want that? The faster the structure the more variance there is and it actually favors the amateur." – Matt Savage.
My Uneducated View
This one really got my cogs whirring.
The 46th Annual WSOP was a defining moment for me. I learned more about the game, talked more strategy with the very best and played more WSOP events. Suddenly, the difference between tough tables and easy tables was like playing spin the bottle with a thirsty vampire or a bunch of ugly looking blokes.
So why isn't this my first thought every time I play in an event?
I think it an ego based problem and as we all know ego and logic should never be allowed to share the same bed.
Take sex for an example.
In general men know fuck all about sex. And even when they pick up wonderful pieces of advice we still ignore it. It's not until we are burrowing away like a cocaine induced jack hammer that we remember that they probably aren't feeling much down there, but what the fuck, it's like a quiz show – I've started so I'll finish.
Then we feel the need to come. We get frightened. We try to slow down. We can't. We know we need to last longer. We have read it takes them longer. We need to stop. We need to last longer. We…we…bollocks…it's time for that awkward moment before you open your kindle and start reading again.
I think the same is true in poker.
Whilst a much faster structure would allow the weaker players to get involved in flips with advanced players, and therefore even out the skill gap, they would prefer to keep out of that predicament and last longer.
"How did you do mate?"
"I lasted until the last level of the day."
"Unlucky mate."
Versus
"How did you do mate?"
"I was out in the first level."
"Dick"
So I thank Matt for this one. I am done trying to be the irresistible yellow lover. I am going to be what I have always been. A VHS video syndrome addict.
Slam it in.
Fast forward.
Eject.
It's faster structure against better players, and slower structures against weaker players. So I guess that means nothing but faster structures.
Matt received a few more replies to his great piece.
Here was the best one from Matt Salsberg.
"Here are the real problems with too few starting chips. It's impossible to stack your chips in columns of 20 since you don't have enough. And shuffling them is VERY annoying because you have to use your whole stack".
He's always thinking out of the box that one.
If you want to read more about Matt's views on tournament structures then click this link.
In the meantime, what's your view?
What makes an excellent tournament structure for you?
Comments