Lee Davy chucks a green juice down his throat whilst bringing you news from the 33rd day of the 46th Annual World Series of Poker: including a bracelet win for Kevin MacPhee, Jacqueline Scott becomes the second female winner of the series, and Daniel Colman is on familiar ground in the One Drop.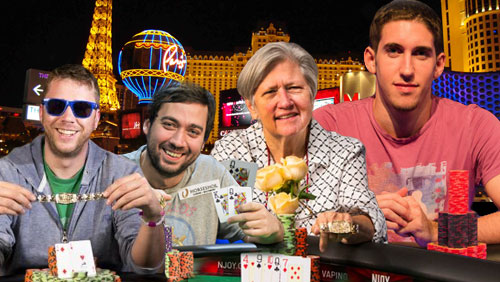 Kevin MacPhee is one hell of a poker player.
He has won titles all over the world, amassed over $4.1m in live tournament earnings and close to $7m playing online; but he badly wanted a World Series of Poker (WSOP) bracelet. He came close a few weeks ago, finishing fourth in a $1,500 No-Limit Hold'em event, and now he finally has one.
MacPhee topped a field of 454 players in Event #56: $5,000 Turbo No-Limit Hold'em. It was a new event, it created a total prize pool of $2.1m, and the 34-year old from Idaho walked away with $490,800 after beating Igor Yaroshevskyy in heads-up action.
"I'm pretty used to this format. I play a lot of Turbo's online, so for me it's a pretty good event," MacPhee told the WSOP after his win.
MacPhee's game is going from strength to strength. In 2014, he finished the year with close to $900,000 in live tournament earnings, and he is already fast approaching that mark with half of the year to go.
Yaroshevskyy was no stranger to Turbo events himself. In the summer he won a €10,200 six-handed version of this event at the European Poker Tour (EPT) Grand Final in Monte Carlo for €218,300. He also placed fourth in the World Poker Tour (WPT) LA Poker Classic Main Event in February.
Final Table Results
1st. Kevin MacPhee – $490,800
2nd. Igor Yaroshevskyy – $303,767
3rd. Pascal Theodosiadis – $201,878
4th. Eric Sfez – $149,814
5th. Scott Vener – $112,429
6th. Tristan Wade – $85,202
7th. Hung Tran – $65,144
8th. Joshua Field – $50,208
9th. Martin Kozlov – $38,984
Other notables to cash were David Benefield (12th), Shannon Shorr (17th) and Lee Markholt (18th).
Justin Liberto Wins Event #51: $3,000 No-Limit Hold'em 6-Handed
I played with Justin Liberto in the Millionaire Maker. He came to my table and run it ragged. You could tell that he was something special, and he has proved it by winning Event #51: $3,000 No-Limit Hold'em 6-Handed.
It was his sixth WSOP cash, and his second final table, after winning over $400,000 finishing fourth in the Millionaire Maker two years ago. He topped a field of over 1,043 players, a 29% increase in field size year-on-year, and his bracelet will look nice alongside his two WSOPC gold rings.
Final Table Results
1st. Justin Liberto – $640,711
2nd. Seamus Cahill – $395,986
3rd. Kiryl Radzivonau – $251,168
4th. Alexander Debus – $164,863
5th. Cornel Cimpan – $111,475
6th. Ben Heath – $77,591
Other notables that cashed include Hugo Pingray (11th), Stephen Chidwick (13th) and Jason Les (15th).
Jacquelyn Scott Wins the Ladies Poker Championships
Jacquelyn Scott becomes the second female to win a bracelet at the 46th Annual WSOP, after topping a field of 795 entrants in the Ladies Championship.
The 66-year old realtor, from Florida, was the first person to ever sell a defibrillator in the US, when she worked as a medical sales representative, so she knows how to pump things up.
It was her first ever cash, and her heads-up match against Hope Williams was a cakewalk after she started with a 4:1 chip lead. Lacey Jones, Ebony Kenney and Marsha Wolek all cashed in the event.
Final Table Results
1st. Jacqueline Scott – $153,876
2nd. Hope Williams – $95,039
3rd. Amanda Sizemore – $61,268
4th. Li Fu – $44,883
5th. Parm Mehmi – $33,363
6th. Lika Gerasimova – $25,135
7th. Stacie Boehm – $19,168
8th. Stephanie Ampelikiotis – $14,789
9th. Sandie Morse – $11,533
Alexander Petersen Denies Jason Mercier His 2nd Bracelet of the summer in the $10,000 Pot-Limit Omaha Championship
Poker is a funny old game.
The final table of the $10,000 Pot-Limit Omaha Championships was littered with star names. Alexander Petersen wasn't one of them, and yet he has probably played more PLO hands than anyone else with a bum on a seat.
The 31-year old pro from Denmark has been playing poker for a decade, and online PLO cash games for the past seven years, and he prevented Jason Mercier from winning his second bracelet of the series, after overcoming a Heads Up deficit to win his first gold bracelet.
Remarkably, this was Petersen's first WSOP cash. But when you consider that he has to 55% tax you can perhaps understand why he prefers to lounge around the pool area when in town.
The final table contained no less that four previous WSOP bracelet winners: Hasan Habib, Shaun Deeb, Davidi Kitai, and the aforementioned Mercier. WPT Live Stream commentator, Simon Trumper, also made the final table after winning a satellite the previous day. He took home close to $300,000 for a fourth place finish.
Final Table
1ST.Alexander Petersen – $927,655
2nd. Jason Mercier – $572,989
3rd. Dan Smith – $369, 564
4th. Simon Trumper – $267,778
5th. Mohsin Virani – $196,877
6th. Sven Reichardt – $146,857
7th. Davidi Kitai – $111,134
8th. Shaun Deeb – $85,306
9th. Hasan Habib – $66,426
Other notable finishers included Brian Roberts finishing 11th, Sam Chartier 13th and Patrick Leonard 14th.
Ping Liu Leads Day 2 of Event #55: $1,500 Draftkings 50/50 No-Limit Hold'em
1,123 players entered the first incarnation of the 50/50 concept. It was also the first event to ever be sponsored by a third party. 562 players received a $1,000 kick back, and at the time of writing Ping Liu holds the chip lead with Mukul Pahuja and Matt Affleck looking dangerous.
Top Five Chip Counts
1st. Ping Liu – 894,000
2nd. Mukul Pahuja 637,000
3rd. Tanya Kirk – 545,000
4th. Matt Affleck – 504,000
5th. Tom Braband – 503,000
Richard Bruning Leads Event #57: $1,000 No-Limit Hold'em
Event #57 $1,000 No-Limit Hold'em experienced a 43% increase in field size year-on-year. 2,412 took to the felt and there are 278 left at the end of Day 1. Richard Bruning holding the chip lead with a smidgen under 200k.
Top Five Chip Counts
1st. Richard Bruning – 191,500
2nd. Jonas Lauck – 163,800
3rd. Melvin Wiener – 163,000
4th. Todor Kondevski – 160,600
5th. Jeffrey Tanouye – 138,000
Other players with chips include David Randall (113,100), Calvin Anderson (102,000), and Justin Zaki (89,500).
Dan Colman Leads the One-Drop High Roller
The $111,111 One Drop High Roller attracted 135 entrants, and 26 remain at the time of writing. That's a 19% drop in field size the year Anthony Gregg got his hands on the $4.8m first prize.
Despite the smaller field there were a few people making the leap to the $100,000 buy-in level, most notably a trio from England: Simon Deadman, Craig McCorkell and Charles Carrel. Neither of them have lasted this far, with the only British presence in the field belonging to Talal Shakerchi.
Last years, controversial One Drop winner, Dan Colman, is leading the way, and Phil Hellmuth is hanging on to his coat tails. Brian Hastings, is also in the field. The American has been the subject of much controversy of late, and is searching for this third bracelet of the summer.
The winner will receive $3.9m and change.
Top Five Chip Counts
1st. Daniel Colman – 1,955,000
2nd. Sorel Mizzi – 1,935,000
3rd. Andrew Lichtenberger – 1,770,000
4th. Sergey Lebedev – 1,590,000
5th. Andrew Robl – 1,585,000