Lee Davy sits down with Poker Night in America star Samantha Abernathy to talk about the forces that dragged her to Europe, her hobbies outside of poker, and her plans for the future.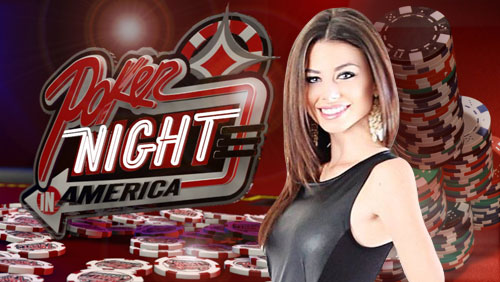 Irrespective of how long I spend in this industry, my stereotypical image of a poker player is still a dirty, greasy, slimeball chewing someone else's toothpick.
It's not Samantha Abernathy.
And yet there she is, sitting behind three towers of chips desperate to topple. They are so high, her opponent's can't see her, but they are getting very irritated by the constant pounding of her raises. They know she is there. She seems to play every pot, and she is winning more than she loses.
This is Amsterdam. A city where you could argue the female form is not overly respected. I doubt every woman in that window is there by choice. Abernathy is here by choice. Her chips gain her respect.
It was the first time that I had met Abernathy, and I wanted to know more about her. This is what she had to say.
Tell the readers a little bit about yourself.
"I live in Vegas, and the only WPT I have played overseas is in Prague. This is my first time in Amsterdam. I spent three weeks in Monaco playing at the EPT. Once I am done here I will head to Vegas for the series."
How has your time been in Europe?
"It's been awesome but in Monte Carlo, I racked up the most consecutive bad beats I have ever had in a row. In the Main Event I got it in three-way all-in pre flop. I had aces, and both my opponents had pocket kings. The board ran out QT4AJ. It would have been a 160k pot at Level 4. This trip is a good chance for redemption."
You seem to be a very aggressive player. Is that natural?
"I was a gymnast most of my life. Aside from the physical pain tolerance there is also a very emotional side of the sport. That translates well into poker. Even though it's a mind game, somehow what I learned through gymnastics really helps me as a poker player. "
Have you always been very competitive?
"Yes I have, even if money wasn't involved, and we were just playing for apples. I would want all of those apples."
There is a very creative side to your personality, tell me about it.
"It's another side of me for sure. After college, I moved to Chicago and started working full time at a digital agency doing apps, games, and software. When I started playing poker I decided to quit my job so I could freelance, and play poker in my spare time. I don't ever want to give it up. It's too important to me.
"Poker isn't an outlet for me to express myself creatively. So if I feel out of balance I often create something: whether it's a dorkey video of me rapping a song, or a painting, drawing, or an app. It depends on the day and how I feel."
Where do you draw your inspiration?
'Music and dance inspires me. The two go hand in hand. People who have genius, and are a little bit crazy, also inspire me. As do people who are unique."
Do you have any fears?"
"Today is my birthday and my Mum posted a picture of me as a baby on Facebook commenting that I have always been fearless. I don't struggle with any fears on the surface."
Are you a family person?
"Yes, I am. I miss them when I travel. I am really close to my family. I wasn't planning on coming here. I was peer pressured at the last minute. But I'm glad I'm here for my birthday. It's a great place."
Who are you traveling with?
"I'm here with Anthony Zinno, Jason Mercier, and Natasha Barbour. We all spent time together in Monaco. I wasn't even going to travel to Monaco. I played Poker Night in America: Ladies Night. I became friends with Natasha, she rode with me to Borgata, and they told me to come along – here I am."
From a table full of females to a table full of males, which do you prefer and why?
"I prefer to play with females. They are more fun, but also a lot softer. Most of us bought in for $5k and I picked up $18k. I don't think I will ever find another $25/50 game that soft. It was also a different dynamic I felt comfortable socially. At a table full of men I don't speak that much. I have headphones on, but I'm not listening to music. I use it as a barrier most of the time."
Is your creativity going to see you end up on a TV screen one day?
"I hope so. When I was in college I was on the other side of TV and film: in the art department. I have always appreciated production and photography, so I would love to feature in that way, hopefully through poker."
Samantha Abernathy didn't win all of the apples in Amsterdam. She busted Day 2, Level 11, after her set of sixes was ousted by a flush. I guess her moment of redemption will have to wait until Vegas.