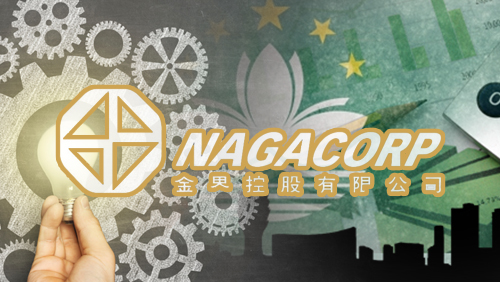 As Macau continues its entirely government-induced freefall, the broader Chinese stock market is breaking through highs not seen since 2008. All this while macro data in China comes in bleaker and bleaker, the latest being the HSBC Manufacturing PMI coming in at contraction levels, the lowest in a year and more ominously, the fastest drop in a year. Yet Chinese stocks, except Macau, keep going higher in a sort of twisted loop, as every bad data point adds to the assumption that the People's Bank of China will print more money if the economy slows down too quickly. Bad news is good news, for now.
At some point soon this will break. And while searching for Macau alternatives is certainly not a bad idea, investors have to be prepared for turmoil in capital markets everywhere when the broader Shanghai index begins to fall. So yes, there are alternatives in Macau's backyard that are slowly feeding off the artificial government-induced Macau drop, but they too will be affected, at least temporarily, by conditions in the People's Republic.
Cambodia's NagaCorp is slowly growing its VIP segment, quite nicely in fact, with fundamentals improving largely due to the Macau situation. But if you're looking for quick sustained gains, Cambodia is not the best choice. An investment in NagaCorp should only be taken with 2020 in mind, scaled in slowly on down days. Try to get a good price and buy the dips. Don't go chasing.
While NagaCorp's numbers are good, certainly stellar compared to Macau's, the environment is nevertheless not ideal. It has very little to do with Cambodia itself. NagaWorld is actually closed to native Cambodians and open only to foreigners. Strange business model perhaps, but it insulates the casino from fluctuations within the native economy almost entirely.  And it's not even the monetary environment in Cambodia, since NagaCorp's business is mostly disconnected from the actions of Cambodia's central bank. Expenditures and income are mostly in US Dollars with a bit of Rubles on the side.
First the good side of NagaCorp. The 2014 numbers are positive. Mass market floor games revenue is up 21% and VIP gaming revenue 41%. The only negative in the numbers is that electronic gaming revenues went down 17%, but other increases more than made up for that. A sign that NagaCorp is soaking up at least a small part of Macau's VIP market is that the mass market to VIP ratio is now 48% to 47%, Last year it was 55% to 39%. While you don't want to become too reliant on the junkets (look at Macau), NagaCorp may as well woo the junkets while they're being kicked out of China. Somebody's got to take them anyway.
The other major positive for NagaCorp is its dividend, which is a very high 70% of income. These managers are intent on making their shareholders happy and it shows. NagaCorp has no debt. It has no interest rate risk. Its expansion in Cambodia into a second casino across from NagaWorld is set to open up in 2016, with another part of it opening in 2017, and its all-important expansion into Russia is due for 2018. The next three years then should really see NagaCorp grow.
Now for the less good side. I won't say "bad" side, but it's something that should be a cause for concern. NagaCorp's business is supported by a good old-fashioned monopoly in the true sense of the term. While there is no such thing as a natural monopoly, there is absolutely such a thing as a government-enforced monopoly. Usually these things are seen as positives by investors, but I take a different view. Governments are frivolous things, as are the politicians that comprise them. The Cambodian government has given NagaCorp an exclusive monopoly over the city of Phnom Penh over a 200 kilometer radius until 2035. No other company can legally operate there. Legally-enforced monopolies tend to have a couch potato effect on the companies that benefit from them. Since no competition is allowed, prices of course rise. Standards are relaxed, customer service is less important, and whenever competition does arise somewhere, a company that has been enjoying a monopoly generally does not know how to handle such a newfangled thing.
So if, for whatever reason, the Cambodian government decides to one day relinquish its mafia protection over its gambling agent, NagaCorp will have to start fending for itself. Aside from that possibility, its acclimation to a monopoly environment has the possibility of getting in the way of its Russian venture, as it will not enjoy a monopoly there come 2018. They'll have to compete, something they are not used to doing.
Overall, NagaCorp is a good pick for a small position as a long term investment, say a 5 year hold. You'll get high dividends, possibly a nice chunk of capital growth, but positions need to be slowly scaled in on dips. Volatility over the next year is highly likely given what is going on in the broader Chinese stock market, which is bubbling over fairly bad news in some kind of "bad news is good news" twisted feedback loop. That divergence will not last, and it will bring down neighboring markets, NagaCorp included.
But if you scale in on down days you can aim for a breakeven year in terms of capital growth, earn the high dividends for some income, after which NagaCorp should grow nicely from 2016 through 2020 as it absorbs more of the Macau junket market and expands. Just keep an eye on the monopoly issue, which shouldn't become a problem in the foreseeable future, but is something to keep an eye on.
Comments