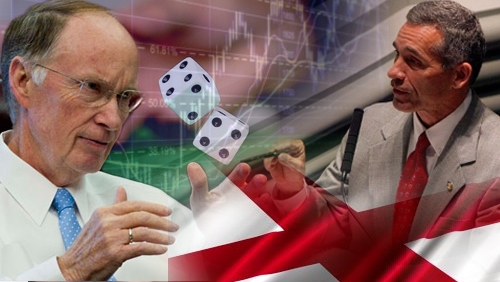 Alabama state Senate President Pro Tem Del Marsh is set to introduce a bill that could pave the way for a lottery and table gaming but Gov. Robert Bentley said gambling revenue won't solve the budget problems.
Marsh is drafting the bill, citing the results of the study of Auburn University in Montgomery that showed implementing a lottery would create $400 million in new revenue for the General Fund and add 11,000 new jobs for a total $1.2 billion impact.
Marsh said a few members were adamantly opposed to legalize gambling but most senators agreed that the idea needs to be considered.
However, Gov. Bentley, who visited the State House to talk to lawmakers about his tax proposals, said the state "cannot be dependent on gambling for the 2016 budgets or for future budgets."
"I have presented what I think is a $541 million fair tax package that I believe is needed to solve the problems of the state," Bentley said. "I believe that the package that I have proposed, which is fair, which does not include gambling for the state of Alabama, I believe that is the best package."
The governor proposed raising taxes on tobacco, cars and car rentals plus eliminating some credits and exemptions to end the state's budget crisis.
When Bentley was asked if he plans to negotiate a gaming compact with the Poarch Band of Creek Indians, who operate electronic bingo casinos in Atmore, Wetumpka and Montgomery, he would only confirm that there has been contact between the tribe and his office.
"I personally have not contacted anyone and I personally have not talked to them," Bentley said. "That has always been something that has been considered. But that cannot be the solution to this."
"The solution is to have $541 million," Bentley added.
Sen. Marsh says is expected to introduce his gambling bill on Thursday.