SafeCharge to provide personalized checkout, RISK management and Mobile payments solutions to games development giant Netmarble Games Corporation
SafeCharge (AIM: SCH), a leader in advanced payment technologies, today announces that it has been selected by Netmarble Games Corporation, to provide payment solutions for its online games including Hounds: The Last Hope. Netmarble is consistently ranked as a top developer and publisher in Asia, and globally, having released more than 160 games.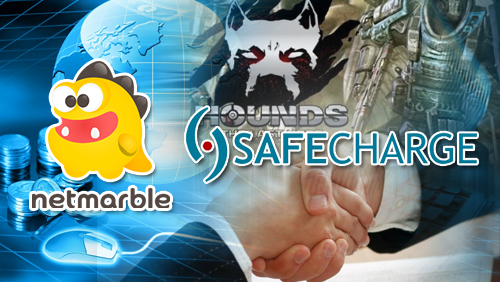 SafeCharge's award-winning checkout page and back-office was selected for its ability to be customized by incorporating unique design requirements. This flexibility includes several unique localization capabilities including the enablement of multiple Alternative Payment Methods (APMs) along with the dynamic pricing per each, local currency support and applicable translations.
A few highlights of the innovative Cashier solution tailored for Netmarble EMEA:
By identifying an end-user's exact geo-location, the checkout page intelligently offers customised options such as language, currency and previously used payment method(s);
Checkout page's user-friendly interface stores information for future payment activities with one click, thus increasing payment conversion from returning users;
In the case of a transaction failure, the checkout page Conversion Recovery mechanism prevents walk-aways by offering different payment/currency options better suited to the End User.
Checkout page automatically decides whether to route End Users via 3D secure processing via its smart rule algorithm plus a number of transaction parameters such as location, BIN, amount, etc. The unique 3D interface add-on minimises abandonments.
All payment page features are fully compatible and responsive across all mobile devices.
Netmarble has also implemented SafeCharge's proprietary Risk Management Solution which provides sophisticated fraud prevention measurement to apply agile risk strategies to counter new threats in certain countries.
Players on the move will utilise SafeCharge's device agnostic checkout solution for both mobile and web based platforms. SafeCharge also provides a native In-App SDK option.
"We're very pleased to be delivering payment services to such a respected player in the Asian and global video gaming marketplace," comments Yuval Ziv, COO, SafeCharge. "With Netmarble's latest expansion into Europe, we are fully equipped to support Netmarble's players with a secured, optimized end-to-end payments journey."
Barış Özistek; CEO, Netmarble EMEA says: "SafeCharge has given us the ability to provide a unique checkout solution to players of our various games. Our recently launched online game, Hounds: The Last Hope, will be using SafeCharge's customized checkout page and we look forward to benefit from its increased conversions and solid risk management solutions."
Further information about Hounds: The Last Hope is available at the link below:
o    http://www.houndsonline.com/en/
To view a trailer of the game: https://www.youtube.com/watch?v=Miyonsnr5e8
SafeCharge will be highlighting advanced payment technologies for game developers at Quo Vadis, 21-23 April 2015, in Berlin at Stand 3, Café Moskau. 
For more information:
SafeCharge International Group Limited
David Avgi
Tim Mickley
+44 (0) 20 3051 3031
About SafeCharge
SafeCharge International Group Limited is a global provider of payments services, technologies and risk management solutions for online and mobile businesses. The SafeCharge group has a diversified, blue chip client base and is a trusted payment partner for customers from various e-commerce verticals. SafeCharge has been Payment Card Industry Data Security Standard ("PCI-DSS") Level 1 certified since 2007 and is listed on the London Stock Exchange AIM market (LSE: SCH).  The Company's wholly owned subsidiary, SafeCharge Limited, is an authorized Electronic Money Institution regulated by the Central Bank of Cyprus and a principal member of MasterCard Europe and Visa Europe. The SafeCharge group has operations in the UK, Cyprus, Bulgaria, Israel, Germany, Austria and Ireland. www.safecharge.com
About Netmarble Games Corporation
Netmarble Games Corp. strives to enrich people's lives by providing great games to global audiences. The company rebranded in fall 2014 from CJ E&M Netmarble to Netmarble Games to reflect its new global gaming organization. Based in Seoul, Korea with North American operations in San Francisco through its newly formed division, Netmarble US, Netmarble Games Corp. services Netmarble, the largest game portal in Korea. Netmarble has over 70 PC online games, including Korea's top sports/Baseball game MaguMagu and has produced some of the most successful mobile games such as Seven Knights, Monster Taming, Race Cha-cha-cha, Everyone's Marble, and the Magu Series.  Netmarble Games Corp. has more than 2,500 employees worldwide, numerous studios and consistently ranks as a top developer and publisher in Asia and globally with more than 160 games released. Netmarble Games Corp. has a strategic partnership with Tencent Holdings, Asia's largest internet company, and NCsoft, a prominent MMO company, as company shareholders. More information can be found at www.netmarble.com.