Oscar Alache Orrego has won his second Latin American Poker Tour Main Event, after defeating Renata Teixeira de Paulo, in heads up action, to take the first prize of $131,962.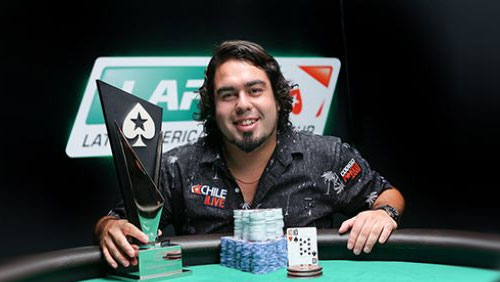 Chilean, Oscar Alache Orrego, became only the third player to win two Latin American Poker Tour (LAPT) Main Event titles, after victory in front of his home crowd at the Casino Enjoy in Vina del Mar. In 2014, he defeated 692 players to capture the first prize of $135,488 in the Peruvian leg of the PokerStars.net sponsored event.
The Chilean didn't have to wade through quite as many players to capture his second crown, but 410 is impressive enough. The buy-in was also a grand higher, leading to a much larger prize pool. PokerStars collected $904,460 and $131,960 now belongs to Alache, after a four way deal.
The other two players who have won two LAPT Main Event titles also ran this one pretty close. Fabian Ortiz cashed in 51st place, and the former PokerStars Team Pro Jose Ignacio Barbero 'Nacho' nearly made history by becoming the only player to win three.
His former sponsor dropped Nacho in the summer, but he keeps banging on these doors. He was part of the four-way deal, picking up over $100,000 before exiting in fourth place for another magnificent showing.
After the four-way deal was cut there was $20,000 left to play for. The dueling banjos were Alache and the Brazilian Renata Teixeira de Paulo, who was aiming to become the first female to win a LAPT Main Event. Six have gotten close; all making final tables, but Teixeira came the closest with her runner-up finish.
This is the second stop of the eighth season and South American players dominated the field. Chile, Argentina and Brazil sent the most numbers, but there were also players from all over Europe and even China, going to show the charm of this tour.
So did Alache take a rest after his big win? Not on your nelly. The Chilean sat down to play in a $200 Pot Limit Omaha (PLO) Side Event and took it down. He is the first player in LAPT history to win a Main Event and Side Event at the same tour stop.
The next event will be held in Panama City in May.
Final Table Results
1. Oscar Alache (Chile) — $131,962*
2. Renata Teixeira (Brazil) — $113,460*
3. Javier Venegas (Argentina) — $86,505*
4. Nacho Barbero (Argentina) — $100,073*
5. Justo Esquivel Lagos (Chile) — $51,460
6. Fabian Chauriye (Chile) — $39,620
7. Rodrigo Quezada (Chile) — $29,480
8. Rodrigo Oliver (Chile) — $21,340
* Indicates a four way deal
Other notables to cash included Ivan Luca (17th), Nicolau Villa-Lobos (18th), Nicolas Fierro (35th) and Fabian Ortiz (51st).