A number of my contacts within the Bitcoin industry have mentioned the importance of big name iGaming operators and suppliers jumping on the Bitcoin bandwagon.  Once this happens, it will be a domino effect, they have said.  Now we're finally started to see the deals come in and I think its only a matter of time before the floodgates start to open and Bitcoin becomes more prominent in the iGaming industry.
CoinGaming.io, "io" being a popular domain extension for innovative companies and start-ups, is a an online gaming platform provider specializing in Bitcoin solutions for the fiat iGaming sector.  Mark McGuinness has over fifteen years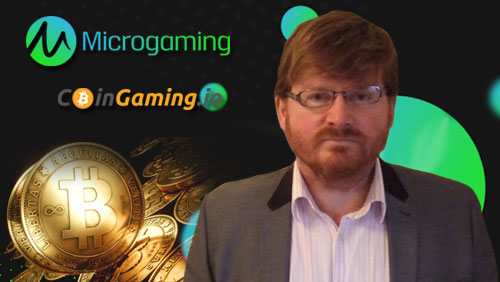 of experience in the digital marketing industry and is currently serving as the Communications Director for Coingaming.io.  I had the opportunity to sit down with Mark and talk with him about what the deal with Microgaming entails, why its so important for the Bitcoin industry and what some of CoinGaming's plans are over the coming months.
Thank you so much for joining me today, Mark.  Lets talk about the Coingaming deal with Microgaming and what it entails.  Can you elaborate?
We are extremely pleased to be the first-ever licensed Bitcoin only, online gaming platform to offer Microgaming Quickfire games.
Microgaming is one of the world's foremost gaming software brands and quite rightly chooses its marketing partners carefully. Our journey took several months of discussion with several stakeholders involved in the process, covering due diligence, updated gaming licence requirements, and a positive outlook towards Bitcoin and the subsequent integration from both the Isle of Man (where Microgaming are headquartered) and Montenegro (where our gaming licence is held).
This successful outcome means, we are now able to offer Quickfire, powered by Microgaming, to operators that use the Coingaming Bitcoin only online casino platform.  With access to over 400 games, which include games like Avalon II, Thunderstruck II, and branded content titles such as; The Dark Knight™, The Dark Knight Rises™ and Playboy™ players now have the opportunity to play some of the best gaming content available.
Early feedback has been amazing; with our first operator www.bitcasino.io being live for over 2 weeks now, reporting positive player engagement and high volume on the Quickfire games.
Great news things are going well and its sounds like the key thing here is the size of the Microgaming brand name- its one of the biggest in iGaming.  Why is this deal important news for the BTC gaming industry?
Microgaming is one of the top gaming content suppliers in the fiat online casino industry having been around since the early nineties.  Therefore to have their seal of approval and acceptance of the Bitcoin Casino gaming sector is a huge and positive reinforcement that Bitcoin is rapidly becoming an online casino player's preferred payment protocol for online gaming.
Due to the rigorous approval process, we have set the bar high for Bitcoin platform enablement and we are in now in talks with a number of other top tier fiat casino operators.  Given Microgaming's positive and authoritative step forward in the BTC gaming space, many more will follow suit – as they realise the potential of Bitcoin as both a payment protocol and gaming unit in the years to come.
Agreed more will follow suit.  Can you explain the benefits of running a Bitcoin-only gambling site vs. running a site using both Bitcoin and fiat currencies?
One of the biggest challenges for an igaming operator is ensuring an efficient and up-to-date array of global and regional payment solutions for players to deposit and withdraw within the gaming platform.  After all gaming's value exchange model is intangible, it's based on a cash exchange between the player and the gaming platform operator. With this cash exchange, processing fees are always a proverbial bone of contention for both the operator of the platform and the customers playing.  Therefore unlike traditional payment methods using credit cards which have various associated transactional fees; transacting with Bitcoin incurs very low or no fee, which is a huge, advantage over traditional payment methods.
Additionally, as most igaming operators have a truly global reach and therefore global customer base which also requires complex localized payment solutions.  This also involves currency exchange and the risk exposure therein provides additional overheads to the gaming operation.  Bitcoin is accepted globally and has no barrier to transactions made around the world since there is no central currency exchange, and thus presents a huge opportunity for any gaming brand to offer Bitcoin as an alternative payment method.
Another significant benefit of Bitcoin acceptance for igaming is the instantaneous deposits and withdrawals.  For example when you pay a cheque from one bank into your bank, the bank invariably holds that money for several days, simply because it can't trust that the funds are truly available. Similarly, international wire transfers can take even longer, however with Bitcoin transactions; it is far faster than the traditional payment methods.
This is particularly important in regard to shaking up the gaming industry, where traditionally, player's winnings have taken huge amounts of time to be paid out; Bitcoin withdrawals take seconds, to anywhere in the world, allowing players to be in instant control of their winnings.
Blockchain technology really is a perfect fit for the iGaming industry, especially when it comes to payments. How are things going with your Bitcoin Poker Network and what are the benefits in comparison to traditional fiat currency networks?
We have specifically decided to keep it recreational – all games are short-handed and fast fold.  The biggest limits we offer are $0.25/0.50 and have no intention at this time of offering anything bigger.
There is no rakeback, and it's simply there as a fun side event for players, with a huge number of freerolls and guaranteed tournaments.  In term of volumes, we are averaging about 200-300 players daily, which whilst small in the scheme of things, we have experienced about 60-70% cross-over into casino – so in our opinion it's working perfectly as a business model.
Good call on a recreational model. J So what's next for CoinGaming?
Keep your eyes peeled as we are very much looking forward to launching our long awaited Sportsbook in the next 2-4 weeks.  It's been many months in development, so we are very excited to finally put it live for our players!  We will have many events for our players around the world to bet on and we're not afraid to take action on any size bet 🙂
Anything else you want to add about Bitcoin and iGaming?
We are already continuing to witness significant financial investment, no matter what the detractors have to say about the BTC space, with the likes of the New York Stock Exchange andfinancial services leader USAA, BBVA, the second largest bank in Spain, and the Japanese DoCoMo into the likes of Coinbase, the bitcoin wallet and trading platform on the technology side.  On the retailing side, more ecommerce and digital behemoths such as PayPal are already accepting Bitcoin; Dell is selling computers for Bitcoin, Virgin Galactic is selling space voyages for Bitcoin and Microsoft has entered the race. It is therefore clear that more and more companies are adopting Bitcoin as a payment method as they understand the internal operational business benefits and the prospect to capture more customers as cryptocurrency usage by consumers becomes more mainstream and acceptable.
Our industry needs innovation and differentiation in order to thrive and stay ahead of your competitors.  It is quite clear that cryptocurrencies such as Bitcoin and the decentralized internet are here to stay, so we envisage more gaming companies both land-based and digital, along with gaming content developers and providers will follow suit and will integrate Bitcoin payment functionality this year.
Exciting times ahead for sure, Mark.  Thank you for your time today and we look forward to hearing more about Bitcoin in 2015.