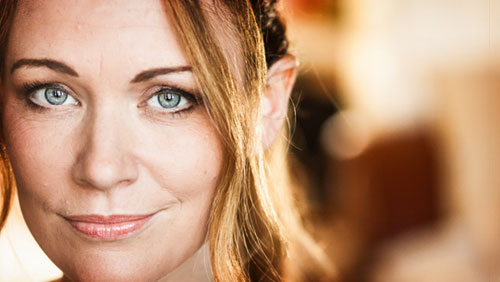 Lee Davy sits down with Michelle Orpe, the new face of partypoker's UK social media, to talk about her new role; juggling the balls of life, and much more.
The closest I have come to viewing a human domino line, was when Michelle Orpe walked into the poker room floor at the European Poker Tour stop in Barcelona several years ago.
As she glided past the tables, the dominos turned their heads. In the two minutes it took her to move gracefully from one end of the room to the other, I don't think there was a single hand played out.
"This is it." I thought.
This is the glamorous side of poker.
A few years later I was having breakfast with her in a hotel in Manchester (not what you are thinking). The heels were off. The slippers were on. She still looked amazing. As we spoke I learned that underneath this voluptuous veneer, was a heart of gold. A true down to earth, tell it as it is, British woman.
Then just like that she vanished. Motherhood came calling. Poker was parked to one side and the industry was poorer for it.
Fortunately, she is back in town. She has a new role with partypoker and I tracked her down to tell us all about it.
Do you remember that event in Barcelona?
"I do. I was wearing a red dress, so that's why I was standing out."
I remember being on level one male thinking mode. I just thought, 'this women is so hot,' then I got to know you and found all of these other incredible layers.
"People judge you. Throughout my whole poker career I have been told that I only got jobs because of the way that I looked; I am not intelligent because I am from Essex, and I am dumb because I am blonde. I have had it all."
The last time we talked you were involved in the wedding industry. Tell me a little bit about that.
"I left poker after I had my little girl. I was editing videos for people. I had a bit of a flare for it. I actually learned quite a lot from the EPT editing team. I did that for a while and concentrated on being a Mum."
I saw you last at the Road to Old Trafford event. You were enjoying motherhood and were helping out partypoker. What's been happening since?
"That was nearly three years ago. I have been concentrating on being a Mum. My husband, my little girl and I went traveling for eight months. We sold our house and spent half of the profit on a trip to Australia."
How old was your daughter when you travelled?
"She was one."
My wife wants to do that when we have kids. I am to scared. Talk me into it.
"It was an amazing time, and she was only one, so she is just happy to be with us. We went on a cruise for our honeymoon, and we did three weeks in a camper van around New Zealand. She fitted snugly into a backpack and we took turns to carry her as we did the walks. We walked for six hours taking turns having her on our back. My sister lives out there, and she took us to Perth, Brisbane, and Sydney. It was amazing. Kids don't hinder you at all."
Is traveling and independence an important value you are going to instill in your children as they grow up?
"When we were discussing whether to stay in Australia or come back home, one of the factors that determined us coming home was having Europe on our doorstep. The amount of culture that can provide for our kids is immeasurable. It's so affordable now. You can get to Rome for £20 on Easyjet these days. We can't pass that opportunity up."
Tell us about your new role
"I thought I had left poker behind. I have done pretty much everything in the business. I started when I was 25, so it's been a decade. I started on Poker Night Live. Kara Scott and Nick Wealthall also started out on there. I then went to Sky Poker, then onto the EPT. In between I did all sorts of things for Matchroom, Poker Million, European Ladies event. More recently I was writing a blog for PokerNews for a bit.
"I am good friends with Rob Yong and Simon Trumper. I always keep in touch with them. My Dad plays at Dusk till Dawn and so I pop down and chat with them occasionally. The guys were telling me about this huge shakeup that may be happening in the UK industry and would I consider coming back to the poker industry to work with them?
"I jumped at the chance to work with them again. Rob is exactly what poker should be. He is all about the grassroots player. These $5k tournaments that most mere mortals cannot afford. He sets them up, but for a $50 buy-in, so the grassroots player can get involved.
"I am a little bit restricted at the moment, being six months pregnant, but I have started as their online social media host and eventually their live events host as well. A little later in the year I will be appearing live, but for the time being I will be online."
So pop out a sprog, jump on the treadmill and get back in front of the camera?
"Well, that's the plan. With Emily I ballooned into this massive hippoproperpig. That took a while to get rid of. To be fair, for the first time in my life I could eat what I wanted. I thought, "I am pregnant and I am going to eat chocolate – so I did."
Cindy Crawford untouched modeling shoot photo went viral. Do you sometimes wish that life could always be like that, and that you didn't have to worry so much about how you look?
"I am not too worried. I have always been quite healthy and fit. I have always taken care of myself. When I got pregnant for the first time. It was the first time since school – where my image was the bane of my life – that I started to worry about it again.
"I very much take after my Dad. People who aren't very close to me in my life – I couldn't really care what they think. This helps in my television career, because you get a lot of it. But after my first pregnancy it took me a while to start thinking about getting my figure back. I put on a lot of weight and it really made me realize how difficult it is to get back into shape. It gave me a little bit of empathy for people I used to moan about.
"It took me a while. Especially because I was not in the public eye and didn't have to. I gave Insanity a go. That was quite intense. I had Emily and if you are a massive high profile TV star with lots of cash you can buy a nanny. I had no one. I had Insanity. It's the only way I could squeeze fitness into my schedule.
"I enjoy working out. I like seeing the difference. I am not crazy about it. I have never had muscles and a six-pack, but I enjoy shopping; nice clothes, and stuff. I wasn't looking as nice when I put weight on. So that pushed me on to getting the weight down."
Where does the Geezer bird come from?
"My Dad. He's a massive sports nut. He was desperate for sons and got four girls. We were all made to do boys stuff."
How has that male influence helped you?
"It's made us competitive. We weren't girly-girls when we grew up. We were all Tomboys. I didn't wear a dress until my late teens. We were all campers. We never had holidays abroad. We always went camping and did adventurous stuff."
You have been in your new role now for a few weeks, what have been the challenges?
"I have never done marketing. I have marketed myself, but I have never been great at it. I am still getting to grips with it. What I should be tweeting, how I should be interacting with people, it's all new to me.
"Rob has made it quite clear that he wants to make a community of poker players in the UK. France do it very well. They have a great community spirit and we want to emulate that.
"We have created a Facebook Group: The partypoker Community Forum. I am going to run it, and basically it's just for UK partypoker players. Within that group we will do promos, freerolls and get everyone together."
Who have been your mentors in life and business?
"I hit a rough patch a few years back. A very close friend of mine died and I didn't handle with it very well at all. Caspar Berry, who I used to work with at Poker Night at Live, got me into The Secret. I was brought up a catholic but I'm not religious.
"I read this book and it had some interesting bits in it. I watched the DVD as well and it really helped. It helped me understand depression more as well. I used to be under the impression that people just needed to sort themselves out. We don't live in a third world country. You live in the UK, you are educated, and if things aren't great you can always make them better by motivating yourself.
"I realized this isn't the way of the world at all. Depression is an illness that people can't help having. It had a massive impact on me. It's a great way of trying to live; having more of a positive outlook. Us English like to moan a lot you know."
Give me an example where the Law of Attraction worked for you
"I don't do fads. I didn't go into it like a fad. I was intrigued. When I read The Secret and The Law of Attraction, I wondered if I pro-actively followed their steps if something would happen.
"I desperately wanted to find a photo album that I had lost. It was a proper old school one with all my old school photos in. I practiced manifesting this photo album. The Law of Attraction would make sure it turned up.
"Three days later I ordered a new bed. As the guys were moving the old bed to the tip, my old photo album was stuck in between the folds of the bed. I had forgotten that I was manifesting it to be honest. Was it a coincidence? Who knows?
"There is a lot to be said about it. If you wake up with the hump, things spiral out of control. You can't be creative because you are in a bad mood and you can't get things done. If you are happy it makes a huge difference to the way your day goes. It's a tool that can help you think more positively. We tend to think about the things that are going wrong. It's natural to think about the rubbish stuff. It really helps in poker. If you are thinking more positively you will be more likely to play better."
What's your biggest challenge as a Mum right now?
"Tiredness, and it's going to get worse when the next one comes along. My daughter is two. She has definitely moved into the Terrible Two's stage. My sister said it stops when they are three. Then you will have the Flipping Threes. Then you get the Fucking Fours.
"My sister has so many presents for Christmas. It was like Toys r Us this year. They were bored opening presents. We decided we are going to change things next year. We are going to ask them to choose one of their gifts and give it to charity. It's a great idea to start out so young and enable them to think of others.
Was there a time when you were really worried about motherhood?
"I was so ready for children. It was my husband who wasn't ready. I am very close to my sister and her kids. I have been around kids a lot. I was completely ready."
Do you feel the same now you are having your second?
"I'm lucky that I can do a little bit of work. I know some women lose their identity because they stop working. I am unbelievably lucky that I can be a stay-at-home Mum, earn a bit of my own cash, help out with the bills and have some adult days out."
If you couldn't leave your children money, and could only leave them a set of principles, what would they be?
"I really want to impart positive thinking. I have seen a lot of nastiness in my career. I remember one time in particular which was nasty. I was at EPT Barcelona. I was with somebody and was supposed to be moving to American and live with this guy. I had a flight booked and I got an answer machine message from him telling me to cancel my flight because he had met someone else.
"If I would have seen anyone I would have burst into tears. I didn't want to do it in front of everyone. I legged it out of the casino. Someone opened the door for me, I ran through – in my own little world – and burst into tears. It was horrible. I felt terrible, I was heartbroken.
"Someone posted on a forum that I had not said thank you to someone who had held the door open for me. They were calling me horrible and stuck up. There was a YouTube cartoon with my face saying "I don't care about anyone less than me. I only date movie stars."
"It was so nasty. They had no idea what was going on for me. I was in a terrible state. It reminded me how cruel people can be. With the current trend of trolling, and online bullying, the one thing I would teach Emily growing up is the importance of not taking to heart when people are being mean and cruel. Learning that it's a fault on their behalf and not yours that makes them do what they do."