partypoker and Dusk Till Dawn will officially launch their new partnership with the partypoker branded Grand Prix Million and an ambitious shot at attracting 10,000 entrants.
"Keep the faith with me and please be patient and constructive," Rob Yong on his partnership with partypoker.
Dusk till Dawn (DTD) owner Rob Yong is a smart man. He has one finger on the pulse of the UK poker scene. He knows that there is dissension in the ranks of the online grinding community when it comes to their presence on partypoker.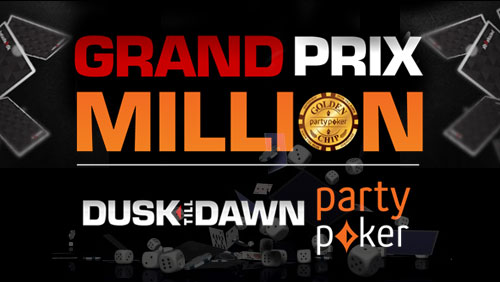 But he also has foresight.
He has faith.
Yong's three-year deal with partypoker is a deal he has made because he believes it's going to work.
"Rome wasn't built in a day and neither was DTD," Yong wrote on his blog. "It was two years and £2m of delay costs before the government would even let us open our doors, but even the most opinionated poker player in the UK would struggle to say that DTD has not delivered exactly what the UK Poker Community ordered."
The partnership will be officially launched with the partypoker branded Grand Prix Million. The $120 buy-in event runs Fri 15th May to Mon 25th May, and as the title suggests it carries a $1m Guarantee.
Yong is as ambitious as ever. The last Grand Prix attracted 4,932 players and this year he wants to hit 10,000. The Day 1 action will take place both online at partypoker, and live at the DTD card room. Online qualifiers for as low at one cent will begin at partypoker on Monday 16th Feb.
The first 1,000 qualifiers will receive a special $25k Golden Chip. If they get to the final table, the chip will be converted into a $25,000 cash prize.
"We are all very excited about this Grand Prix Million. partypoker want to make this experience as much fun as possible for the players, it will be great to meet so many of our online qualifiers face to face. What a story it would be if the winner qualified for one cent and also won a $25,000 Golden Chip bonus," said partypoker's Grace McMillan.
There have been other announcements.
Michelle Orpe will join the team as the host of the partypoker social media channels, and Richard 'Tighty' Prew will be managing the Official partypoker Announcements, News & Updates on the Blondepoker Forum.
DTD's individual online presence will cease to exist on Feb 19th, and players will have to open new accounts on partypoker if they want to remain connected to the DTD player pool due to their previous alliance with iPoker.