Innovation is at the heart of the gambling industry and a good percentage of the innovation comes from our start-ups.
Start-up focused events have become a popular feature at conferences such as GiGse, EiG and now ICE Totally Gaming with everything from "start-up zones," to carefully planned out "Launch Pads" and "Pitches".
For the first time ever, we'll be seeing a dedicated space at ICE for start-up pitches, hosted by Clarion and organized by GamCrowd.  The partnership between these two companies began at EiG 2014 and has continued into 2015 with the creation of "Pitch ICE".
A total of twenty start-ups signed up for Pitch ICE through GamCrowd.  Each company has submitted a two-minute video about their product to GamCrowd's site so interested parties can watch and get an idea of what pitches they want to attend live at ICE.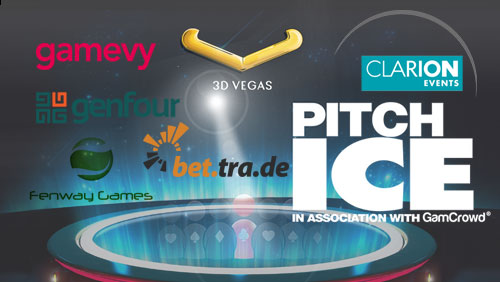 During the expo, each start-up will be granted a fifteen-minute time slot for both Tuesday and Wednesday on the Pitch ICE stage at booth N7-460.  Each pitch will be filmed and then posted on GamCrowd's website after ICE finishes to provide further exposure, solicit voting and ultimately determine the winner.
"Pitch ICE offers start-up companies a unique opportunity to present their business ideas directly to the most important movers and shakers in the gambling industry," GamCrowd CEO Chris North told CalvinAyre.com.  "That type of exposure and access to potential investors is priceless and would often take similar start-ups a long time to achieve, if ever".
Clarion, the organizers of ICE Totally Gaming, also feel that Pitch ICE provides start-ups with a unique opportunity for exposure.
Ewa Bakun, Head of Gaming Content for Clarion, told CalvinAyre.com, "We recognize that a show as big as ICE might be overwhelming for new entrants that still need to develop relationships while perhaps lacking the budget to exhibit in a traditional way".
At the same time, the Pitch ICE initiative is a positive addition to what ICE Totally Gaming offers delegates.
"Start-ups are also an important group that brings innovation and a lot of fresh ideas to the show so we felt it would be a great added value for our visitors," Bakun said.
GamCrowd and Clarion are both delighted with the level of interest they've seen from start-ups for Pitch ICE.  In the end, twenty start-ups were chosen as participants and each of them are already seeing the enormous value from participating in such an event.
"Pitch ICE will give us a voice in the crowd," said George Georgiopoulos of Bet Trade, an online casino platform where players compete against themselves as opposed to the house.
He added, "We enjoy the preparation process for something like Pitch ICE. It helps us revisit our assumptions and assess how we are doing against plan – a critical step in any journey".
Another one of the Pitch ICE Start-ups is 3D Vegas, a 3D gaming and social media browser environment.
Dion Croom of 3D Vegas said, "I have been looking at the GamCrowd platform for crowdfunding for some time now.  An opportunity presented itself for us to get involved and present our product directly to industry leaders, peers and others interested in gaming".
Ian Dunning of Genfour, a start-up delivering back office robotic process automation solutions to it clients, echoes the thoughts of Croom.
"As a new start up in the gaming industry Pitch ICE was the obvious place to promote our new business venture, the ability to present our idea to the most influential people in the gaming industry all in one place was irresistible for us," said Dunning.
He added, "The solutions we offer are new to the gaming industry so getting the face time with senior decision making executives to explain all the benefits of our solution is a big challenge.  We also think that being selected to present at Pitch ICE adds credibility to our business".
As North pointed out, participating in Pitch ICE provides opportunities for start-ups to speed their progress in the gaming space.  Paul Dolman-Darrall of Gamevy, a platform bringing gameshow innovation to gambling, states it simply.
"[Pitch ICE] is a great opportunity to have a high number of quality conversations with potential investors and partners, in a much shorter time span than we would otherwise have managed," Dolman-Darrall said.
It's clear that the exposure provided to these start-ups at ICE is incredibly valuable.  Potentially even more valuable are the resources GamCrowd has been providing- and will continue to provide- to the Pitch ICE participants and other start-ups.
"GamCrowd for me is an access to likeminded individuals who understand what this industry is about, understands its needs and pitfalls and more importantly can provide the needed access to valuable funding streams from the industry to the industry.  It also provides access to a powerful knowledge bank to tap into," said Croom.
While GamCrowd defines itself as a crowd funding and crowd sourcing entity, what sets them apart from the rest is their deep understanding of the gambling industry, the relevant connections they are able to provide and the advice they are able to give.
"It is the network effect; apart from raising money, there is immense value from raising the money from within the vertical you are operating in as this provides validation, credibility and industry introductions that are unique," said Peter Gough of Fenway Games, a free-to-play, real time, mobile sports social gaming platform.
Dunning also appreciates GamCrowd's relationship to the gambling industry and also with individuals who are familiar with our industry.
"GamCrowd provides us with the ability to connect with people focused on investing in gaming industry ventures," he said.  "This removes a lot of the resistance we may get trying to interest investors with no understanding of our industry".
According to Georgiopoulos, strict regulation and high industry margins have made gambling a niche, isolated industry with a culture that tends to resist change.  He believes this handicap needs to be addressed.
"If real estate is all about 'location, location, location' then GamCrowd would be all about 'connections, connections, connections,'" Georgiopoulos said. "Founded by experienced industry entrepreneurs and reaching out with a giving attitude, it is a breath of fresh air that might just reverse the industry culture that resists change".
The importance of start-up companies in the gaming space and beyond is undeniable.  According to Bakun, many people claim real innovation and disruption come from start-ups as they are smaller, younger and more agile than more established companies.  Bakun says whether or not this is true in the gaming sector, none of us can deny a lot of the innovation in gaming is coming from the start-ups.
"People who come to shows like ICE have always told us how important it is for them to meet new companies and discover new products, and our cooperation with GamCrowd and initiatives such as Pitch ICE or the LaunchPad really allow us to put some spotlight on fresh and new ideas," Bakun said.
Luckily for us, there are organization such as GamCrowd who are there to help start-ups succeed and are backed by industry vets such as Chris North and Ian Hogg.  We have them to thank for the launch of Pitch ICE, yet another great step forward towards fostering the growth of innovation in gaming.
"Everything is now in place for a hugely successful Pitch ICE – and at GamCrowd we're excited about the event and the future of many of the companies pitching," said North. "In years ahead we will be proud to say that we helped contribute to the growth of start-ups such as Genfour, Capito Systems and many more".