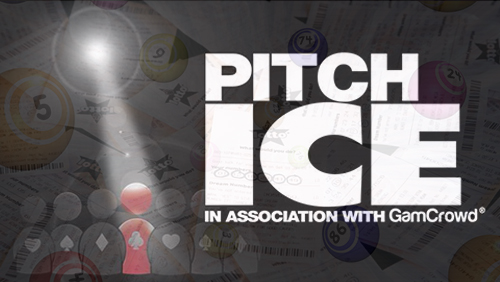 Multi-player mobile bingo, YouTube sports channels and the world's first crowd lottery among 20 businesses to pitch at ICE Totally Gaming 2015
Wednesday, January 21, 2014 (London, UK) – GamCrowd.com and Clarion Events has announced the final line-up of entrants for Pitch ICE, to take place at Stand N7-460.
Presented by GamCrowd.com, Pitch ICE is a unique opportunity for entrepreneurs to showcase their ideas in front of attendees and potential investors at ICE 2015.
The final 20 start-ups will each have a 15 minute slot to sell their business or concept on the show floor over the three days of ICE 2015, at ExCeL London from February 3-5. A wide variety of companies will be present, incorporating social gaming, online casino, online poker and more.
"This is a unique opportunity for start-up gambling businesses to get their idea off the ground in front of key industry decision-makers and potential investors at ICE Totally Gaming," said GamCrowd CEO, Chris North. "The response to Pitch ICE has been incredible. As delegates will see, the programme is diverse, with concepts that could have an impact on many different areas of the gambling industry. We believe there are numerous stand-out ideas that have the potential to be very successful."
Asylum Labs is one of the companies shortlisted. The innovative company aims to re-invent classic casino games for the 21st century by making them more social and focusing on online communities. Their key product, Wild Party Bingo, is a multi-player bingo game that allows players to join friends and either co-operate with or compete against them. Unique in-game features and a focus on social interaction could change the way that bingo is played online and on mobile in the future.
Sporting Savvy is a global network of YouTube channels across a variety of sports, including horse racing, Formula 1 and rugby. The channels focuses on reviews, insights and sports betting knowledge from respected experts who bring a dedicated audience with them. YouTube has over 1 billion unique users each month[i] and Sporting Savvy is one of the site's original premium partners, meaning that the company can also create sponsored and branded content that many other channels cannot do.
Winner Takes All is the world's first crowd lottery. Believed to be fairer and more transparent than traditional lotteries, Winner Takes All aims to offer players better odds, higher payouts and lower costs. With players active in over 50 different countries, this is a global brand that aims to reward investors with a substantial return on investment. The company has an ethical outlook, donating 50% of all profits to charity.
Fenway Games aims to become the leader in free-to-play social gaming. Their flagship title, Switch Played, takes the excitement of in-play betting to another level by allowing players to predict what will happen next in a football match, such as a shot at goal, booking or offside decision. Players win credits for correct predictions and can chat with other users in the community. Key revenue streams will include in-app purchases, mobile advertising and conversion to mobile sports book consumers.
"Pitch ICE is a great opportunity for us to reveal our revolutionary social gaming products to the most important decision makers in the gambling industry," said Peter Gough, founder of Fenway Games. "We are excited to put on a great pitch that showcases what this company is about and the huge potential for growth in the future."
Other companies at Pitch ICE include DiscountIF, a new and exciting way to shop online by combining sports betting and retail. Customers buy products for a set price but if a sporting event occurs – for example, Ghana win soccer's African Cup of Nations – then they receive 100% cashback on their purchase. A large variety of promotional items are available, from PlayStation 4's to smart TVs and digital cameras.
The full list of companies – including GamCrowd itself – taking part in Pitch ICE is:
"As an entrepreneur that has founded numerous start-ups myself, I know just how hard it can be to get your product or company noticed – that is exactly why we created Pitch ICE," said North. "At GamCrowd we are truly passionate about helping to discover and nurture talent and we look forward to demonstrating to our peers that there is a wealth of innovative ideas out there."
All pitches will be filmed and shown online after the event. A public vote over the next two weeks will determine the best pre- and post-funding propositions. The winner from each of the two categories will gain free access to GamCrowd's incubator skills and expertise.
For more information on the businesses at Pitch ICE, see http://www.gamcrowd.com/pitchice.
Investing in start-ups and early stage businesses involves risks, including illiquidity (inability to sell assets quickly or without substantial loss in value), lack of dividends, loss of your investment and dilution and it should be done only as part of a diversified portfolio.There is no secondary market available meaning that these securities are illiquid. As a result, you may lose all of your capital.  GamCrowd is targeted exclusively at investors who are sufficiently sophisticated to understand these risks and make their own investment decisions. You will only be able to invest with GamCrowd once you are registered as sufficiently sophisticated. For the full risk warning please click here. 
This page has been approved as a financial promotion by Resolution Compliance Limited, which is authorised and regulated by the Financial Conduct Authority. Investments can only be made on the basis of information provided in the pitches by the companies concerned. Neither GamCrowd nor Resolution Compliance Limited takes responsibility for this information or for any recommendation or opinions provided by the companies. All figures in this press release which refer to past performance should not be used as a reliable indicator of future results.  
GamCrowd Limited is an Appointed Representative of Resolution Compliance Limited which is authorised and regulated by the Financial Conduct Authority (FRN: 574048). GamCrowd Limited is registered in England and Wales. No. 08702280. Registered address: Palladium House, 1-4 Argyll Street, London, W1F 7LD
Crowdsourcing activities are not regulated by the Financial Conduct Authority.
http://www.theguardian.com/technology/2013/mar/21/youtube-billion-monthy-viewers-generation-c
For more information on GamCrowd Limited please contact:
Square in the Air Communications
+44 (0) 20 3586 8269
For more information on ICE please contact
ICE Marketing Director Jo Mayer
+44 (0)207 384 8121/+44 (0)7500 003242
ICE Media & PR Chris Jones
+44 (0)1273 699 900
About GamCrowd
GamCrowd.com is the first and only a gambling-specific crowdfunding platform. It showcases a range of companies offering investment opportunities in return for equity. GamCrowd connects sophisticated investors and high net worth individuals with pre-screened start-ups that have completed a rigorous process in order to be certified as 'GamCrowd fit'. In addition to crowdfunding, GamCrowd will soon be launching a crowdsourcing platform that aims to create a global marketplace where buyers can obtain services, ideas and content for a pre-determined price from a group of skilled, professional suppliers on a per-task basis.
About ICE
ICE is the world's largest b2b gaming event and the only exhibition that brings together the online and offline gaming sectors. Featuring over 500 world-leading innovators drawn from the betting, bingo, casino, lottery, mobile, online, social and street sectors, ICE provides a unique international perspective on gaming. Visitors to ICE can also discover the hottest growth areas in land-based, online and mobile gaming courtesy of the ICE Conferences programme, which delivers targeted learning and networking opportunities. For the latest information on ICE 2015 and to register for free entry visit www.icetotallygaming.com