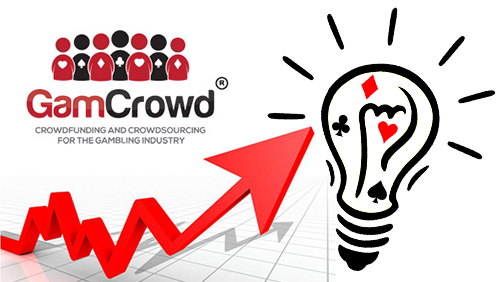 Thursday, January 08, 2015 (London, UK) – GamCrowd.com has evolved its gambling-specific crowdfunding and crowdsourcing platform through the launch of its new Incubator service.
The programme sees GamCrowd directly offer a range of value-added provisions and resources to better prepare start-ups and assist with the process of crowdfunding through GamCrowd. Companies will enter the GamCrowd Incubator process in return for equity in their business.
Participating start-ups can immediately benefit from a full appraisal of their business model, in addition to targeted introductions, marketing advice and ongoing support. GamCrowd may also inject SEIS (Seed Enterprise Investment Scheme) funds and/or other forms of pre-crowdfunding capital as well as recommend partners and/or potential suppliers who may also provide services, such as web development, in return for equity.
GamCrowd CEO Chris North explains that the platform was designed to be adaptable – and that the introduction of Incubator is intended to give more start-ups the chance of making a breakthrough.
"We wanted to get GamCrowd out there and learn from the experience that you can only get by operating a business.
"It has always been our intention to build a virtual incubator by introducing crowdsourcing to the platform, and this new development allows us to add even more value to some select start-ups who we will then support all the way through their development," he said.
Incubator aims to increase the flow of start-ups through the platform and, on a wider level, boost the quality of start-ups in the industry.
"To date, more than 100 start-ups have contacted us and many need a lot of help before they are ready to crowdfund. Only two have reached the stage where they are equipped to go on the platform and one of those didn't meet its funding target. We have several more that are close to being ready and Incubator should accelerate this process – and allow us take on multiple start-ups simultaneously in the future," added North.
GamCrowd will host a series of workshops and presentations that discuss incubating start-ups at ICE Totally Gaming on Tuesday 3rd February.
At ICE, the company also plans to fully launch its crowdsourcing platform, Marketplace, to help all start-ups in the industry to access the skills and resources they might need at reasonable costs, regardless of their fundraising requirements.
—
Investing in start-ups and early stage businesses involves risks, including illiquidity (inability to sell assets quickly or without substantial loss in value), lack of dividends, loss of your investment and dilution and it should be done only as part of a diversified portfolio. There is no secondary market available meaning that these securities are illiquid. As a result, you may lose all of your capital. GamCrowd is targeted exclusively at investors who are sufficiently sophisticated to understand these risks and make their own investment decisions. You will only be able to invest with GamCrowd once you are registered as sufficiently sophisticated. For the full risk warning please click here. 
This page has been approved as a financial promotion by Resolution Compliance Limited, which is authorised and regulated by the Financial Conduct Authority. Investments can only be made on the basis of information provided in the pitches by the companies concerned. Neither GamCrowd nor Resolution Compliance Limited takes responsibility for this information or for any recommendation or opinions provided by the companies. All figures in this press release which refer to past performance should not be used as a reliable indicator of future results.  
GamCrowd Limited is an Appointed Representative of Resolution Compliance Limited which is authorised and regulated by the Financial Conduct Authority (FRN: 574048). GamCrowd Limited is registered in England and Wales. No. 08702280. Registered address: Palladium House, 1-4 Argyll Street, London, W1F 7LD
Crowdsourcing activities are not regulated by the Financial Conduct Authority.
For more information on GamCrowd Limited please contact:
Square in the Air Communications
+44 (0) 20 3586 8269
About GamCrowd
GamCrowd.com is the first and only gambling-specific crowdfunding platform. It showcases a range of companies offering investment opportunities in return for equity. GamCrowd connects sophisticated investors and high net worth individuals with pre-screened start-ups that have completed a rigorous process in order to be certified as 'GamCrowd fit'. In addition to crowdfunding, GamCrowd will soon be launching a crowdsourcing platform that will create a global marketplace where buyers can obtain services, ideas and content for a pre-determined price from a group of skilled, professional suppliers on a per-task basis.
Comments