Stephen Graner has defeated the Swede Anton Bertilsson, in heads-up action, to capture the €969,000 first prize at the European Poker Tour Main Event in Prague; the first time the American has ever played in a European Poker Tour Main Event.
What a year on the felt it has been for the American Stephen Graner. He successfully navigated his way through a field of 7,977 entrants, to finish sixth in the World Series of Poker (WSOP) Millionaire Maker in the summer, and he has just won the largest European Poker Tour (EPT) Prague Main Event in its history.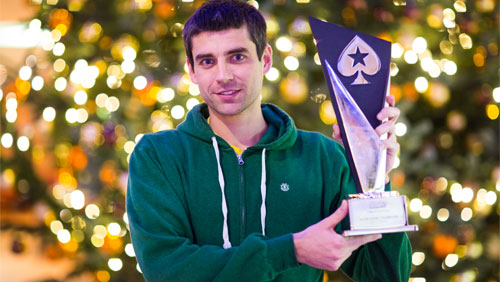 Quite remarkably, Graner was playing in his first-ever EPT Main Event when, according to the PokerNews Live Reporting Blog, he 'crushed the final table.' A record field of 1,107 entrants created a monstrous first prize of $1.2m, and that now sits in the bank account of Graner, after defeating the Swede Anton Bertilsson in heads-up action.
Graner entered the final day as the chip leader, and it took him five hours to grab them all. The first player to leave the final table party without a party popper was the only player capable of repeating the 'double' feat of Vicky Coren Mitchell. Remi Castaignon was the EPT9 Deauville winner, but he would fall short in seventh, after his [7d] [6d] ran into Anton Bertilsson's [As] [Th] in an all-in pre flop situation – a ten on the flop laying the cement on that one.
Former Asian Poker Tour (APT) Macau Main Event runner up, Bjorn Wiesler, was next out of the door after his pocket nines lost a flip against the ace-king-suited of that man Graner. The roles would be reversed as Simon Mattson would lose out to Graner in a flip. This time the American holding the pocket pair, and he successfully evaded both an ace, and a jack, as he got his first taste of Swedish blood.
It wouldn't be a major final table without the presence of a German, and this one was no different; the former Estrellas Poker Tour 5 Valencia Main Event winner, Fabio Sperling, finishing in fourth after his pocket sixes ran into the pocket aces of Bertilsson. The Swede would then pass the hatchet to Graner, and he would bring it down onto the neck of Jonathan Wong – pocket jacks proving too strong for pocket treys.
The heads-up encounter was a lopsided affair with Graner holding 28.9m chips versus Bertilsson's 4.3m. The Swede did manage an early double up – when his ace-ten found help on the board to overcome Graner's pocket sevens – but pocket fours would eventually find a way through [Ks] [5c] and Graner was declared the final end boss.
EPT Prague Main Event Final Table Results
1st. Stephen Graner – €969,000
2nd. Anton Bertilsson – €582,720
3rd. Jonathan Wong – €410,190
4th. Fabio Sperling – €308,180
5th. Simon Mattsson – $235,700
6th. Bjorn Wiesler – $172,340
7th. Remi Castaignon – $129,390