Lee Davy sits down with the multiple World Series of Poker final tablist, Jon Spinks, to talk about positivity in poker and how raising a child has affected his mindset.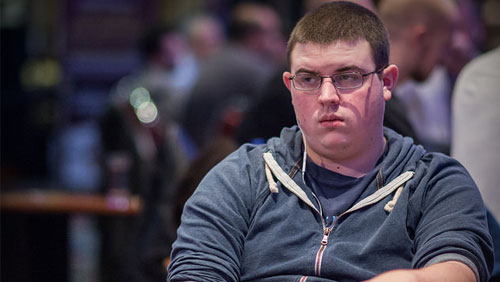 A few years ago, when the young hipsters from the UK were beating everyone half to death, Jon Spinks was right in there with his size 10 boots.
Two final table appearances at the World Series of Poker (WSOP) gave us a glimpse at the promise Spinks held in his fingertips. This was a kid who was not only good at poker. He was good at most forms of poker.
A €2k side event win at the European Poker Tour (EPT) in Deauville followed, and then everything changed. Spinks fell in love, ploughed his money into a home for the future, and became a father.
Today, he appears a much wiser man. He is also happier. People say women who become mothers have a glow, but so do men.
I can see it.
Perhaps, only fathers can?
Let's talk about positivity in poker.
"I think it's really tough. There are definitely way more lows than highs, in poker, and everyone will agree with that. The difference between the best and the average is how players deal with adversity and the tough times. For me, whenever I am doing really bad I always end up doing a lot of work away from the table – trying to work out why things are going wrong? When you are playing every day you can fall into bad habits, become over worked, and end up not playing your best game.
"You need to take time away from the table. Even if you don't study, just get away. A lot of people play through it, but I don't think you will ever be satisfied even if you do well afterwards. It will feel like you are just recouping losses. I think the best way to deal with it is to take a moment; take a deep breath, and get back into it when you are in a better frame of mind."
Have you always worked hard on your mental side of the game?
"Since I became a father I have been trying really hard to keep on top of mental stress. It's incredibly difficult to balance work and fathering a child. When I am working, I always try and segregate the two. It's a lot easier to be positive about your game when you have a great family life. When you play you are instantly happy about life. When you are in a more fragile state it's harder to be positive about poker and play well generally."
Do you take your work home with you so to speak?
"I've definitely learned to try and separate work and home life. If I have a bad day at poker I will not bring that into my family life. It's no good for you from a health perspective. You can't change what's happened. You can only focus on what's ahead of you. I have just finished Jared Tendler's first book. I always thought I was good at the mental side of things. I came into this game at a very young age – a lot of people do. It's just you and the game, and you have to learn to be a man overnight. Looking after the money, and even the fame is a difficult transition. You see how all the young pop stars end up going off the rails? There is an element of that in poker.
'I was quite lucky with my early success. I was always grounded, and nothing really changed in my life, even though I had money. I find it easier to handle things in life now I am older as a consequence of that. I just do what I have to do. The more life experience you get, the more you can deal with adversity in poker. The game becomes insignificant. It can consume some young players. It's my source of income. I'm not interested in fame, or tournament victories. These days, all I care about it making money."
I guess it's about finding the joy in everything you do?
"With a baby there is stress. They are incredibly hard work, but then there are milestones that light you up. It's the same in poker. There are instant moments that make it feel like it was all worth it. This has helped me adapt more to parenthood also. They both compliment each other. I am used to not sleeping for example. Poker prepares you for life, as well as life preparing you for poker."
People have been saying poker is getting more difficult to beat for years now. How is it for you?
"I am definitely worried. I will say that straight up. I am worried about recent changes. The rake increase at Stars is taking poker down a one-way street. It's making it harder. Not impossible by any means, but it will affect people's income. The money is being taken straight out of the poker economy instead of being circulated around it. So it is a dark time at the moment.
"On a more positive note let's look at how well the live tournaments are doing. Prague will no doubt break their previous records, Barcelona is always great, and so it's not all doom and gloom. There is light at the end of the tunnel. The lack of decent competition between online poker rooms is affecting everyone. It's a free market, but someone needs to step up and take the opportunity that is currently exists. Where it comes from – who knows? How long will it take – who knows?"
Stars are trying to change things to attract more recreational players. Is the short-term pain worth it in the long run?
"The problem is they are bringing more recreational players through things like Spin & Go games. The rake is so high in those things and people will lose money quicker."
I don't think recreational players care?
"Who doesn't care about money? Spin & Go games are designed to attract your normal run of the mill working class man. They care about money."
I fit that description and I don't think about rake when I log on to play.
"Even if you don't think about it you are directly affected by it. The rake is scandalous. There is no other way of putting it. Recreational players are not going to win, they are going to go broke and then wonder why they are playing."