In this week's Confessions Series, Lee Davy, takes inspiration from the non-fiction book A Slip of the Keyboard, by Terry Pratchett, and decides to just let his thoughts flow.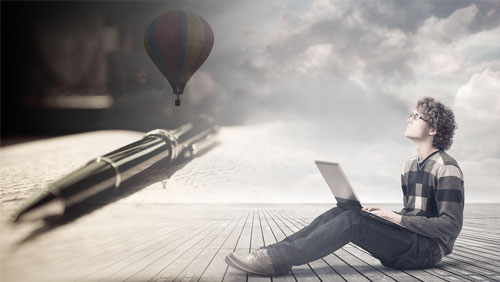 I open my eyes and look at the clock. It's 9.30 a.m. Another day where I have failed to achieve my goal of having eight hours sleep. That Fibonacci number eludes me in my attempt to regain my youth. I am starting to lose hope. If my body awakes after six hours sleep, then who am I to argue?
I go for a run. I have a new book to listen to so I decide to run an extra mile. I'm excited because I have bought A Slip of the Keyboard by Terry Pratchett. I have never read any of his stuff, and I have never watched any TV that was made from his stuff – but I like the idea of this one because it's non-fiction.
This is how I learn. I don't have the time, or the money, to go back to school. Stephen King, William Zinsser, and now Terry Pratchett, are my teachers. Writers writing about writing. I love it just as much as I love the line, 'he was a cock-sucking son of a cock-sucking cocksucker.' I read that in a book about Prohibition called Last Call: The Rise and Fall of Prohibition. It's by my bedside, and I read it when I want to fall asleep.
Daniel Okrent's tale of how America fucked up Prohibition is full of detail, well researched facts, and lots of long words that I don't understand. This is why it puts me to sleep. It's also the reason that I hate to write these sorts of articles. Perhaps, I am lazy? I once remember writing an article about Phil Ivey; Haley Hintze left a comment that it was a lazy piece. Nobody ever leaves comments these days. I guess I am lazy.
On Writing by Stephen King, On Writing Well by William Zinsser, and Writing Down the Bones by Natalie Goldberg. Now there are three books that keep me awake. Full of simple language, flow, and breeze. Three people just pouring their minds onto paper. That's how I like to write. That's when writing is fun for me. It stops being a job, and instead becomes something that I just do. Like breathing as Billy Elliot told the posh twat after his audition.
"Stare at Screen. Stare some more. Listen for the Postman to arrive. Perhaps, he will bring me some work to do," says the orator of Pratchett's book.
I have never heard my postman because I have a concierge. There are five of them: Tony, Chris, Keith (or is it Kevin?), Abraham, and Carl.
Carl is the boss. I like him but he winds me up. He's a bit of a jobsworth. He loves rules. Like the one about parking in the communal space. Why won't he allow me to park there when there is a spot, and then just call my room should anyone need it? I will move the car. There will be no inconvenience. I hate rigidity, I love bendy things. I guess "flexible" would have been a better choice of word there. I really should go back to school.
I don't like authority, I don't like being told what to do, and I don't like rules. That's one of the reasons that  I don't get hired and it's also one of the reasons I do get hired but I have to write under a pseudonym. What a shitty way to write?  It all seems a little bit spineless to me.
My wife Liza can't understand a word that Chris or Tony says. They are real Cardiff boys who say things like, 'A pint of Dark and a Clark's pie', which, when you think about it, is a pretty pointless thing for me to write, because it's impossible for me to convey the accent in the words. If only Irvine Welsh was here. He would squeeze the accent in there for me.
I had an argument with Liza tonight. I told her that she was angry with me 99% of the time. We then argued over the accuracy of my 99% comment. I told her that she always focused her ire on my over-exaggerations, and we argued about that also.
It's the way that I speak. I don't mean any offense. I am not thinking about the words before they fall out of my mouth. This isn't a game of Tetris where I can move words around beforehand to make sure they fall out in the perfect sequence.
There is a big difference between my intention and how it's received. This is especially true when my wife is from Los Angeles and I am from Ogmore Vale. I know. You don't have to say anything. I can hear you from here. So I have to be careful with my choice of words, but it's tough because I have been talking this way for 40 years.
It's the same when I write. I notice that I use the word "just" in every sentence that I write (see I can't help the exaggerations), I am not sure when a comma (,) or semicolon (;) should be used in a sentence, and I have to Google whether words like summer, baccarat, and Texas Hold'em, have to be capitalized. To me it's all a waste of time.
Summer
summer
What's the fucking difference?
My use of slang isn't very good. I really must pay more attention to that. I just (there you go again) wrote an article about Ray Bitar going to prison and I wrote this line:
"In 2011, that meant Bitar was looking at nine felony counts and if the judge was having an off day, 35 years doing porridge."
"Doing porridge?"
If you are 40 years of age and live in the UK, you will understand that "Porridge" is a British sitcom that starred Ronnie Barker and Richard Beckinsale, and the title was borrowed from the British slang term for spending time in prison, which is called 'Porridge'.
But if you live in America, you will think that Ray Bitar is going to need a second new heart if he spends 35 years eating Porridge.
William Zissner says I shouldn't worry about you understanding me. So for now I am not going to. But in the future, I guess I better start paying more attention, otherwise there will be even fewer people hiring me.
I finish my run, meditate, say my affirmations and settle down to work.
Or as Terry Pratchett would say,
"Stare at screen. Stare some more."
Comments