WPT Cyprus: Toby Lewis on Rankings, Recognition & Re-Entries Audio
Lee Davy sits down with Toby Lewis to garner his opinion on the popularity of the re-entry format, ranking systems, and recognition at award ceremonies.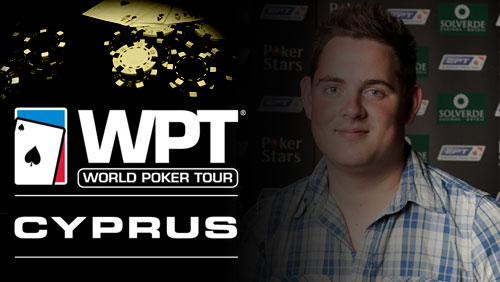 I've been fortunate enough to see Toby Lewis turn over a lot of hands this week, and one thing that is blindingly obvious, is the former Global Poker Index (GPI) number one ranked British player has more moves than Vincent Vega.
An innovative risk taker.
What more do you want in a poker player?
We have reached the fourth day of action and Lewis is still in contention. There are 30-players remaining and he has over 60bb as we play down to the final table. But it was hard work getting to this point. Lewis bought in twice on Day 1A & a third time on Day 1B. So by my reckoning Lewis has to make 21st place to just break even on buy-ins, and probably 18th to cover expenses.
Is he a fan of re-entries?
"To be honest I am not really a fan of re-entries in general. They are good for the professional players because it gives them more bites of the cherry but it gives the recreational players less chance to win. This is a problem because they are the players who are keeping the game alive at the moment.
"I think what the EPT is doing: running more online satellites, making their schedules longer, having better venues; that's better than having re-entries. I do think they have a place in the high rollers. Those people have enough money to buy-in more than once irrespective of being a pro or a recreational player.
"But if you are satelliting into a $4-5k EPT or WPT event, a recreational player may have only bought in for $10, so how can they afford a second bullet? You have to get through so much good money, instead of recreational money, and this makes it so much tougher for the recreational players."
We talk a little bit about the Global Poker Masters, and I ask Lewis if it would be a pleasure to be selected for the event?
"It would be nice to be selected for sure, but it depends if they are selecting on lifetime earnings, current rankings or a combination of online tournaments. Someone like myself – who doesn't play a lot of stops – I might not make it; but perhaps those who do play a lot deserve it more than me?
Are rankings important for Lewis?
"I was never bothered about getting to the top of the rankings but the recognition is nice. I never think, I need to hold onto that now. It's too much hard work, especially the online rankings; they are so volume based. It doesn't mean you are doing well; you could just be playing a bunch of tournaments. Live rankings mean more, but it's not what drives me to play different stops."
What about awards?
"I was lucky enough to win the online player of the year last year, but the panel probably didn't have any idea what online poker is like these days. In football we have FIFA, in golf they have the PGA, and we have a few old boys looking after us, and people who haven't got a clue who's good and who's bad these days.
"It screams out for a player committee. I know the EPT have asked people for opinion, but even some of the people on that committee, only played EPTs, or were a face on the circuit, and not the players who play all the events. You need people who play all stops and have diverse opinions.
"TD's, and the people who create the structures, and schedules, need to interact more with players. EPTs and WPTs clashing is bad for everyone for example. The Winstar $1m guarantee is another silly example. It's really top heavy and it also clashed with Barcelona and the Hard Rock events – come on guys move the event.
"If there was a proper committee this wouldn't happen. In football the European Championships and the World Cup don't clash do they? I think poker is crying out for some sort of international committee."
Comments