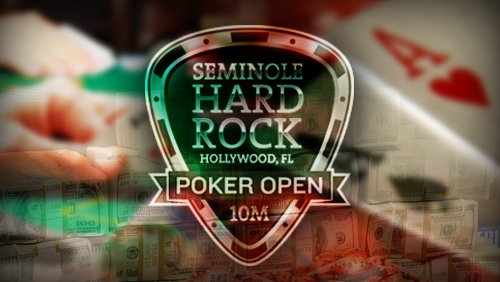 The Seminole Hard Rock Poker Open's $10m Guaranteed Main Event has been missed by some $2.5m as only 1,499 players turn up to play the event compared to the 2,384 that played in 2013.
Which poker tournament holds the dubious honor of paying out the largest overlay in the history of the game?
Where's a statistician when you need one?
In June 2013, Dusk till Dawn (DTD) owner Rob Yong had to fork out €589,000 after the International Stadiums Poker Tour (ISPT), at Wembley, failed to hit their guarantee, and it was widely believed a new record had been established.
Rest easy Rob, I think that record has just been smashed to smithereens.
In 2013, the Seminole Hard Rock created a frenzy of anticipation after announcing a $10m guaranteed $5,300 Main Event as part of August's Seminole Hard Rock Poker Open (SHRPO).
Players were buzzing.
They left the World Series of Poker (WSOP) and headed straight to Florida. 2,384 entrants made sure the SHRPO easily surpassed the guarantee, and Blair Hinkle overcame a tough final table to capture the $1.74m first prize.
You know the old motto.
If at first you do succeed then just repeat the process.
And they did.
And it went tits up.
The 2014 $5,300 SHRPO has only attracted 1,499 players and this means there is an overlay of $2.5m.
Whoops.
There is an air of 'what did you expect?' about this.
The European Poker Tour (EPT) is fast becoming the most valued series in the world, and Barcelona is one of the prime stops. Last year, the SHRPO was scheduled before EPT Barcelona, but this year it's fallen just after, and they have paid a heavy price.
It's not just the lure of the Catalan that has cost the SHRPO. The World Poker Tour (WPT) Legends of Poker has just concluded and their Cyprus event starts on Friday. The Winstar River Poker Series is competing for players, and has guaranteed a million for first, and the Colorado Poker Championships, Playground Poker Montreal Festival and Gulf Coast Poker Championships are also taking away some of the player base.
And where do you think players get all of this buy-in money from anyway?
Fortunately, there will be no Partouche style wiggle room with this one. The tournament organizers have been very quick to publish their payout structure, and it's very clear that a $10m prize pool has been honored.
300 players will be guaranteed a min-cash of $7,483, making the final table will guarantee you $149,663 and the top two spots each carry seven figure scores with $1,047,638 for second and $1,446,710 for first.
But does this mean the end of the $10m guarantee?
It depends.
How will the relationship with PokerStars extend itself? If online poker is legalized in the state, and the relationship with Stars blooms, then with the added online satellite qualification then why not.
The only other way that they would ever dream of being this ambitious, again, is if they could guarantee a much clearer pathway, but that's easier said than done with so much competition in the marketplace.
As Kevin Mathers said on 2+2, it will be very interesting to see what the Seminoles do with their forthcoming guaranteed events at Coconut Creek, Hollywood and Lucky Hearts.