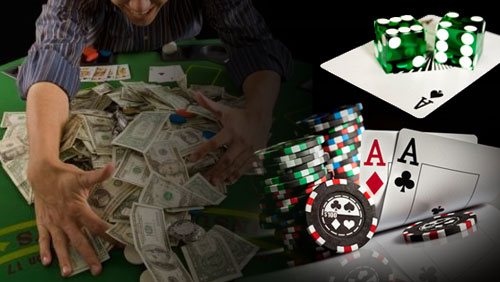 Last week a good portion of the poker media went a little silly linking to the latest mainstream news article to mention poker players in a positive light. The Daily Mirror piece picked up on a Daniel Negreanu tweet about his win rate for this year so far and extrapolated from it to argue that poker players make more than pro athletes, using Negreanu as the example for poker and icons like Tiger Woods, Roger Federer, and David Beckham as the examples for athletes. There was no mention at all of the fact that Negreanu's $7.3 million profit so far in 2014 can all be traced to a single tournament cash (second place in the Big One For One Drop), nor of the fact that his one big score is an outrageous anomaly even for a player of his advanced skill. All that mattered was the one big number – and recent developments in tournament poker seem almost tailor-made for producing such enormous numbers.
Poker has always been a difficult game in which to measure success. The old saying that we use money to keep score because there is no scoreboard, like a lot of old sayings, speaks volumes in this regard. But even that is imprecise at best. We live in a world where cash game earnings remain behind the veil and any sense of scale in tournament winnings has been permanently skewed by the WSOP Main Event and big-money tournaments like the Big One For One Drop. For any purpose other than comparing results among a subset of the highest of tournament poker's high rollers and the luckiest of its luckboxes, the all-time money list has completely lost its meaning.
Consider the career resume of Poker Hall Of Fame member T.J. Cloutier, who has won $10,081,353 all-time. Prior to the poker boom he was widely recognized as one of the greatest tournament poker players ever. But today, Cloutier sits 26th on the all-time money list – a slouch by no means, but a standing in no way indicative of the dominance he displayed at the tables during his prime. From 1983 to 2005, the former football player turned poker pro won 45 tournaments outright and earned $8,569,057. Not one cash during his entire career has ever been for seven figures. But perhaps most impressively, he finished second in the WSOP Main Event twice, meaning his all-time winnings never benefited from the enormous bump of winning the Main Event.
Midway through 2014, Cloutier is overshadowed on the all-time money list by no less than eight players who had yet to even cash in an open-field tournament when he won his last WSOP bracelet in 2005. Six of the players ahead of him on the all-time money list have a single cash their resumes that earned them as much as (or more than) Cloutier's entire 1983-2005 run did. Five of them were poker-boom-era Main Event winners. And 24 of the 25 players ahead of him have cashed for more than $1,000,000 at least once in their careers. None of this is to suggest that the players on the top of the all-time money list aren't hard-working or skilled – with a single exception, they've compiled their winnings through a variety of tournaments large and small. But their careers have mostly been built on the highest-paying tournaments of all time.
The WSOP Main Event has been skewing the all-time money list for decades now. It was the first poker tournament to award a $1,000,000 first prize back in 1991, foreshadowing the poker-boom trend toward seven-figure winners, and in the mid-2000s it was the first ever to award $2.5 million, $5 million, $7.5 million, and $12 million to a single player. Then came the wave of high-roller tournaments in the 2010s, giving players on a roll like Erik Seidel was in 2011 the chance to cash for an unprecedented $6.5 million in a single year. But no one tournament has thrown off the all-time money list quite as severely as the $1,000,000 Big One For One Drop.
The Big One arrived on the scene in 2012, immediately throwing off the old measures of what it meant to be successful in tournament poker. The Big One has only run twice – 2012 and 2014 – but it has already contributed to massive inflation in poker earnings. Six of the current top 10 players on the all-time money list – Negreanu, Antonio Esfandiari, Sam Trickett, Daniel Colman, Phil Hellmuth, and Scott Seiver – are among the 17 who have cashed in the Big One. The money on the line for even those players who simply cash in the Big One without going on to win is often more than many professional athletes' annual salaries, which in turn sets the stage for misleading articles like the one in the Daily Mirror.
For all I know, it might be a good thing in the long run for poker players' earnings to appear so inflated to the general public, which has no idea about high roller tourneys and the WSOP Main Event and the Big One For One Drop. But there's something about this inflation that feels a bit cheap. Poker has always embraced its own history and mystique, but papering over the old records so thoroughly seems to do the opposite, burying the history of the game under results from the players with the biggest bankrolls.
There's nothing to be done about that, other than to remind anyone who uses poker's all-time money list as a measuring stick that some of the game's all-time greats aren't represented. That has always been true of players like Chip Reese, who focused more on high-stakes cash games than tournaments during his lifetime. But now it's becoming true of the earliest generation of truly outstanding tournament poker players, which is a shame both for the players themselves and for those who appreciate poker's history. Perhaps it's time to start an all-time ranking list inclusive of inflation adjustments and exclusive of tournaments with buy-ins higher than $10,000, all the better for comparisons between players of different eras. Either that, or we should bankroll some of the all-time greats like T.J. Cloutier into the next Big One and give them a chance to catch up and preserve their legacies. That only seems fair.