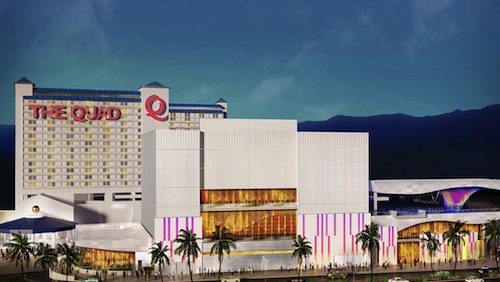 Caesars Entertainment has some big plans for the Quad Resort & Casino. That was made clear when the company announced that it would invest $223 million towards renovating the 2,256-room hotel and rebranding it as the Linq Hotel & Casino. The casino operator is planning to turn the Linq into one of the world's most technologically advanced hotels that will come with an automated check-in process, a VIP lounge and concierge desk that includes touch-screen monitors for booking dining and entertainment activities, and high-speed wireless internet connection throughout the hotel and the promenade.
Caesars is also promising to add more retail and dining options, as well as a new pool deck, a signature bar with six gambling tables, and the aforementioned Linq promenade that will include 14 shops, 12 restaurants, eight bars, two concert venues, and the High Roller, considered the world's tallest observation deck and named as the "world's coolest new tourist attraction" by Travel & Leisure magazine.
Caesars expects to complete renovations by October 30, at which time it will be rechristened as the Linq Hotel & Casino with affordable room rates of just $89 a night. Throughout the revamp, the hotel will still be named the Quad, one of a handful of names the establishment has had in its long history.
The hotel came into Caesars' possession in 2005 after the company bought the then-named Imperial Palace from a family trust that was created after former owner Ralph Engelstad's death in 2002. At that time, many believed that Caesars was going to tear down the Palace before ultimately opting to refurbish the hotel instead and change its name to the Quad. Caesars executive vice president and chief marketing officer Tariq Shaukat believes the venue will "pioneer the creation of a new type of space for the changing Las Vegas consumer."