Driven by the World Cup, touted as the biggest betting event of all time, bookmakers and gaming operators have turned to footballing stars to promote and advocate their brands. Queens Park Rangers' Manager Harry Redknapp's forefront presence as start-up 666Bet's brand ambassador comes at a time of increased celebrity endorsement in the online gambling space.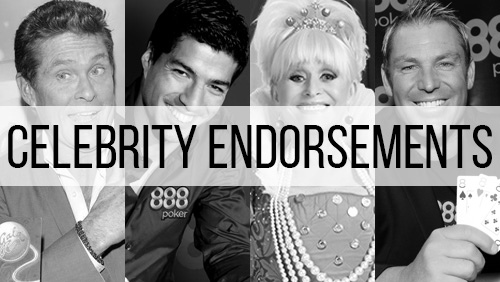 "When an iGaming operator uses a celebrity to endorse their brand, they are signing up an image that is itself a gamble," to quote Dr Mark Richards. Redknapp is an interesting choice in this respect.
According to endorsement specialist Martin Roll, there are three main aspects to consider when approaching celebrities to endorse your brand:
1) Attractiveness of the celebrity – an attractive endorser will have a positive effect on the endorsement.
2) The Personal Credibility of the celebrity is critical to the perceived expertise and trustworthiness.
3) The Meaning Transfer between celebrity and brand – both must be compatible in terms of identity, personality and positioning in the market versus competition and lifestyle.
Redknapp might tick the final box but whilst charges were dropped, the PR surrounding his tax evasion case and his dog Rosie is a permanent branding hangover. In a similar vein, doubters were certainly on hand questioning the size of the gamble made by 888 Poker in partnering up with Luis Suarez, who frankly ticks none.
Although touted as one of the world's most gifted footballers, his track record when it comes to ill-discipline is second to none; his gnashers have as much acclaim as his right foot and he can't have anything like the subtlety required to bluff his way through a 2-7 off suit flop. Sure enough—as I was writing this piece—the Uruguayan's flawed character was on display once again last night with his nibble at Giorgio Chiellini's shoulder in the crunch World Cup tie with Italy and whilst he'll hog Twitter trends around the world for the next week or so, it will do the brand he's advocating absolutely no good. Unquestionably, a massive own goal for 888, who have rubbed shoulders nicely with former cricketing bad boy Shane Warne and UFC fighter George St. Pierre over the past few years. I'd imagine the shareholders at 888holdings PLC may be seeking his repeal on his ambassadorship way ahead of the next AGM.
There are, remarkably, worse examples than Señor Suarez's no doubt fleeting relationship with 888. Back in 2009, bookmaker Better Bet, who at the time had a few shops open in London and the South East of England, decided it made sense to select ex-Arsenal and England forward Paul Merson as their brand ambassador. They must have overlooked Merson's stint in rehab to resolve a gambling addiction costing him over £7 million. Thankfully, the campaign didn't last long and Better Bet's shops are now operated by Jenningsbet.
Shocking research aside, footballers are unquestionably dubious role models and consequently brand ambassadors, despite their prominence and popularity. Gaming brands have had plenty of success looking elsewhere on the celebrity spectrum. Barbara Windsor of Eastenders and Carry On fame has delightfully enhanced both the television and digital advertising of JackpotJoy. When owners Gamesys brought Windsor's Queen of Bingo campaign back to television in July last year, the ad received the highest recall rate for the month (48 percent). This is probably the most successful celebrity tie-up for a gaming firm.
Actors are probably the way forward. Despite bet365's ground-breaking in-ad live odds pushing him down to the supporting actor category, Ray Winstone's popularity as a successful working-class thespian sits perfectly alongside the tongue in-cheek scripts devised to create a really successful partnership.
Beyond mass media, brand ambassadors have their uses when it comes to on-site promotions and even product. Gala Bingo coupled their re-launch with great on-brand tie-ins with the likes of Peter Andre and David Hasselhoff – the latter had his name attached to a scratch card Gala ran exclusively for a period.
Affiliates, with ever-growing budgets, have turned to brand ambassadors too. Freebets.com partnered with Matt Le Tissier, whose tips, delivered via his Twitter following, provided significant returns on investment for the Sunderland-based affiliate over the 2013-14 football seasons. Unlike his Soccer Saturday compatriot Merson, Le Tissier's most famous indiscretion saw him failing to kick the ball off the pitch from the kick-off to win a 'Time of first throw in' spread bet—more comical than damaging and a job well done by Freebets.com.
Successful endorsements are generally extravagances for iGaming operators with big budgets. Poker-aside, where celebrities tend to be replaced by celebrated poker professionals; it's tough to establish a strong enough meaning transfer between the parties beyond dodgy tips on social media. With allegations of edge sorting from Borgata and Crockfords sitting over Phil Ivey, arguably the most marketable poker player on the planet, even a pro-room tie up has its risks.
Ultimately, unless you can find a quiet-living, semi-retired, little, old lady who has the charisma to appeal to your target market, successful celebrity endorsements carry an element of luck… there are very few flawless characters around, just ask Nike. That being said, there have been quite a few far too risky long shot gambles in the iGaming space coming back to bite unprepared operators squarely on the ass—or their shoulder.  iGaming operators, much like Chewy Luis and his bad news have much to learn about life in the celebrity spotlight.