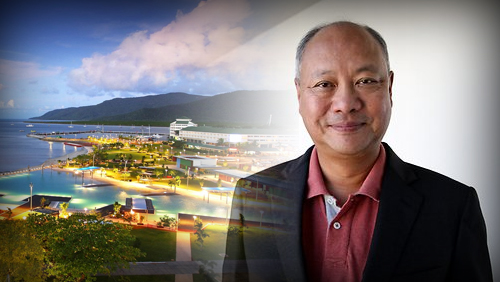 Hong Kong billionaire Tony Fung has high hopes for Cairns, Australia, so much so, he's investing $7.5 billion to build the Aquis Resort at the Great Barrier Reef. Fung is gambling on the belief that Cairns, a town commonly known as a backpackers' destination, will grow to rival to Macau as a premier gambling hub.
It's a little ambitious even for a man who has made billions by being smarter than everyone in the room. Fung is confident that Cairns has untapped potential, alluding to a natural environment that attracts tourists from all over the world. He's looking to complement it with a massive resort and casino, which will include 7,500 hotel rooms scattered around an artificial lagoon. Once completed, Aquis is expected to have more hotel rooms than Singapore's Marina Bay Sands and Resorts World Sentosa combined.
Aquis is also expected to include a massive casino space with at least 1,500 slot machines and 750 gambling tables. A world-class golf course, a 25,000-seat sports stadium, a pair of 2,500-seat theaters, 3,500 square meters of high-end retail and dining options and the world's largest aquarium are also being planned.
Fung's project took a huge step forward last week when the Queensland government gave initial approval to the bid for ASF Consortium's $7-billion Broadwater Marine project in the Gold Coast. The next step is acquiring environment, planning and gambling approvals.
Selling Australia as a premier-gambling destination to rich Chinese high rollers is something of which Fung is confident, alluding to its proximity to Macau compared to far-flung areas in Europe and North America. Having a plethora of tourist stops, including the Great Barrier Reef, will help increase the profile of Cairns as a prime spot for affluent Chinese gamblers.
Comments