Lee Davy sits down with the reigning $50,000 Poker Players Championship champion to talk about his return to the World Series of Poker (WSOP), just one year after announcing himself firmly on the world stage.

Whilst I am pretty sure Matthew Ashton was blipping furiously on many people's radar before 2013; I didn't see his dot show up on mine.
For that to happen he had to finish third, second and then seventh in three World Series of Poker (WSOP) events, in three different derivatives of the art, squeezed into a period of a fortnight.
Blip…Blip…Blip.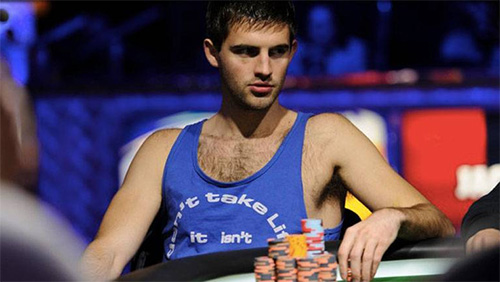 A young pretender to the mixed game throne?
I imagine that's what a lot of people were thinking before he walked away with one of the most sought after titles of every WSOP structure: The $50,000 Poker Players Championship.
BLIP.
Impacts like that barely get through the night sky without a few people seeing it pass. His performance was so good I expect even the great Phil Ivey to know who he is should he trade blows on the felt.
One year on, and I guess things are different for Ashton. He is no longer the surprise package. When he says, 'Boo!' I don't think anybody moves anymore.
"I am a little more aware that people know who I am now, and are a little more cautious; expecting me to test them more because they think I am a better player now. But I'm just playing my own game and adjusting to everyone else."
One year later and he is at it again after chopping the $10,000 No Limit Hold'em WSOP National Championships, in Atlantic City, with Athanasios Polychronopoulos and the eventual winner Dominik Nitsche.
"My friends were surprised that I went, but it seemed like a fun tournament, and it had a lot of value with the circuit grinders playing. A lot of them played well, but it still held a lot of value. It was also a place I had never been to before, and I wanted to check it out. I got pretty lucky and finished third. I enjoyed it. It's good to come into the WSOP free rolling due to that tournament, as it takes some of the pressure off."
The score was only Ashton's third success in a NLHE tournament. Does the Cadillac of poker seem more like a three-wheeler van to him?
"If I play once a month I really enjoy it, but if it's more than that I find it hard to get into it, and if I don't get into it I just don't play that well."
I wonder if Ashton is a grinder. A man who enters every event including the $1k/1.5k NLHE events?
"I won't be playing in the smaller buy-in NLHE events, but I will play some of the smaller buy-in mixed games, especially if I think I will enjoy them. However, if there are better cash games, or something else I would like to do, I may skip some of them as well."
As professional poker players continue to advance their skills, more and more of them seem to be picking up the mixed games. What would Ashton's advice be to a NLHE player trying to learn different games?
"If you come from a NLHE background, playing games similar to that is a good strategy. Limit Hold'em is a start, as is Pot Limit Omaha – although you get four cards and it's a lot more complicated. Then I would say Triple Draw, as it has the same blind structure. Then lastly, the Stud games, because they are very different and you have to pay attention to different things."
Where does one go to learn these mixed games?
"I learned online. There are always games running, at all different stakes. There is no better way to learn that to practise. It's still the best way – to get a few hands under your belt. There are videos on IveyLeague and RunItOnce. Ivey has done some mixed game videos and James Obst has done one for RunItOnce, which was good. There is some material out there, but I would still recommend playing by yourself to begin with."
And there was me thinking a young Scouser would have picked up his mixed game strategy playing Dealers Choice (DC) cash games with the old codgers down the local casino?
"I actually did play in some of those games when I was in University at Sheffield. I wasn't very popular there though. I remember there was two seats open one night and they wouldn't let me play all night. It's great that they have a DC event at this years WSOP, I won't be able to play in it unfortunately, but I think it will be a great event."
I often wonder if Matt Ashton is really as good as his results indicate, or is everybody else just really bad?
"Different games have involved to different stages. A game like Stud Hi just hasn't evolved. I would say the average player was better at Stud Hi, maybe 20-years ago now, or there's not much in it. The game just hasn't evolved that much, whereas in PLO, people have gotten pretty good at it now.
"I would say most of the H.O.R.S.E games – besides Limit Hold'em – people still haven't figured them out. Every year I come back and people are still making the same mistakes."
Who impresses Ashton?
"I would give a lot of credit to the online players. The games are evolving faster online, and the best players are the ones winning in the highest games there.
"The guys who were really successful in the past, in live games, are not doing as well in the online mixed games, and this shows that the online players are coming through."