Noah Schwartz: Mixing It and Maxing It Audio
Lee Davy sits down with Noah Schwartz to talk about his exit from the $25K Mixed-Max event; 30:1 bracelet bets, and a whole lot more.
If there is such a thing as a poker fan, then the halls of the Rio are an autograph hunters' wet dream. Get your notebooks, pens and Kleenex out; because there is a whole host of superstars all lining the walls ready to talk about a bad beat to someone.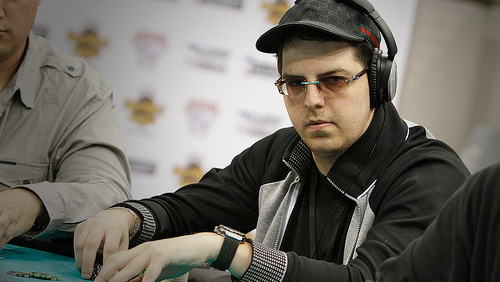 As I stride anonymously down those gilded halls. Eye, spy, with my little eye, something beginning with Michael "The Grinder" Mizrachi and Noah Schwartz.
The pair are talking about Schwartz's recent departure from the $25K Mixed Max No-Limit Hold'em (NLHE) Event, where he finished in 16th place, after ending up on the wrong end of a beat against Vanessa Selbst.
I wait patiently for them to break and decide to pounce. I have never spoken to Schwartz before, and so he got my pick. He looked a little tired around the eyes but was willing to give me some of his time. Ever the true professional he was pushing his disappointment behind him before heading to the cage to register for the $1K NLHE Event that was in full swing on the poker tables behind us.
"I have just busted the $25k Mixed-Max. I made $30k, but it's not what I wanted. I'm a little disappointed, but life goes on," said Schwartz as he shakes my hand and opens his ears for me.
The first time I ever saw Schwartz in action was at the World Series of Poker Europe (WSOPE) back in Cannes in 2011. He was playing the €10K Mixed-Max NLHE Event; the first time it had been introduced into the WSOP schedule, and he was picking up a check for $149,740, after losing out in the semi-finals to the highly talented Shawn Buchanan.
Over the years, he has become somewhat of an exponent of this type of format, so I can understand his frustration at not being able to find the luck his call against Selbst deserved.
"I really like this format as it really allows you to show your edges. You have to switch your game; it plays fast, hand values change and you have to make adjustments on the fly. This is why I love the game. Always thinking and trying to figure things out."
There is another reason that the 16th place finish hurt Schwartz. In 2013, he created a bracelet bet where he offered 30:1 to all takers, that he would win two bracelets, and boy did he come so close to earning quite a lot of money.
"Yeah…I won one and came second in another. It was my best game as well, and not just that, but I also held a 6:1 chip lead going into heads-up and blew it."
Schwartz is talking about his loss to Joshua Pollock in Event #22: $1,500 Pot-Limit Omaha (PLO). He would put that disappointment behind him to capture his first WSOP bracelet in the €3,250 PLO Mixed-Max Event at the WSOPE in Paris just a few months later.
"I have the same bet going this year. I have some of the same takers this year, but I would like to get a lot more action if anybody fancies it.
"I am really passionate about poker and like to make bracelet bets to spice things up. I'm feeling fresh, so I am going to go for it and play as many events as possible."
From a $25k buy-in, to a $1k buy-in, and then onto a $1M buy-in. How does he do it? Is it difficult to raise a million dollars to get into the biggest game on earth?
"Luckily for me, I have been able to surround myself with a lot of successful individuals. This year is more difficult though because I am taking a larger piece, but it will all come together at the right time."
Poker, poker, poker…but what does Schwartz do when he isn't sitting at the tables?
"I like to party and enjoy myself. My girlfriend is out here also so we like to go out and eat and watch some shows. Michael Jackson ONE is the best show in Vegas. I could easily watch it 10-times and never tire of it."
So there you have it.
If you want a piece of Schwartz's one-drop action or fancy taking him up on his 30:1 odds, then head over to twitter and reach out to him at @noahjschwartz.
If not, head over to Mandalay Bay and watch one instead.
Comments