The GPI expand into print as they launch their first ever print magazine in time for the World Series of Poker (WSOP).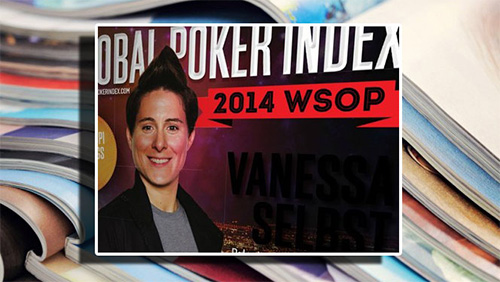 Fancy giving those eyes a little rest away from the electronic glare?
Well now you can, courtesy of the first ever Global Poker Index (GPI) print magazine. The 56-page monster has been released to coincide with the greatest show on earth, and as one would expect, is chocked to the brim with WSOP news, trivia and whatnot.
Vanessa Selbst graces the first front cover, and is one of two players who gets a few pages of air time, alongside the current GPI number one: Ole Schemion.
"I'm very excited to introduce the first ever edition of the Global Poker Index magazine. We're grateful to our more than 450,000 loyal monthly web visitors, but giving everyone the chance to have access to our content table-side at the WSOP is special." Said the CEO of the GPI, Alex Dreyfus.
The magazine will be made available, for free, at the Rio, The Bellagio, The Aria, The Wynn, The Golden Nugget, and the poker room that people say they will avoid and never do: The Venetian.
The younger readers probably don't understand what the word 'print publication' means. So, fortunately for them, the magazine is also available in digital format, although navigation of said magazine is trickier than the final Boss in Wonder Boy.
The GPI Top 300 is already showcased in USA Today, and Dreyfus sees the creation of a print magazine, as the logical next step.
"I see this magazine as another stepping stone and encourage anyone who isn't in the GPI Top 300 to see if you've made the GPI Top 1,500 list instead."
Highlights include a GPI Top 1,500; a WSOP guide, a Las Vegas Survival Guide, an in depth look at how the GPI Formula works, Fantasy Poker Manager, and an expert look at who the stars of the WSOP show are going to be.
The magazine also contains news of the GPI American Poker Awards; a new awards ceremony planned for Feb 2015, in Los Angeles, created to honor the very best poker players in North America.
The digital version of the magazine can be found here, and the print versions will be available on June 1st.