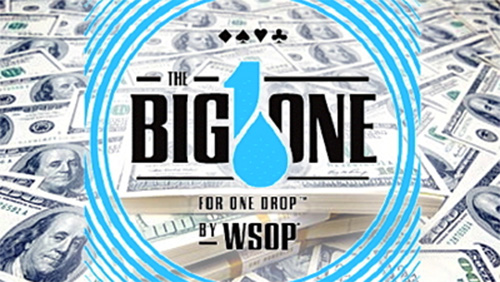 10-more players have found the $1m buy-in necessary to participate in the most lucrative poker tournament the world has ever seen, as Vanessa Selbst, Jean Robert-Bellande, Anthony Gregg, an unknown Asian businessman, and six of German's finest, all stump up the cash.
How difficult is it to find the million necessary to play in the BIG ONE for ONE DROP?
Either Jean-Robert Bellande is telling us porky pies or it's not as difficult as one first thought.
The man who has achieved notoriety for being continually broke, and having a poker game that struggles to gain respect, turned up the Rio in his personalized number plated Bentley to turn over $1m in cash at the Rio counter.
The case for 'it's not what you know, but whom you know,' has never been more beautifully lived out than in the context of the life of BrokeLivingJRB.
Joining Bellande in the field is Vanessa Selbst, the winner of last year's One Drop High Roller Anthony Gregg, an anonymous Asian businessman, and six of Germans finest vintage in the shape of Tobias Reinkemeier, Igor Kurganov, Fabian Quoss, Niklas Heinecker and Christoph Vogelsand.
"I'm so excited to be taking part in The BIG ONE for ONE DROP this year," Selbst told the WSOP in a statement. "I didn't get to play in 2012, but after seeing how much fun everyone had with the event as well as how profound an impact it had on ONE DROP, I knew I had to be a part of it this time around."
That takes the up to date count to 33 reserved seats, with 23 up for grabs, and you can secure your own through the $25,300 Mega Satellite that last year saw Gus Hansen take the seat after striking a deal that saw Shaun Deeb take a million bucks away from the table.
The date for that $25,300 Mega Satellite will be June 28th, and players will have no fewer than seven chances to get into that last gasp qualifier with buy-ins ranging from $200 to $3,750 set to place on June 26th and 27th.
The WSOP have also released the ESPN TV scheduling with the coverage being spread over three days, and condensed down to six hours, with the following timetable.
• Tue July 15th 9-11pm ET (Covering Day 1 and 2 action)
• Tue July 22nd 9-11pm ET (Covering Day 2 and the final table bubble)
• Tue July 29th 9-11pm ET (Covering the final table through to an eventual winner)
"With the unthinkable stakes of The BIG ONE for ONE DROP and its colorful mix of early committees, we are thrilled ESPN has embraced the opportunity to truly showcase a seminal moment for poker that just may yield the biggest first prize in sports television history," said WSOP Executive Director Ty Stewart.
So who else do I anticipate joining the fray?
I think it's almost certain that Daniel Negreanu will find his way into the mix, I expect Mike Sexton to once again find a backer big enough to participate, Phil Hellmuth will once again make a last gasp appearance, Timothy Adams told me that he was planning to participate, as did Daniel 'Jungleman' Cates.
The Confirmed Players
1. Antonio Esfandiari
2. Guy Laliberté
3. Bobby Baldwin
4. David Einhorn
5. Phil Galfond
6. Philipp Gruissem
7. Phil Ivey
8. Jason Mercier
9. Paul Newey
10. Bill Perkins
11. Vivek Rajkumar
12. Brian Rast
13. Andrew Robl
14. Erik Seidel
15. Brandon Steven
16. Sam Trickett
17. Noah Schwartz
18. Tobias Reinkemeier
19. Vanessa Selbst
20. Jean-Robert Bellande
21. Fabian Quoss
22. Max Altergott
23. Anthony Gregg
24. Igor Kurganov
25. Christoph Vogelsang
26. Niklas Heinecker
27. Anonymous Asian Businessman
28. Anonymous Businessman
29. Anonymous Businessman
30. Anonymous Businessman
31. Aria Resort Satellite Seat
32. Bellagio Resort Satellite Seat
33. World Series of Poker Satellite Seat