Almost one month ago to the day, the most horrific moment in any SEO's career occurred. Sudden and complete loss of all rankings, no sudden decline, no granularity, no region and no brand visibility – no exception!
"Both bwin.com and partypoker.com were impacted on the same day, with identical symptoms," said Media Skunk Works CEO Paul Reilly.
This devastating blow was issued as a result of specific reasons and appears to be isolated to one of two NMA top 50 agencies, who shall not be named for reasons of good sportsmanship. It is also rumored to be related to fundamental change in Google's spam team KPIs
Reilly's message to iGaming, procurement officers and senior digital decision makers is to ensure the following:
"You must reserve the right to perform an independent third party expert departmental audit – without prior notice"
Those already engaged with SEO (regardless of how respectable they are perceived).
Ask yourself: "Is your SEO agency or link supplier looking after your brand or merely servicing your account?" Otherwise, you may be vulnerable to an impact such as this, which impacted identically in all countries where bwin have a footprint.
Figure 1) bwin's UK SEO performance chart
The devastation coincides with the lead-up to the World Cup, as well as an already intense shareholder management shake-up and includes the iGaming giant's main domain bwin.com's ability to rank for the brand query "bwin" in all regions within the global footprint.
"We're seeing the build up to World Cup betting already on the rise, I wouldn't want to be in the shoes of the Marketing Director right now," Reilly added.
Figure 2) bwin's UK SEO performance chart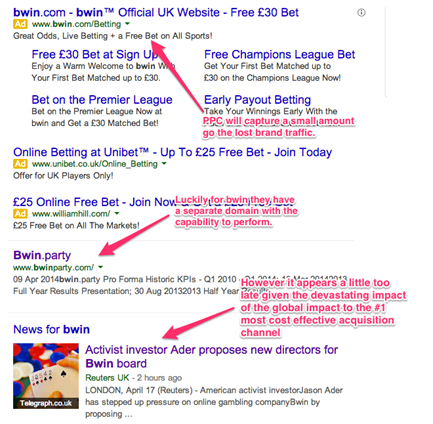 A detailed breakdown including precisely how the SEO game has changed, along with specific details on how to prevent these occurrences by applying business critical processes and security.
Contact Paul Reilly via email at [email protected] for more information.