California's Assembly Governmental Organization Committee held an informatonal hearing on the positives and negatives of regulating online poker on Wednesday. Among the negatives? The five bloody hours it took to get through all the witness testimony. California legislators are currently contemplating two separate online poker bills, but committee chairman Isadore Hall III started the proceedings by insisting that no specific legislation was up for discussion on the day.
Witness testimony began with Anita Lee, a state fiscal and policy analyst, who set the stage by describing operations in the three US states that have so far offered some form of online gambling. Lee was followed by former Nevada Gaming Control Board chairman Mark Lipparelli (pictured below right), who touted Nevada's regulatory model and the "nearly scandal-free" record the state has recorded over the past 75 years.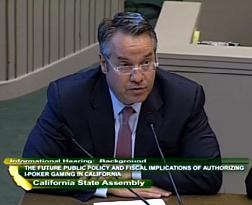 Shifting to the always testy subject of who should be qualified for licensing, Lipparelli suggested operators who exited the US market following the 2006 passage of the Unlawful Internet Gambling Enforcement Act (UIGEA) "made the proper call" despite significant blows to their bottom lines. Lipparelli urged legislators to crack the legal whip on any grey market operators that continued to serve the state market following passage of online poker legislation.
Lipparelli brushed aside money laundering concerns by stating that online poker was a seriously inefficient way to go about it. Lipparelli also warned legislators that despite what they might hear later on in the proceedings, online gambling "provides materially greater protection" against money laundering than B&M casinos.
As for taxes, Lipparelli suggested a rate in "high single digits" would be optimal, while anything approaching double-digits would drive players into the arms of grey market sites.
Hall asked Lipparelli why Nevada went poker-only, but Lipparelli pointed out that the state's legislation allows for all forms of gambling, they just chose poker to start. Rep. Franklin Bigelow wondered how much extra money Nevada had to spend in terms of overseeing its new online poker operations, leading Lipparelli to humble-brag that the state hadn't added a single warm body to handle the task.
PANEL #2: BUSINESS STUFF
The second panel kicked off with Gambling Compliance research director Chris Krafcik, whom Hall observed had a "name as nice as his [checked] shirt." Krafcik then broke out his stat sheet, saying the US online poker market generated around $920m in revenue in 2005. Krafcik said online poker in the three regulated US states is expected to yield $50m this year, around 5% of the 2005 tally. Krafcik estimated that California's regulated online poker market would be worth $317m in year one, rising to $597m in year four.
Next up was Borgata Hotel & Casino president Tom Ballance, who told the hearing he originally viewed online gambling with trepidation, but ultimately saw it as an opportunity and went for it. Ballance touted New Jersey's nine-month deadline from passing legislation to market launch, which helped level the playing field for operators. Making the deadline was a challenge, "like painting an airplane while flying," but cooperation between industry and the state made it work. Balance said operators viewed the target as a "no later than" date and nobody wanted to be left behind.
Ballance claimed the biggest headache to date in New Jersey was payment processing, because "if you can't get a pig through a python, someone's going to lose." But Ballance's "anxiety over cannibalization was unfounded," as demonstrated by the fact that players can earn different types of rewards online but Borgata comp dollars – redeemable at the Borgata's physical location – are currently the most popular form of reward.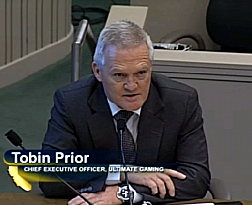 Next up was Ultimate Gaming CEO Tobin Prior, who said his parent firm Station Casinos had "a history of running toward good regulation." Prior likened the pre-launch technology testing process to an auto crash test, i.e. "pretty binary: you either pass or you don't." Prior stated emphatically that the technology works, even if "too many people with different agendas" had created confusion on this issue.
Prior noted that "the sky did not fall in" post-launch and that "no land-based gaming establishment anywhere in the world" could match Ultimate Gaming's data collection abilities. Prior admitted that the insistence on strong KYC policies had its downside, suggesting the average player registration took around six minutes and that you lose one in 10 customers with every extra click the registration process forced them to make. Ballance added that asking for social security numbers was the single biggest cause of players bailing on the registration process.
Questions came from Bigelow, who wanted to know if technology existed to geo-fence a specific town or county that didn't want online poker in their jurisdiction. Prior said it was potentially possible but deferred to upcoming testimony by geolocation experts. Rep. Reginald Jones-Sawyer wanted to know the top three regulations the state needed to focus on; Ballance said compliance with the Bank Secrecy Act, geocompliance… then had a Gov. Rick Perry moment when he couldn't remember #3, leaving Prior to step in and say identify verification.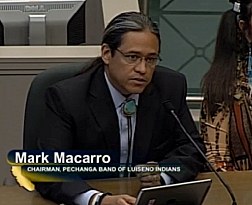 PANEL 3: TRIBES
Next up was the all-important tribal perspective, starting with Pechanga chairman Mark Macarro, who talked up efforts to unite tribes around the 2291 poker legislation currently awaiting a discussion on the legislative floor. Macarro suggested the tribes had acknowledged that it was better to "design the bus rather than get run over by it."
Then came Rincon chairman Bo Mazzetti, who stressed the importance of keeping out 'bad actors' before handing the mike to Pala chairman Robert Smith, who also gave lousy thespians a good kicking. San Manuel chairwoman Lynn Valbuena added that "only those with a proven record of compliance" should be allowed onto California's online poker stage.
Agua Caliente chairman Jeff L. Grubbe continued the theme, calling for a limit on the number of sites any tribe can operate to reduce the possibility of 'false fronts" skirting the bad actor provisions. Grubbe also rejected the notion that horseracing tracks should be allowed to participate in online poker, suggesting there were other means of arresting racing's decline.
United Auburn Indian Community chairman Gene Whitehouse said the state should authorize tribal-based online poker because the "regulators know the tribes and the tribes know poker." Whitehouse estimated the state could earn $800m in tax revenue over five years through a combination of direct gaming tax, corporate tax and tax on player winnings.
For reasons that would soon become apparent, Morongo Band of Mission Indians chairman Robert Martin struck a vastly different tone than his tribal counterparts. Martin criticized the 'bad actor' language in the 2291 online poker bill, describing it as "a smokescreen designed to block a single vendor … to give a competitive advantage to others." (It's worth noting that despite everyone knowing that this unnamed vendor was PokerStars, its name was never once uttered aloud during the entire five-hour proceeding. It's like they're Prince during his unpronounceable symbol 'Artist Formerly Known As…' phase.)
Martin noted that the 2006 dividing line separating 'bad actors' from good was not only arbitrary but misleading, in that the passage of the UIGEA didn't change what constituted legal gambling. As such, Martin suggested looking at a company's entire history, such as what markets they were serving in 2005 or 2004, before deciding whose fleece was actually whiter than snow.
Martin suggested regulators conduct a comprehensive review of all operators' pre-2006 activities, to "shake them and see what falls out." Martin insisted that the Morongo Band believed in high standards, but they didn't want to see the authority of the state's gaming regulators usurped for "purely anti-competitive reasons."
Martin's stance was picked up by Committee Vice-Chair Brian Nestande, who suggested tribes were seeking to impose a definition of 'bad actor' that wasn't in the state's existing gambling regulations. Macarro denied the bad actor policy was aimed at one company, but maintained that licensing companies that violated UIGEA or federal law would be bad policy. Nestande countered that They Who Must Not Be Named hadn't actually been convicted of anything.
PANEL #4 CARD CLUBS
The state's licensed card clubs panel started with Hawaiian Gardens Casino chairman Ron Sarabi, who stressed that the state hosted the country's largest poker games, which generated significant tax revenue for municipal budgets. Sarabi believes card clubs needed to embrace the future and believes online poker will have "significant positive impact" on both card club and state tax revenue.
Next up was Hawaiian Gardens Casino general counsel and Bicycle Casino online poker counsel Keith Sharp, who cited a 2011 study that found card clubs generated $1.8b in economic output, $270m in tax revenue and $790m in labor income for California workers. Sharp said he supported a "fair but strict regulatory process" that keeps out "criminal and corruptive elements" but hoped legislators wouldn't try to accommodate companies "that don't wish to compete."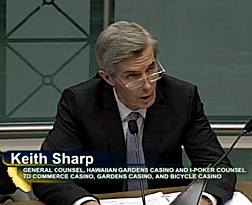 Sharp noted that the state's Gambling Control Act already prevents anyone convicted of a felony from being issued a California gambling license, so why the need to reinvent the wheel? Sharp urged legislators to leave suitability judgments for regulators to decide on an individual basis.
Next was California Grand Casino chief counsel David Fried who very briefly warned that online poker would likely benefit card clubs that participated in online poker, while those not participating might suffer. Nestande asked Fried to quantify the potential cannibalization, but Fried suggested only that some would be "left behind." Sarabi countered this argument with his own stats, noting that the global financial meltdown of 2008 had resulted in a 12% decline at his card room, while Black Friday resulted in a 10-15% decline. To Sarabi, this demonstrated that online poker complements the land-based game.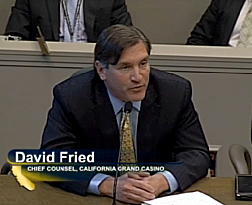 Sarabi also suggested leaving the suitability decisions to regulators, not legislators. Sarabi vouched for the dogged efficiency of regulators, noting that they'd questioned a $75 bank deposit by his six-year-old son and even called his ex-wife – "and I survived!" Fried warned that leaving the issue to regulators might cause prospective operators to hesitate spending the millions necessary to prep for a California launch because they were worried about competing with a very popular online poker company that might be allowed in later. Sharp countered that this stance backed up his belief that the bad actor urge had anti-competitive DNA.
Notably, Sarabi capped off the discussion by citing conversations with online players who referred to [PokerStars] as the most "trustworthy" company in the business.
PANEL #5 HORSERACING
The state's horseracing industry was up next. The extremely succinct Josh Rubenstein, exec VP of the Del Mar Thoroughbred Club, pointed out that his industry was the only one currently operating online gambling in the state. Rubenstein said racing wasn't "looking for a subsidy or special treatment, just a level playing field."
Next was the not so succinct Thoroughbred Owners of California president Joe Morris, who lovingly detailed the industry's longevity in the state. Morris also detailed a list of grievances in not getting a cut of the lottery business and other gambling operations. Tellingly, there were zero questions from the legislators.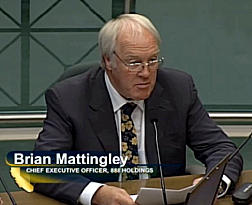 PANEL #6 SERVICE PROVIDERS
Moving to the online gambling industry service providers, 888 Holdings CEO Brian Mattingley touted his company having been the first to pull out of the US market post-UIGEA and the first to return to the regulated US state-level business. Mattingley noted that 888 was the only operator currently doing business in all three US regulated markets but also bemoaned the lack of federal regulation that would preclude having to set up duplicate infrastructure in every single state.
Ultimate Gaming CTO Chris Derossi talked up his company's experience in KYC data collection in two states, which, in addition to allowing regulators to sift through data in search of evildoing, had resulted in a "drastically less" number of chargebacks.
TVG/Betfair US senior VP John Hindman felt the need to point out that Betfair had never taken online gambling wagers from US residents post-UIGEA. Regarding the disappointing revenue results to date in regulated US markets, Hindman noted that this wasn't a "build it and they will come" business. Hindman also noted the dearth of money laundering or underage gambling incidents since the regulated market launches, despite the hysterical predictions of some naysayers.
Last up was Churchill Downs Inc. legal VP Brad Blackwell, whose chief concern seemed to be reminding legislators (twice) that CDI had chosen to base its TwinSpires online business in Mountain View, California. So, uh, your turn?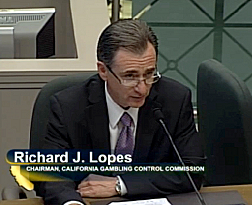 PANEL #7: REGULATING AND STUFF
Moving to the enforcement portion of the pageant, California Gambling Control Commission chairman Richard J. Lopes said he envisioned a 205-day process for promulgating regulations. Lopes said this would require some temporary staffing help to draft regulations as well as hiring some consultants, but no additional bodies need be appointed to the commission. Lopes said the four key aspects dictating the scope of regulations would be: suitability, age/identify verification, geolocation and protection of the vulnerable.
Next was California Dept. of Justice Bureau of Gambling Control chief Wayne Quint Jr., who stressed the rigorous vetting process to which online poker license applicants would be subjected. Unlike Lopes, the Bureau's reps said they would need extra resources to perform proper background checks on applicants. Interim licenses could be issued while investigations continued, but several months would be required to do proper checks. Legislators were told to allow for the time required to perform these checks when crafting their legislation.
PANEL #8: TECHNOLOGY SUPPORT SERVICES
By the time things got around to technology support services, we were four hours into the process and Gaming Laboratories Intl. VP of gov't relations Kevin Mullally had left to catch a flight before offering his testimony. Optimal Payments exec VP Doug Lewin suggested the size of California's online poker market might provide the impetus for the big banks and credit card companies to finally relax their reluctance to processing online gambling payments. Lewin emphasized that there'd been "so little fraud" to date in regulated market activity.
Next up was GeoComply CEO Anna Sainsbury, who noted her company had geolocation deals with 10 of New Jersey's 11 licensed operators and conducted 5m transactions per month. Sainsbury said the verification process generally took between 1-3 seconds but could take up to 60 seconds. As for the earlier question regarding geo-blocking a town, Sainsbury said her company's technology could go further than that by blocking (for example) a specific office building.
PANEL #9: LABOR UNIONS
California Teamsters legislative rep Barry Broad spoke out in support of the horseracing industry being allowed to participate in the online poker market. Broad went on to suggest there was no specific reason justifying the tribes' participation, since the majority of this activity wouldn't take place on tribal lands. Broad then went on a rant about how once legislators get a sense of "how big this thing can be," online gambling will soon expand to people betting on Angry Birds.
Next was SEIU Local 280 president John Valenzuela, who painted a grim picture of the fate awaiting the 1,200 parimutuel clerks he represents if the horseracing industry doesn't get to splash in the online poker pool. But should that happen, Valenzuela wanted legislators to ask track operators and horse owners how the extra revenue will benefit the industry's rank-and-file employees. Again, tellingly, there were zero questions for the horsemen from the legislators.
PANEL #9: NAY NAY NAY
Problem gambling support advocate Terri Sue Camale said her group didn't take a stance pro or con re online poker, but suggested that the three states with regulated online gambling were devoting insufficient funds to deal with problem gambling issues.
Las Vegas Sands gov't relations VP Andy Abboud was next, and immediately claimed that the marathon session represented more time than Nevada legislators had devoted to passing their online legislation. Abboud further suggested Nevada legislators had been hoodwinked into thinking they were only passing an online poker bill, citing Lipparelli's comments earlier in the day that the product scope was much larger.
Abboud repeated his boss Sheldon Adelson's oft-stated position that there would be a few online poker winners but many losers. This non-viability convinced Abboud that online poker was a gateway drug to full-fledged online gambling. That was Abboud's cue to repeat his 'mobile phone as casino' prop from his appearance at the last federal online poker hearing in December.
Abboud said he wouldn't believe the technology exists to properly vet customers until the day he doesn't have to turn his computer on and off to fix a software glitch. Ignoring the many times Sands brick-and-mortar casinos have been fined for serving underage or drunk gamblers, Abboud said Sands staffers were trained to screen out ineligible gamblers in a way that online couldn't hope to match.
Rev. James Butler of the California Coalition Agaainst Gambling closed out the day's events by suggesting he had an uphill climb ahead of him, given the favorable comments uttered that day by some of the legislators. Butler suggested he needed to "slow down the train" by claiming online poker would increase unemployment, bankruptcies, divorces, homelessness and (presumably) measles. Nestande cut Butler short, noting that while he appreciated what Butler was saying, the "genie was out of the bottle" and thus "turning back the clock" wasn't an option.
Nestande then questioned whether Abboud had opposed Nevada's online gambling legislation. Abboud said Sands decided to be "neutral" on the issue so as to not upset its fellow Vegas operators. Abboud said Sands' stance changed following the Department of Justice's late-2011 rethink of the Wire Act, which changed the possibilities from poker-only to anything goes (except sports betting). Hall asked Abboud whether Sands had opposed New Jersey's regulation. Again, Abboud said no, but said Sands position "evolved' when they realized a state-by-state rollout was underway.
Hall then used a mobile phone prop of his own to ask whether Sands' Nevada casino sportsbooks offered mobile sports betting, which Abboud confirmed. Abboud denied there was hypocrisy in this stance, but then claimed that it didn't matter, since mobile sports wagering accounted for less than $1m of Sands' revenue. Abboud went on to say that if Adelson had his way, he'd 'throw out" this revenue stream tomorrow. Abboud noted that Sands didn't run its own sportsbooks, but it's hard to believe that Adelson's attorneys have no input whatsoever into writing their contracts with CG Technology.
And five hours later, it was over. You're welcome.