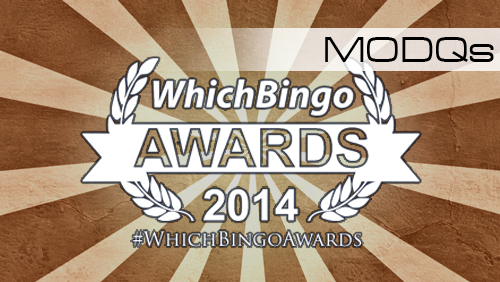 Having run online awards for ten years, WhichBingo are now attempting to join the top table of online gambling awards with their WhichBingo Awards. The ambition is to join the likes of iGaming Business and eGR's in running a high-profile event and in order to do so the affiliate has teamed up with Bullet Business and the Online Bingo Summit.
As well as holding an actual event for the awards, WhichBingo have also changed the process by which awards are decided by adding a nominations round. This means that as well as deciding on the final winners, any user can also put forward a nominee to be shortlisted.
Although nominations have only been live for around a week the initial response to a turbo-charged awards has been extremely positive. The first three full days of nominations being accepted saw 170 put forward. Social channels are showing a positive response too with more than 500 Facebook Likes and 140 tweets while several operators are promoting the awards on their own sites.
What will set WhichBingo's awards apart from what you might consider to be some of the higher profile industry awards is that almost all of the latter have closed-judging processes. The lack of transparency often displayed leaves a lot open to interpretation – not necessarily a good thing when many are likely to be cynical.
It's easy to question the knowledge of the judges selected – not necessarily their knowledge of the industry or the specific topic at hand but of all the companies or products nominated. To cast a really informed vote you'd have to have spent a fair bit of time using each product and given that judges receive little in return for their time you'd expect that this isn't the case.
On an even more cynical level it's been suggested in the past that awards often find their way into the hands of companies who have advertised heavily with the event organisers or perhaps booked a large number of tables at the award ceremony. While these suggestions may be a bit extreme it's clear that there is a need for more transparency in iGaming awards so is WhichBingo's approach going to influence others?
Judging versus voting
Wayne Howe, portals manager for WhichBingo, draws on personal experience to explain that he doesn't actually think that there is necessarily a problem with the fairness of awards.
He says: "Sometimes you assume that the operators who have paid for loads of tables at these kinds of awards are going to win, but I specifically remember we won one of the above awards when no-one from our company actually attended on the night. That to me demonstrated those awards were genuinely not influenced by any commercial reasons."
"On the other hand I've seen some award processes where shortlists appear to be announced out of thin air, with no supporting evidence or explanation as to why those sites are up for an award."
There's clearly enough of a perception regarding the legitimacy of awards to encourage organisers to do something about it as some have sought to display a greater level of thoroughness and transparency.
The iGB Affiliate Awards is just one example of an awards process that has become much more thorough this year with judges revealing that entire documents were submitted by each shortlisted candidate explaining why they should win. One affiliate reportedly went into so much detail that their document lasted several pages.
This approach isn't without its own problems though. While the thoroughness is commendable it might make the judges think a little harder next year before they agree to judge. After all they don't gain much from it and are clearly going to prefer it to take up as little of their time as possible. Striking a balance here will be a tough task.
A flawed system?
This is simply one of the pitfalls of using a closed-judging system which begs the question as to why this method seems to be so popular with organisers of iGaming awards. Howe explains his thoughts on why closed-judging systems are so popular.
He says: "If you can establish a judging panel of respected peers and experts, then a closed process can and does work in a wide variety of industries. There is something to be said for being recognised by your industry peers.
"However, in certain industries such as television it is often the player's award that gets most acclaim, and it is equally as rewarding if not more to get recognition from your customer base for doing a great job."
It's fair to say that while both awards processes could be corrupted, it's very unlikely for a player-voted system to be so due to the lack of an incentive for the organiser. Alternatively arguments that player-voted awards are simply popularity contests are understandable.
When it comes to judging it's the quality of judges that is the most important aspect and is one of the reasons that Howe explains led to WhichBingo deciding not to go with a judge-based system. He reveals that they didn't feel that there were enough relevant experts who didn't have links to the sites that would be nominated. eGR make a note that no judges have a say in a category where their own company is nominated but that doesn't necessarily mean that they don't have an interest in them.
While there's no real perfect award system and each method can have holes picked in it, it's encouraging to see the variety being offered by WhichBingo and if that encourages that more established awards operators to increase their transparency then much the better.