Max Pescatori on the Difficulties of Being a Live Tournament Grinder Audio
Lee Davy sits down with the Italian Gioco Digitale sponsored pro Max Pescatori to talk about the difficulties of being a professional poker players in today's tough environment.
The World Series of Poker (WSOP) Media Director Nolan Dalla recently penned a piece for PokerNews where he questioned whether poker had become unbeatable.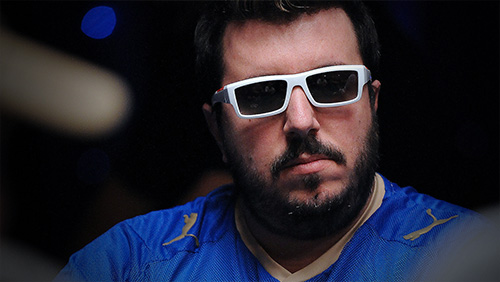 The Italian Max Pescatori has taken $3.3m from the live tournament felt in the past 15-years so whom better to ask to formulate an opinion on this issue.
We caught up with him as he prepared to face the field at Day 1B of the Gioco Digitale WPT Venice Carnival and this is what he had to say.
"I think poker is becoming more difficult and it will get more difficult. This is why I enjoy playing games other than Hold'em. There is less research, less players playing and therefore more of an edge for a good player.
"I love to play all games. Real poker to me is getting players together with a choice of 25 different games. Classic Dealers Choice is the best game to play live. I enjoy it because I can play for hours on end without ever getting bored.
"Tournament hold'em is awesome, but I don't enjoy cash game Hold'em – I never did – cash games on TV is different because there are cameras and everything else that play a part. But online cash games… they are not unbeatable of course but it's really difficult. Players who were once playing higher have moved down because they are finding it difficult as our fish disappear with along with our tuna."
Have you always played mixed games?
"I became a pro in 1999 and I was playing Limit Hold'em back then before switching to Omaha Hi-Lo, then mixed games like Stud Hi-Lo and Razz. Then I went to Limit mixed games all the time.
"Then I started to play tournaments and they were a good way to do business. As a cash game player I used to play in the big games in Vegas all of the time. Not the Bobby Rooms type of games but big nonetheless. But you don't gain popularity through that. So I decided to play some tournament and supplement my income with cash games and it worked out well for me.
So if players just want to grind live tournaments they are going to have a problem?
"Even 15 years ago if you were going to grind live tournament's it was not going to be easy. It's the hardest thing you can try to do. You can play well all the time and you will have a problem at one point of the tournament. If you win one tournament out of a hundred you are a monster. It's difficult to make a living just out of tournaments. If you can get a sponsorship to play tournaments then that's different, but without it it's really tough.
"I wouldn't recommend trying to be a professional by just playing tournaments and that's it. You have to be good at cash and use tournaments as a fun thing and not your primary income."
Almost like a luxury?
"In a cash game four out of ten players are going to walk out of that game a winner…sometimes seven if you have some rich businessmen who are not that good but like to play. But in the tournament we can have four or five guys who are bad players but your five professionals are fighting for one prize. So if 30% of the prize pool goes to one out of 300 people then variance is huge.
"Another problem comes when you win so much money at one time. When you win $50-100k players make expensive purchases like buying a new car, and that's not a way to be professional poker player unless you have sponsorships."
Comments