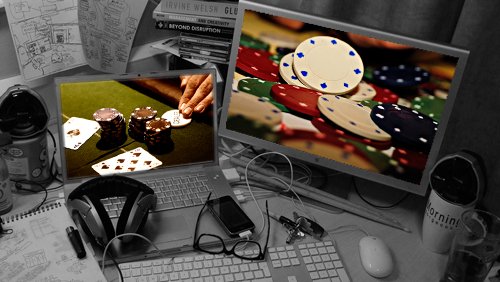 This article isn't going to cover quite as broad a subject as the title might suggest. The question itself was inspired by Jan Jones Blackhurst, executive VP of communications and government for Caesars Entertainment, who mentioned the importance that the Internet has had for the game of poker.
Speaking during the panel session on US market state cooperation at the beginning of this month at the International Casino Exhibition, Jones Blackhurst mentioned that land-based casinos should be grateful for what the internet has done for poker rather than trying to fight against it. She referred to the dwindling numbers of poker tables within land-based casinos before online poker grew in popularity.
This certainly isn't an isolated opinion and there are statistics to back it up. Kahlil Philander and Ingo Fiedler conducted a study into online poker in North America that was published in 2012 in which they suggested, "The presence of online poker may increase demand of offline gambling overall."
Despite this, many land-based casino companies – namely Las Vegas Sands – continue to fight against online gambling of all kinds including poker. What these companies don't realise, or simply choose to ignore, is the fact that as well as providing them with a huge online opportunity, online poker has also helped their land-based poker business.
One of Sands' biggest casinos, The Venetian, opened a poker room in 2006 with 39 tables – a damned site more than would be needed had poker not gone through something of a renaissance. This renaissance could be quite easily tracked to the increase in online poker play. So if a casino magnate and online gaming detractor were reading up on their subject, just how much would it take to convince them that has online poker changed the face of the entire game for the better?
The poker boom
The poker boom is considered to be between 2003 and 2006 (remember when The Venetian felt the need to finally open a poker room? That's right, 2006) with the rollout of online poker thought to be a considerable factor. Chris Moneymaker's appearance at the 2003 WSOP Main Event after having won his ticket online at PokerStars meant that more attention was paid to online poker and that allowed the game to grow quicker.
At what's considered the end of the boom, you'd be hard pushed to describe what happened in 2006 as a coincidence. The passing of UIGEA came in the same year as a massive drop in WSOP Main Event attendance.
Rich Muny, the VP of player relations for the Poker Players Alliance (PPA), explains how the amount of poker played in land-based establishments has changed since the turn of the millennium.
"Looking around the card rooms in the late 1990's and early 2000's, there were certainly far fewer than today," he says.
"A riverboat in my area was the only place to play legally. They had just a few tables going at any one time and it was in an unattractive part of the boat on the lower deck. Today, there are several attractive options local to the area that now do a terrific business."
Of course, it certainly helps that more states now permit commercial poker and more casinos, such as the Venetian, now have poker rooms but these factors should be seen as the effects rather than the cause. It's hard to pinpoint any external factors that could have had such a significant impact on the popularity of poker than the Internet.
The cause
Muny explains that the game was clearly far less popular just over a decade ago than it is today and draws attention to the availability of poker tables, television and other media coverage as proof of that. Tellingly, many of the PPA's members play their poker online as well as in land-based casinos.
"We believe it's the popularity of the online game that helped drive renewed interest in the land-based rooms," Muny explains.
"The percentages of our members that play in land-based or online can fluctuate year over year, especially with the impact of Black Friday, but players will find a place to play. Where states allow online poker, players will play there. Where states try to prohibit the game, I predict new sites opening and current sites expanding to take advantage of that un-served market."
Part of the reason that the Internet has helped land-based poker is that it offers a smoother transition from poker novice to competent player. Very few people would have the courage to walk into a casino or card room and start playing with the regulars but being online allows for near-anonymity. If you make a mistake, all it means is that you've lost a bit of money.
Muny reveals that learning the game online is now a common theme among their newer members.
He says: "New players can start online and learn the game before visiting a land-based card room. They can get more hands and more experience, improving their game. And this improvement has resulted in an increased demand for books, coaching, videos, forums, media and much more."
There are many reasons that the opposition being put forward by land-based casino operators doesn't make sense. But the fact that they appear to be biting the hand that not only feeds them but also was a reason for some of their success appears to be a strange move from whichever viewpoint you look at it from.
Comments