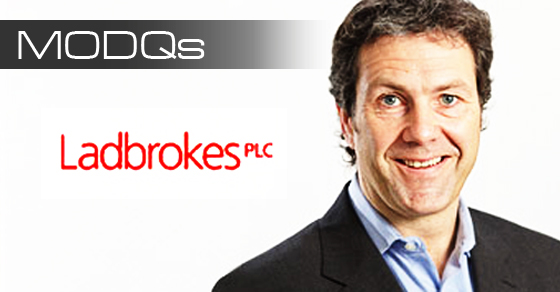 It's been pretty easy to be critical of Ladbrokes and their CEO Richard Glynn in the last couple of years. He set himself up for a fall by coming in making bold claims and even creating an exciting sounding project title.
Project Galvanise was intended to bring Ladbrokes into the internet age – something that's paramount for certainly bookmakers and more widely all land-based gambling companies. Ladbrokes actually started off well, particularly with their poker product and certainly made the most noise about their digital transformation but more recently they've been one of the poorest performers when it's come to digital profit. We're now at the stage where the rest of this year seems to be a make or break situation for the company's top execs – namely Glynn himself.
Speculation continues to grow about his position after several profit warnings and now some pretty disastrous results. No one expected Ladbrokes' 2013 results to be anything other than underwhelming but a 74% drop in digital profits was the headline among many lowlights.
With these continued struggles much of the mainstream media is already talking about Glynn's time being up following almost four years at the head of the company. The company are still making many changes in an effort to see what sticks and while few of these have been fruitful so far, one move that could prove to, at the very least, improve Ladbrokes' reputation emerged earlier this week.
It came in the form of a letter penned by Glynn and picked up on by Sky News regarding linking the pay of top executives to targets on tackling problem gambling. In a time when journalists struggling for content are all too happy to run the latest update in the campaign against fixed-odds betting terminals (FOBTs) this move could prove to be crucial in getting politicians onside. It will also provide more substance to that argument that bookmakers really are doing all they can to tackle the issue of problem gambling.
Caring about problem gambling
This is without doubt one of Glynn's most commendable acts as Ladbrokes CEO but it isn't simply an altruistic move. This renewed effort to ensure that Ladbrokes are being seen to do all it can to stop problem gambling simply makes sense.
If they manage to dramatically decrease the numbers of problem gamblers then it's a problem solved. Even if not they're going to be looked upon favourable as a company who aren't a threat to the public – which may sound dramatic but we're not too far away from the Daily Mail presenting high-street bookmakers in the same light as the antichrist.
Glynn's review in Ladbrokes' 2013 results released earlier this week added that this isn't simply a charitable move – it's a sensible business strategy.
He explained: "Our strong view is that this represents an opportunity to engage with customers, build trust and ultimately loyalty. Responsible gambling is not a passing regulatory issue but a fact of life for all operators and an issue we take very seriously. Problem gamblers, contrary to popular myth are not good for business."
Glynn also revealed that changes will be made in the coming months to the company's retail offering to make them a more responsible company as well as a board committee being created with the remit to investigate responsible gambling policies.
Ladbrokes aren't the only bookmaker to do move toward promoting themselves as a more responsible company. They team up with Gala Coral, Paddy Power, William Hill and Betfred to create a code for fixed odds gaming with a focus on responsibility.
The letter, which was obtained by the Telegraph read: "We are not complacent as all gambling products have the capacity to cause harm to a small number of individuals. We have trained nearly 40,000 staff to look out for signs of problem gambling behaviour and how best to approach customers who might need help."
Long term good
Problem gambling is already recognised as being on a downward trend. The Health Survey for England reported that an average of 0.5% of people were classified as problem gamblers in 2012 – almost half of where that figure was in 2010.
Upon the publishing of this Survey Rebekah Eden, the Gambling Commission's programme director for evidence and analysis, commented that that while problem gambling is down, it is still a significant risk in specific groups of the population.
She added: "This puts even greater emphasis on the industry finding new ways to identify people who are suffering problems or who are at risk, and intervening effectively."
Bookmakers certainly appear to be heeding this advice and by making the moves described above Ladbrokes are emerging as a leader in this respect. Unfortunately it's about the only thing in which they are a leader in at the moment.
The irony is that while these renewed efforts are likely to benefit Ladbrokes and the industry as a whole in the long term, unfortunately for Glynn, unless these and many other benefits emerge soon, he might not be around to see it.