On the heels of ICE Totally Gaming and the London Affiliate Conference 2014, I wanted to speak to an organization that had a big presence at both events to see what's new in their world and how the conferences complimented their business.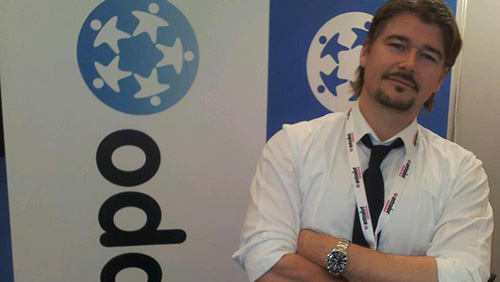 Rasmus Sojmark of SBCNews.co.uk and Oddslife.com has been working around the clock recruiting Andrew McCarron as the new MD of SBC, revamping the SBC website, organizing the London Baby! Party during ICE, organizing a Betting on Football Conference in May and sealing all sorts of deals between Oddslife and sports media giants such as MARCA.
Its hard to imagine having so many projects on the go, yet Rasmus pulls it off year after year, with style and grace.  Miraculously, I was able to track Rasmus down for a quick conversation amongst the madness to discuss the importance behind the MARCA/Oddsife partnership and what else is cooking in the world of sports betting in Europe.
Becky Liggero: Rasmus, thank you so much for taking the time out of your hectic schedule to talk with CalvinAyre.com.  We know you've just done a deal with Spanish sports media giant MARCA- congratulations on that- can you take a minute and explain what the deal entails? 
Rasmus Sojmark: Thanks Becky, Oddslife is providing MARCA with a tailor made social sports betting game MARCA El Guru for the Spanish market which will reward MARCA's members and readers with prizes and virtual goods for engagement in sporting predictions and opinions.
MARCA El Guru is a unique story led game with challenging, yet attainable rewards throughout the user journey and it will offer users special promotions from MARCA's in-house bookmaker MARCAapuestas. Furthermore,these user developments are fused with Oddslife's comprehensive player performance reporting and tracking, for optimal user engagement and retention to assist MARCA monetising their traffic.
We have worked closely with MARCA in 2013 and listened to what their team had to say about their channels, operations, marketing and readership, in order to create the best social sports betting game possible.  I emphasise the word game as this is what we have developed for MARCA, not just a simple web based prediction game.  After years of road mapping, analysis, refinement of earlier products and user experience testing, we are now ready to hit the ground running with MARCA El Guru!
BL: Wow, this really is such a huge accomplishment for Oddslife.  In your own words, can you describe why this is so big for you and the team? 
RS: Put simply we are partnering up with the biggest European sports news and media portal both in terms of online users and offline readership – MARCA are media giants, and this is big news for Oddslife as well as our friends and colleagues in both the social and online gaming space.
I pinpointed them straight away as a potential partner for our media business strategy. MARCA not only has great coverage, but from getting to know their business I understood that a great deal of their success is based on building communities and close ties with their users – just look at their connection with Real Madrid football club and almost 2 million likes on Facebook. I don't know of many businesses that can generate such a passionate connection within the world of sports.
Like MARCA we are passionate about sports and betting and feel that the right social technology could engage millions of sports fans around the world.  We believe our product is bridging the gap between major sports media content portals and new social and mobile led gaming platforms. These media companies have worked hard to create loyal visitors, and we want them to build on their user experiences via social gaming and increased user engagement. In essence we are there to strengthen their own social and media networks.
BL: Describe to me how your conversations went at ICE & LAC with potential partners, especially on the heels of such a big announcement like this? 
RS:Without doubt getting the MARCA announcement really helped our profile as start-up within a crowd of giant companies. I can safely say Oddslife is generating a lot of interest, because we are offering something different and intelligent.
In terms of B2B operators we are attractive to them because they can use our system as a mechanism to create trust as well as new partnerships at a social level via relevant data collection. Our development team can integrate feeds and APIs quickly from the majority of B2B sports betting operators, allowing them to offer social gameplay to existing and new customers. Furthermore we can tailor games to their specific needs or the requirement they envision a potential customer might have.  We are operationally set up to deliver our projects at in a very scalable and fast manner which is another advantage we have.
We offer social, marketing and PR teams a fantastic way to target those soft and casual players that their businesses need. With our growing number of media partners, we are an attractive proposition since the teams realise that they are dealing with local trusted brands that already have enormous amounts of traffic. Through gameplay, clever promotions and brand trust, we aim to convert these customers to betting products in regulated markets. However, many other localised monetisation opportunities exist alongside sports betting operators.
BL: Sounds like you had a successful few days at the conferences, what perfect timing.  So from where you sit, what do you think the future holds for social sports betting in general? 
RS:The future is bright simply because the market has not been cracked yet, which is to our advantage as a start-up.
Since 2009 we have seen many entrepreneurs and established operators trying to enter the field and failing. Many industry experts claimed that sports based games could not create the level of engagement as other disciplines had witnessed, even more so they couldn't be properly monetised.This really did not concern us at Oddslifeas we have always viewed such claims to be the standard in order for an industry like online gaming to innovate.
As Poker, Casino and Bingo have all managed to create engaging social led products, I have no doubt that sports betting will have a breakthrough product. This will be a key moment for both social and online gaming industries as social media will become both an engagement and acquisition channel for operators.
I feel that the failure in sports betting based games has been due to products being rushed to market. Oddslife took its time and tested, and whilst we have seen both ups and downs I feel we are on the right track in terms of our development and market offer with a very unique position.
BL: Yes, I agree that social betting is still trying to find its feet and sound like you're on the right track for sure.  So looking down the road in a few months, how does Oddslife plan to take advantage of the World Cup this year? 
RS: As with many operators,the World Cup 2014 is going to be a key period, as we are looking to showcase our product and its abilities. We are now looking to push tailor made games through media partnerships for the World Cup 2014. These social betting games can feature strong promotions from betting clients, in order to form acquisition channels.
Having worked with major operators in online gaming, I realise the upscale in marketing during the World Cup months. Also I feel that there will be a shortage of quality inventory as World Cup placement on media, display, television and print will have been pre-booked by operators. I think the smarter advertisers are already looking to social media and social gaming for partnerships to find the best value for their money. Oddslife has the technology to develop such partnerships.
BL:Very cool.  It will definitely be interesting to see how sports betting companies take advantage of the World Cup this year, especially with the explosion in mobile as well.  Before we let you go, can you tell us what else do you have up your sleeve for Oddslife in 2014?
RS: Improving user experience. At the same time we are strong believers in buzz words like second-screen, single sign-on and seamless integrated product experiences. So we will be launching a mix of user experiences across a number of devices including iOS and Android as well as utilising Facebook as a platform on specific request from our partners.
We're already providing year-round social betting technology to some big players in the international sports media with white label tournament-based platforms, such as MARCA discussed here, as well as Bold.dk, Sport-FM.gr and Sportal.bg. We will continue to sign up more clients and use this social betting technology expertise to develop engaging solutions around this summer's World Cup which bookmakers and media firms will be able to use to engage various types of audiences during the tournament.
BL: Rasmus, thank you so much for your time and best of luck with all of those goals.  We look forward to seeing you and the team at the SBC Betting on Football Conference on May 8th at Chelsea Stadium.