In 2011, Lukas Berglund created history by becoming the youngest-ever winner of a World Poker Tour Main Event, after taking down the Spanish Championships in Barcelona, on a final table where he eliminated all five of his opponents.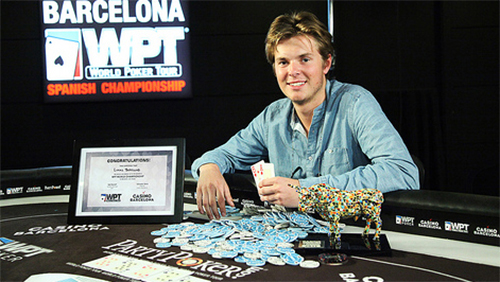 But it's the online realm that Berglund calls his home and he currently occupies the world number one rank on PocketFives where he plies his trade as lukethafluke on Full Tilt and superkid-bam on PokerStars.
I caught up with the Swedish sensation to discuss his recent accolade and this is what he had to say.
We'll talk about your online exploits in a little while but firstly, let's go back to that win in 2011. You came from absolutely nowhere. Talk to me about that event and how your win unfolded?
"I had played some online poker tournaments before that but I was mainly playing cash games at that time. Then my friend andI decided to go and play the WPT and I guess I had a pretty good run. I played pretty decent, but got lucky to win the title."
Remind the listenerd how old you were when you won?
"I was 18-years old."
All your live events have so far been in Barcelona…what is it about the place that keeps helping you turn in performance after performance?
"I have actually cashed in one or two tournaments in London but for some reason it doesn't show in Hendon Mob, but I do like Barcelona. I had a deep run in the recent EPT Main there and also came 7th in a $2k Turbo, so I guess there is something about Barcelona that works well for me."
You have just turned 21-years of age. Are you getting excited about playing in your first World Series of Poker?
"Vegas would be awesome, but I'm not sure if I am even going yet. It always used to be a goal for me to play in the WSOP, but now the European tournaments have become so big its quite nice not to have to travel that far to play. So it's still huge, but not like it used to be for me."
How does it feel to be the online MTT world number one?
"It feels good and I have played a lot lately and made some good scores. I feel very confident playing online now – more than ever. I have been playing really well in the last year so I am happy about my performances."
How did you start out in the game?
"I started out like most people really. I deposited $10 and lost it, then I did it again and lost that, and then I did another $10 and never needed to deposit again, so I guess it was third time lucky for me."
Why did you move to tournaments?
"I always believe that cash game players are so much better players than tournament players. I am not sure if that's totally true, but cash games are so much tougher than tournaments, so I moved to tournaments because they were softer to be honest."
What is your set up like?
"I have a big iMac and another big screen so I can play up to 24-tables; but I think that's too much. 16-20 tables is my medium."
Do you use a HUD? If so give us a stat that you use?
"My HUD is pretty simple, but I do look at the 'fold to four bet' stat quite a lot. A lot of players only look at three bet stats and then they four-bet bluff without knowing how much people are folding to the four bet. Some people are three-betting with air but then five bet shove their ace-deuce, for example, and I think that's quite important to understand and see which players do that in certain spots."
Do you work hard on your game?
"I wish I did, but I don't. I have some friends that are so much better at that than me. But I talk a lot of poker with my friends and that makes you so much better. I am also coaching now and that's making me a better player as I have to explain my thought process to someone and this is making me think about why I do the things that I do."
Who are some of your toughest opponents?
"I think Probirs is one of the best players online. He is Hungarian and is really good. Then there is cal42688 and gosuoposum1 who are crazy and hard to play against, but I'm not sure they have the best style to win a lot of money, but they really make your life tough."
What one piece of advice would you give to an up and coming online poker player?
"Try to play as much as you can. You learn by making mistakes. You need to fail in order to gain new skills. So play as much as you can and fail a lot."
What goals do you have in life and poker?
"I don't have any particular goals to be honest. I just want to win a bunch of money I suppose. I would love to win one of those big $10k buy-ins online…that would be awesome."