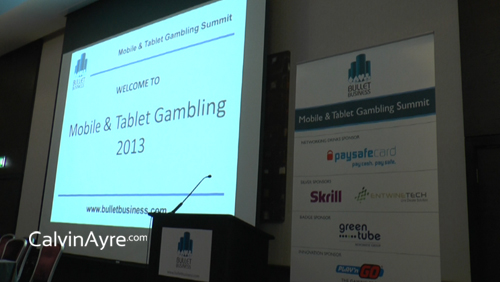 The 2nd annual Mobile & Tablet Gambling Summit kicked off today in London, a two day event arranged by our friends at Bullet Business.  Attendance was close to 200, noticeably up this year from last, a clear indication that the mobile and tablet are both booming for the online gambling industry and that its not stopping anytime soon.
Today consisted of a series of panels and presentations complimented by networking breaks, a leisurely lunch and end of day drinks sponsored by Paysafecard, a payment solution operating in the mobile gambling space.
One of the most popular features of the day was the "mobile sportsbook players panel" when four young male sports gamblers took the stage and shared their views on the sportsbetting apps they currently play on.  Chris Clapperton of Probability described the panel as "refreshingly honest and un-sycophanic", an opinion that was undoubtedly echoed by much of the audience.
Some statements from the mobile sportsbook players included:
-Pincodes, such as what BetVictor's app requires for singing in, add another welcomed layer of security…and they prevent pals from grabbing your phone and betting twenty quid
-Its not clear that customers have to opt-in to receive welcomed push notifications
-Easy navigation is key, BetVictor's app was cited as an example
-Easily knowing how much you can win based on your stake is a nice feature
-Impulse and a little booze trigger mobile bets
-Personal offers are encouraged, for example, a Chelsea fan offered a Chelsea specific offer is more likely to attract attention and a bet
-The option to set a daily limit to your spend is a welcomed feature
-The availability of preferred payment methods is key- mobile betting is impulse driven- if customers cannot get their money online easily they will go to another app, not to the desktop.
All four players and panel moderator Aideen Shortt agreed on the final statement above.  Jens Bader of Paysafecard pointed out that its not actually as simple as asking customers what they want, however.  He explained that the cashier interface within a mobile app is where operators generate their business and therefore deserves quite a bit of analysis, focus and attention.
A slide from Bader's presentation read, " The cashier (besides the game play) is the most business critical customer interface for a gaming provider- the layout, design and logic of a mobile cashier contributes to the success or failure of player monitzation".  He advised operators to determine what methods are best for acquisition, mid term and long term based on player profiles.
Flexibility of mobile games to run across different devices and operating systems was flagged as important during today's discussions.  Clapperton of Probability shared main takeaways from his Slot-o-Matic presentation with CalvinAyre.com and said, "We can now produce sophisticated slots for mobile that run across thousands of devices in a fraction of the time it used to take, both for ourselves and our partners".  Probability identified the value of HD graphics and immersive sound, two features that are integrated into Slot-o-Matic and have resulted in enhanced gameplay.
The common question of how long Apple will continue to have a massive presence in mobile devices was touched on as well.  Rob Anderson of Alchemy Bet told CalvinAyre.com that Apple has maintained 50% of the market share, something that he does not think will change anytime soon.  Anderson did confirm however that only a small percent of China's population, something close to 10%, uses iOS smartphones, an interesting tidbit for operators looking to penetrate this incredibly lucrative marketplace.