There are as many sides to Tony G as the Rubik cube he solved faster than anyone else when he was growing up as a child in Lithuania. The most common view is the loudmouth, trash-talking persona that you see in and around the poker table or on poker shows on the television; but there is also a much lighter, gentle side to Tony G.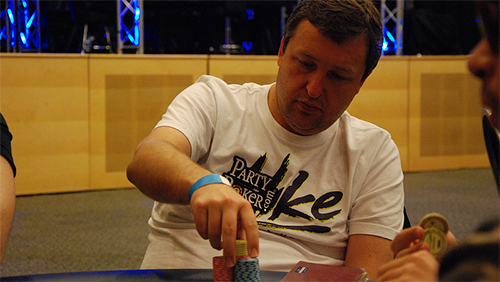 I'm serious…it exists.
When you sit down to talk to this man, what you notice immediately is that he cares about everything he does: be it poker, business or politics. All that anybody really wants is to help people and this shines through when you speak to G.
His recent parting of the ways with PartyPoker, his association with the Lithuanian basketball federation and the news that he would be representing the Lithuanian Liberal Party as a politician would have you believe that poker would take a backseat.
So what was he doing at the Aviation Club de France (ACF)?
"This is where I started my career and put myself on the map. I had two final tables here, some great results and won a lot of money.
"I am taking a rest from my business and politics and poker is a hobby of mine. It's a great release for me. I have always considered it a hobby and never tried to take it too seriously. I am not trying to prove to anybody that I am the best player in the world; I have never aimed for that. No one should. You should just enjoy it. It should be part of your life, not your whole life."
With so many things going on in his life, his brain must be constantly churning out new ideas all of the time. How does he do it?
"I have a lot of energy. I do everything naturally, I don't force things and poker started all of that. I have been very blessed and fortunate to be quite successful."
So where did it begin?
"We started with a site called Online Poker Review at the end of 2000. The idea came up in Australia that it would be a good business. It seemed to be a nice open space for affiliates and PartyPoker started to kick-in and offer affiliates good deals, and I think I was the first affiliate for them. I don't know if I was the most successful, but I was think I was always in the top three.
"We continue to be the highest provider of players for PartyPoker. So that's a fortunate achievement.  I love poker and thought why not do what you love and set up a great news site in poker?
"Winning the WSOP coverage eight years ago was a major turning point for us. CardPlayer gave us tough competition back then and we definitely over paid for the rights. But we made that move and it probably put us on the map as a company. Today, we continue to deliver excellent results and we continue to grow even whilst the industry is struggling. We are always hiring, I am proud that most of the business technology is based in Lithuania where I was born. It's been fun. I am always trying to create as many jobs as I can, see what good we can do and provide the best service we can."
So how did Tony G and his PokerNews team react when Black Friday occurred?
"It was a very painful period, but now when you reflect it's a very small thing. You have to adjust. Things continually change in. You just learn from it and take it as it comes. You cannot control the decisions of various governments so you do your best based on the circumstances that you are presented with."
When I heard that Tony G was going to run in the European Parliament Elections my first thought was, "He had better hide all those poker videos that he did back in his PartyPoker days." But talking to him, this is the last thing that he would want to do. Tony G is Tony G, and he is proud of that fact. He isn't about to change who he is for anyone, and that includes members of parliament.
"I have always been a very liberal open person fighting for peoples human rights, and how they want to live. I was elected to a number two position within the Lithuanian Liberal Party, which is a great achievement considering I am quite fresh. I am inexperienced when it comes to politics. I don't intend to be a politician in the normal sense of the word. I want to represent a small part of the community that believes in me, and I will do the best I can for them by being who I am. I am not going to recreate myself. I am going to be who I am. I will continue to do the work I have always done but this time more focused on Lithuania. The country where I was born."
So what inspires you Tony?
"Helping people. Creating value. It's always been fun. I am going to continue striving to do that. "