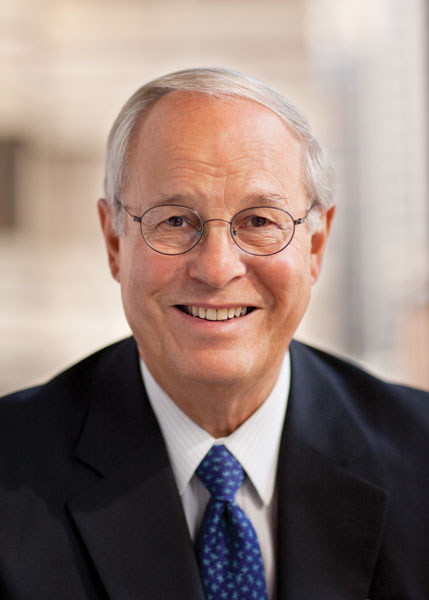 In part one of our two part interview, Frank Fahrenkopf shared some of the challenges he faced when starting up the AGA eighteen years ago, how the AGA was successful in changing the public perception of the gambling industry, how the entertainment industry overlaps with gambling, his thoughts on the development of gambling technology and why online gambling is now on the "front burner".
In part two, we continued on the subject of online gambling and explored why the AGA initially was against any sort of online gambling regulation in the United States.
"Fundamentally we took the position to oppose [online gambling regulation] because our regulators opposed it", Fahrenkopf explained.
The regulators' main concern was that their licensees were not in possession of the proper technology to control internet gaming.  However, once first world countries such as the UK, France, Italy and Denmark started putting online gambling regulations into place, the regulators' attitude began to change, as did the AGA's.
"When it wasn't just Gibraltar or Isle of Man or some small islands in the Caribbean involved in it, but first world nations- that's when we changed our view and became supportive of it as an industry organization", Farhenkopf said.
As soon as the subject of online gambling regulation in the US comes up, inevitably one of the first questions asked is if regulation will ever happen on a federal level, or are we simply stuck with state by state?
"That's a real good question and if I knew the answer I'd put my money down somewhere", joked Fahrenkopf.
He pointed out that three states have already approved and regulated online gambling within their jurisdiction- Nevada, New Jersey and Delaware- and that there are more and more states looking at regulating.  Once there are a number of states involved, Fahrenkopf predicts the Federal government will step in to ensure underage gambling is not happening and problem gambling is addressed appropriately.  Fahrenkopf believes it's the responsibility of the Federal government to issue a 'minimum standard' to deal with these situations.
Two other reasons for Federal involvement include managing the tribal nations who want a stake in the online gambling industry and addressing the "commerce clause" of the US constitution, a clause that gives the Federal government jurisdiction over commerce traveling across state lines.
What's also interesting is that the AGA is looking at changing their current view of 'poker only' to including other games as they support the passing of a Federal bill.
"We just think the better way to go at this time would be a Federal bill that would set those minimum standards and would be only for poker, although as I've mentioned in some of my presentations [at the iGaming SUPER Show], we're taking a look at if that might change…. I've got a steady committee working on it and we'll see what happens", Fahrenkopf said.
Before wrapping up our conversation, we switched gears to reflect on Fahrenkopf's frequent visits to Macau over the past decade.  He said Macau ten years ago was like "night and day" and that "it was not a very attractive place to be".  It all started when Sheldon Adelson built the Sands near the Macau ferry terminal for around 800 million and cash floated in nine to ten months, proving to the world that there was a lot of money to be made in Macau.
MGM and the Wynn suit followed by building properties in Macau's mainland but the big news now is the development of the Cotai strip.
Fahrnekopf gives credit to Adelson for coming up with the concept of building a Vegas-like strip in Macau with the Venetian as its "anchor" and Adelson most certainly identified the jackpot.  "That market- little macau- is six times the market of Las Vegas right now. It's amazing how its grown," said Fahrenkopf.
When asked what he is most proud of after eighteen years of service with AGA, Fahrenkopf immediately answered with the work he's done on responsible gaming.   One of his biggest achievements in this area includes the creation of the National Center for Responsible Gaming (NCRG), an organization that researches, educates and provides awareness of gambling addiction.
"We now have in Las Vegas, usually a few days before G2E, the international conference of the NCRG where we have from all over the world the leading scientists, physicians, psychiatrists and care givers who deal in this field and do peer reviewed research and I'm most proud of that", said Fahrenkopf.
He continued, "Some years ago someone said that 'responsible gaming is the Achilles heel of the gaming industry' and I think they were right.  I'm not sure we've totally covered the heel, but its got a couple of layers of lead on it right now".