Sandeep Pulusani pulled a Rocky style performance to win Event #44 $3,000 No-Limit Hold'em (NLHE) after overcoming a 8:1 chip deficit in his heads-up brawl against the Scotsman Niall Farrell, to take his first World Series of Poker (WSOP) bracelet and first prize of $592,684.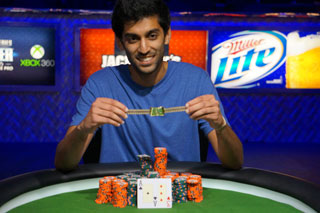 22-players were in the mix for the final day of action and it was the Scotsman, Farrell, with the chip lead. Notables in the hunt for a bracelet were Nam Le, Will Jaffe and Jason Mercier. The latter gathering more eyeballs than most after several eager, and interested, parties accepted his pre-WSOP bracelet challenge.
The smart money was on the Global Poker Index (GPI) world number one, but as the day drew to a close, a sick beat sent him scrambling to the cash desk to put down $111,111 to enter the One Drop High Roller event after finishing in 16th place.
Mercier opened the action with a raise to 35k, Michael Rocco three-bet to 105k and Mercier called. The flop was [9c] [7c] [3s] and Mercier checked to Rocco who bet 129k; Mercier check-raised to 260k and Rocco called. The turn was the [7h], Mercier checked, Rocco moved all-in and Mercier made the call. It was pocket nines for Mercier, giving him the lead with nines-full, and pocket aces for Rocco for two pair. Two outs to stop Mercier from holding 20% of the chips in play and the dealer duly delivered when the [Ad] split Mercier's heart in two.
Rocco would go on to finish in third place for $229,500 and quite how that defeat will affect Mercier for the rest of the WSOP remains to be seen.
"I feel kind of empty right now. It's been a crazy grind all day and it probably won't hit me until tomorrow," Pulusani told PokerNews Sideline Reporter Sarah Grant after his win.
So how was he able to overturn such a huge chip deficit when heads-up?
"We were both playing on the fly and going with feel. Luckily, I was able to hit some cards when I had to get the chips in."
Farrell's second place finish is Scotland's second close shave after David Vamplew had to also settle for second place in Event #2.
More Pain For Mercier in the One Drop
Poker can be cruel and it can be kind; and right now it feels pretty cruel for Jason Mercier after being eliminated from the One Drop High Roller at the hands of Jason Koon. Mercier moving his short stack into the middle of the felt with pocket fours only to run into the pocket kings of Koon.
Mercier's exit leaves us with 67-players from a starting field of 166. The huge field created a prize pool of $17,891,148 and the top five spots will all pay out over a million dollars, with $4,830,619 reserved for first.
Brandon Steven is currently leading the way fresh from his fifth place finish at the World Poker Tour (WPT) $25k World Championships just a few weeks ago. Steven finished 10th in the WSOP Main Event back in 2010 when the world were getting their first peek at Jonathan Duhamel.
It's a pro-laden top ten with Shaun Deeb, Andrew Robl, Ben Lamb and Jason Koon all looking good at the right end of the chip counts.
Could Hinkle Win Bracelet Number Two?
Blair Hinkle has got a great chance of winning his second WSOP bracelet as he leads the final four players in Event #45: $1,500 Ante-Only NLHE. The rail favorite, Chris Moorman, has just been eliminated in fifth place for a $44,227 purse and he is currently standing in the halls of the Rio reflecting on a few hands with Jason Koon and Amit Makhija.
Moorman looked sharp, and was playing sharp, but he just can't seem to find that final piece of luck to push him over the finish line when he needs it most. In stark contrast the Hinkle family do know how to find that luck. Remember, brother Grant Hinkle making that move with [Td] [4d] against James Akenhead's [Ac] [Kh] when heads-up for a bracelet in 2008? Hinkle flopped [Th] [Ts] [4h] and then turned [Tc] to take the gold and $831,462 in prize money. Blair Hinkle also won his first bracelet the same year when he took down the $2k NLHE event, and recently won his second WSOP Circuit (WSOPC) event with victory at Council Bluffs.
At the time of writing Hinkle has 1.5m, Paul Lieu has 650k, Louis Bonnecaze has 650k and Ben Volpe has 275k.
Shchmelev Holding of a Charge From a Host of WSOP Bracelet Holders
There is a huge Russian presence here at the WSOP and one of them is currently leading Event #46: $3,000 Pot-Limit Omaha (PLO) Hi-Low 8-or-Better.
435-players started and Vladimir Shchmelev leads the final 10 as we have our unofficial final table. WSOP bracelet winner Allyn Shulman is looking to be the first female bracelet winner of the year, two-time WSOP bracelet winner Mel Judah is searching for bracelet number three and three-time WSOP bracelet winner John Cernuto is searching for bracelet number four.
Monnette Looking Good in Event #48
There' a long way to go, but as the action falls into Level 12 on Day Two, two-time WSOP bracelet holder John Monnette is looking a great bet in Event #48: $2,500 NLHE Six-Max. Monnette is second in chips behind Danny Warchol. Calvin Anderson and Jon Turner also have top ten stacks with 57 of 343 entrants remaining.