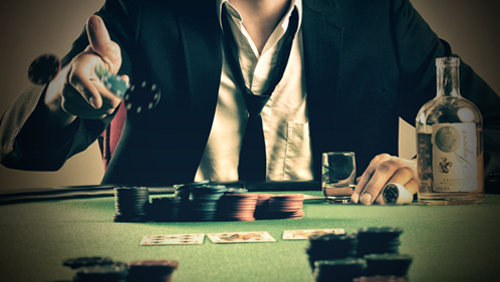 There was a time not too long ago when running an online poker room meant having a stable of sponsored professionals that you used to promote the room. The idea was that you'd send them around the world to big tournaments, stamp your room's logo across their finely tailored shirts, and something something make lots of money. It was the kind of idea that was great for market leaders with plenty of money to dump and plenty of access to media and poor for everyone else. But it was also easier to replicate than all of the other aspects of running a successful online poker room, so it took hold and became the norm throughout the poker boom.
The idea of having sponsored pros wasn't invented by PokerStars, but they were the ones who really got it started in earnest when they signed  after his 2003 WSOP Main Event victory. Everyone knew that Moneymaker was an amateur who had won his way into the Big One through a satellite at Stars. He was an aspirational model for hundreds of thousands of middle-American guys who already looked like him and now wanted to play like him, too. Greg Raymer, another satellite winner, served as the same sort of example after Stars signed him in 2004. Joe Hachem served the same sort of role for Australian market after his 2005 win, as did numerous other Main Event winners like Peter Eastgate and Joe Cada, but Moneymaker and Raymer were the models.
Then came Full Tilt with its roster of pros including Phil Ivey, Jennifer Harman, Howard Lederer, and Chris Ferguson – all of whom you could actually play against on the site. It was genius marketing mostly because nobody else had done it to the same degree. As soon as the Full Tilt logo was everywhere, the pro model of marketing took off with other rooms. UltimateBet recruited players who did well playing there to be pros alongside famous names like Phil Hellmuth and Annie Duke. Absolute Poker signed World Poker Tour phenom Michael Mizrachi and a few others, and soon every nickel-and-dime online site had a full roster of players you could donate your stack to on any given night. It was a bonanza for the pros, and in the days when you could find poker on TV at all hours it was similarly lucrative for the online rooms.
As for the players who were signing up for accounts on all those rooms after seeing sponsored poker pros on television – the ones funding it all – they got a mixed bag. If they were playing on Stars or Full Tilt, they were benefiting from world-class software and huge player pools. If they were playing anywhere else, the experience varied wildly: the dozens of other remotely notable sites ranged from "ugly but playable" to "barely functional" to "there are only 20 people here" to "got cheated out of millions by a superuser." The pros might not have borne any blame for anyone who was cheated or stiffed on payouts or anything else, but it certainly didn't make any of them look better.
Things started to change once the UIGEA came along and the number of American-facing rooms was cut drastically. PokerStars expanded its roster, but only carefully. Other than adding megastar player Daniel Negreanu, they tended toward choosing to bring on world-class athletes and other celebrities for their marketing value even if they weren't intimately connected with poker. They also added Team Online, which like the previous era's signing of Chris Moneymaker gave poker players worldwide an aspirational model – and has remained limited in its roster size. Nobody signed on with PokerStars after the UIGEA who wasn't of particular value in an important market.
At the other end of the spectrum, end-times Full Tilt Poker was the poster child for just how little a poker pro can actually be worth. By the end, the room had a stable of roughly 200 "red pros" – so called because their names appeared highlighted in red. Required to log a certain number of hours per week, these players got sweet full-rakeback deals and sometimes an hourly wage, plus bonuses if they ever appeared on a televised tournament wearing Full Tilt gear. With so many of them on the payroll, no one of them was of any particular worth to the brand – unless they were from a market where Full Tilt was trying to expand its presence.
Compare that with the relaunch of Full Tilt. All those red pros got an email informing them that their contracts wouldn't be valid going forward and that anything owed to them by the room's former management wouldn't be honored. The brand's marketing remained nearly identical to what it had been back in the glory days: black-and-white shots of their sponsored pros striking various intimidating poses, Full Tilt logo superimposed. But where there were about a dozen players who featured in the old ads, there were only three players in the new ones. All three of "The Professionals," as Full Tilt's new roster of pros have been styled, have mythologies tied intimately to the site's previous incarnation. Gus Hansen was one of the original members of Team Full Tilt and has had the bulk of his bankroll-swinging, nosebleed-stakes adventures at the site. Tom Dwan made his name playing huge stakes against Phil Ivey and running his heads-up challenge with Patrik Antonius. And Viktor Blom turned the poker world upside down by rolling up a huge bankroll and fearlessly playing the biggest stakes against literally anybody who would take him on.
The fact is, the only thing that really makes any particular player valuable to a poker room – in fact, the only thing that ever made any sponsored pro valuable – is his story. It needs to have a strong hook, and it needs to be backed up by some kind of charisma. When you have that combination, the marketing value of a sponsored pro is pretty good – but only if it's backed up by the power to get that story to the target audience. If a room isn't poised to give a player some exposure, there's not much value in having him on board – other than as some kind of nostalgic callback to a happier era when the software everybody was playing on was top-notch and player withdrawals were processed in a timely manner. And if your main selling point other than "we're open" is "remember how great things used to be?", chances are pretty good that your customers would be better off doing business somewhere else – in some cases anywhere else.
Comments