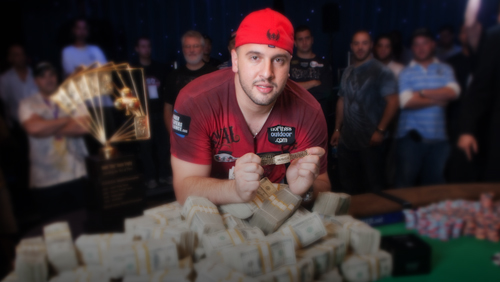 The time for fun and games are over. The World Poker Tour (WPT) Baden has finished with its two starting flights and is ready for the serious business of Day Two. 254-players have battled through the snow to contribute to a prize pool of $1,031,041. Unless you want to step into the ring and slug it out with the likes of Manny Pacquiao, poker has become the game to play if you want to win the biggest individual prizes in the world.
The poker wood has been whittled down to just 131-players and the man still leading the race to the title is Kimmo Kurko from Finland, the Day 1A chip leader, with 149,700. The Day 1B chip leader, Senadin Cosic, is settled in second place with 135,800 chips.
As is common in the poker world, the second starting flight attracted more numbers than the first – the cost of an extra night in the hotel, and recuperation after the all consuming Sunday, creating that fact – tournament after tournament. 150-players turned up to play, including 24-players who were buying in for a second time as a result of their re-entry clause.
Day 1B didn't have a Manny Pacquiao, but it did have an entrance to match. Michael 'The Grinder' Mizrachi, who had recently become the first man to win WSOP titles on three continents, wading into the tournament area accompanied by a camera light show usually reserved for the likes of Rihanna. The Grinder must need a coach just to convey his entourage all around the world.
The Grinder wins his titles my amassing huge chip stacks early in the competition. Chip stacks that he uses to batter his opponents into submission. He does this by playing as loose as Kevin Bacon dances, but the downside means an early exit if the cards don't fall as gracefully as the snow outside. On this occasion the cards fell as gracefully as Gareth Thomas on Dancing on Ice and within minutes The Grinder – and his groupies – were heading out of the door.
But despite the exit of the multiple WPT and WSOP title-holder, the tournament still contains the names of some great players. If you can find a bookmaker willing to take odds then don't stray to far from Andrey Shatilov, Steve O'Dwyer or Marvin Rettenmaier.
Day Two resumes today at 14:00 (CET) and live updates can be found at WPT.com