Bally Technologies has reported record-setting revenue earnings for the second quarter of fiscal 2013, a surprising turn of events that has led the Las Vegas slots manufacturer to re-evaluate their predictions for the year with an outlook that looks far more optimistic than previously expected. With the increased earning, Bally made the move to raise its annual earnings expectations from $3.20 to $3.40.
For the second quarter of fiscal year 2013, Bally Technologies reported a total revenue of $238 million, signifying a 13 percent increase from $210 million in revenue they earned in the second quarter of their last fiscal year. Quarterly net earnings also reached record-setting numbers with $81 million revenue, marking a 21 percent increase over the previous year's same quarter. Stockholder earnings also saw a significant 48-percent increase, hitting second-quarter record of 80 cents from the previous number of 54 cents.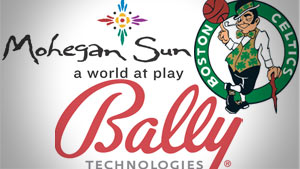 So what could have caused this surprising revenue drive. Apparently, the popularity of their Betty Boop slots, together with continuing popularity and success of the Michael Jackson- and Grease-themed slots have been the biggest reasons. Expectations are definitely high for Bally Technologies to continue their drive earnings for the rest of the year, or as company president and CEO Ramesh Srinivasan puts it: "We expect fiscal 2013 to be our best year ever."
Mohegan Sun – Boston Celtics deal
The Mohegan Sun and the Boston Celtics are renewing their vows to each other in the form of a two-year partnership that would include a variety of collaborations that could potentially lead to, oh wait, their new tie-up doesn't have anything to do with gambling in the former's casinos. Breathe easy, David Stern. Included in the Mohegan Celtics partnership is the rebranding of the Celtics Club Green, the team's free subscription-based e-newsletter that will henceforth be known as the Celtics Club Green by Mohegan Sun. In a joint press release, the sides lauded the new deal, something that isn't all that surprising considering the benefits each has to take from being in bed with the other. "The partnership between Mohegan Sun and the Celtics is progressive," Daniel Parise, Associate Managing Director of Scout Sports & Entertainment, said in a press release. "It creates an innovative and customized relationship for two leadership brands to become deeply involved in the natural media platforms of today's consumers and fan bases".
The Celtics aren't the only professional sports team in the tri-state area that Mohegan Sun has a deal with. In fact, they also have tie-ups with the New England Patriots and the New York Yankees. It's interesting that for sports leagues that have a problem with their brands being associated to gambling, they seem to have no issues if the team owners they work for decide to attach their teams with a casino. We have no problem with Mohegan Sun here. They're actually smart for attaching their brand to three of the most well-known sports teams in the area. We just find it hilarious that these sports leagues move heaven and earth to distance themselves from gambling while their owners are establishing partnerships with them. Anything to see green, apparently.
Comments