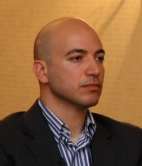 A few months ago, Rafi Ashkenazi handed in his notice as the chief operating officer of Playtech. Well, it didn't take long for him to find another job after the Rational Group announced that Ashkenazi has joined the company to serve the same COO role he had when he was at Playtech. As part of his responsibilities, Ashkenazi will be tasked to run the day-to-day operations of the Group and all its brands, including the two biggest online poker sites in the world: PokerStars and Full Tilt Poker.
In his time at Playtech, Ashkenazi developed into an experienced gaming industry executive after running the company's day-to-day operations and business activities and being one of the key driving forces in growing Playtech's profile from a company with just over 200 employees to now having well over 2,400. With him now on board as COO of the Rational Group, it'll be interesting to see how Ashkenazi will approach his new job as basically the top point man of both PokerStars and Full Tilt Poker, as well as the European Poker Tour.
Rational Group chairman and  CEO Mark Scheinberg is confident that Ashkenazi is the right man for the job, citing the latter's "outstanding management and people skills" and the experience and success he's had in directing the "operational complexities of a global gaming company".
"As the Group grows and continues to develop our business globally and across multiple platforms and brands, we need to strengthen the leadership of its increasingly complex operations," Scheinberg said. "I am very happy that he will bring that expertise to our senior management team."
Ashkenazi will assume his role on February 1 and his full breadth of responsibilities will be to lead day-to-day operations for all customer-facing product and back-office functions for both PokerStars and Full Tilt Poker, including marketing, customer support, poker room management, IT management, payment processing & security, and game integrity.
And as far as the Rational Group is concerned, you probably noticed that it has been quite a busy week for the Isle of Man-based company. Before announcing Ashkenazi's signing, the company's subsidiary, Rational US Holding, reached a deal to purchase the Atlantic Club casino in Atlantic City, New Jersey from owners Resorts International Holdings. Papers have subsequently been filed to the New Jersey Division of Gaming Enforcement (DGE) to find approval of the purchase of the struggling casino. And now, a few days after that, the company was able to tap one of the brightest minds in the industry in Ashkenazi. Certainly an eventful week for the Rational Group, to say the least.
Comments