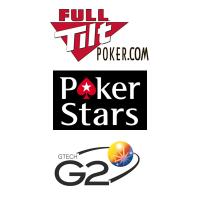 Full Tilt Poker has issued an update to their US customers to further inform them of the remission process that will be handled by United States Department of Justice. It notifies their US customers that real money play won't be available from November 6 and play-for-fun games will be the only ones open to them. PokerNews reported the full text of the email:
As a player on Full Tilt Poker, you may be aware of the recent settlement reached with the U.S. Department of Justice (the "DOJ").
Full Tilt Poker will not offer real money online poker in the U.S. until it is permissible to do so under relevant law.
In relation to your account balance, you will have the opportunity to file petition with the DOJ through a remission process which will be administrated by the DOJ.
In light of the above, only play chip games will be available to Full Tilt Poker players in the U.S. following re-launch, in the first week of November, 2012. Your Full Tilt Points balance will remain intact in your account.
Please note that we are unable to answer queries in relation to your funds – all such questions should be directed to the DOJ in accordance with the procedure to be defined by them.
Please retain this email for your records.
Sincerely,
Full Tilt Poker
Their European site opens for business on November 6 following the awarding of an Isle of Man operator licence just last week.
Parent-company PokerStars has signed a deal with PayPoint that will allow customers to top up their accounts at any of the 24,000 outlets across the UK. The deal will give players on PokerStars.co.uk a new way to put money into their accounts and Richard Connolly, PokerStars' Payments Business Development Manager added: "Their retail locations are always convenient, accessible and open all hours – exactly what our customers want."
Pinnacle Entertainment Group will get a free GTECH G2 free-play poker product after their VP for business development and finance won the company an installation at the G2E Conference. Geoffrey Goodman won a poker tournament organized by the company and beat another 89 senior executives. The package includes the free play poker client as well as 12 months of technical support free of charge.