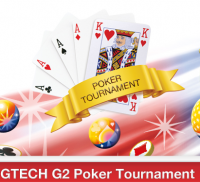 As the majority of the gambling industry awaits with baited breath for the regulation of the ginormous US market, GTECH G2 has decided to increase the anticipation in a "play for fun" and ground breaking kind of way.
The upcoming Global Gaming Expo (G2E) in Las Vegas has a hefty dedication to the upcoming regulation in the United States and GTECH G2 saw this as a great opportunity to showcase their online poker software services to licensed land based operators.
After speaking with Olivia Gillibrand, Gtech G2's Head of Marketing and the creator of the Tournament, we learned that the purpose of this "showcasing" in a hands-on format will allow operators to get down and dirty with Gtech G2's online poker software by allowing them to recognize the quality of the product first hand, a product that could potentially be offered to their customers in the future.
Gillibrand told CalvinAyre.com, "The poker tournament is something that has never been done before, we wanted to give the industry the chance to experience the thrill and excitement of a poker tournament. The prize is unique and will offer the winner the chance to enter the online gaming market for free. We see it as an amazing opportunity for us and the winner".
Kicking off at 11am on Tuesday, October 2nd at G2E, nine sessions of thirty minute hellcat/turbo poker games will take place throughout the day at the Gtech G2 booth. Two semi-finals, each with their own surprise "special guest", plus the final take place on Wednesday, October 3rd at the Gtech G2 booth as well.
Gillibrand added, "Everyone at the company is extremely excited to get to Vegas and see it in action, as nothing like this has ever been done before. Over the next few weeks you will see more announcements around special guests".
So what is the grand prize? This is the best part…
According to the Gtech G2 press release, "The prize will provide the winning organisation with the tools with which to start their iGaming journey and includes the poker client itself, bespoke portal design, full installation and a tailored package of services".
Oh hell-o.
A prize of this nature should be particularly appealing to our American land based friends as many of them don't have the online gambling industry expertise to launch a powerful online product in-house, household brand name or not.
If this prize sounds exciting to you, entry is available right now through September 25th and is open to employees from any licensed US commercial and tribal casino. Up to eighty three entrants will be accepted online with the remaining to be drawn live at G2E, all details can be found at the Gtech G2 Freepoker page. Good luck!