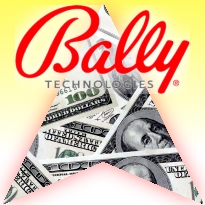 US gaming device maker, licensed Nevada online poker service provider and social gamers Bally Technologies reported a 15% revenue gain in its financial Q4 that helped produce a record revenue tally of $880m for the fiscal year ending June 30. The fourth quarter produced revenue of $246m – another record – on strong sales of new gaming device units. Popular new wide-area progressive machines with Michael Jackson and movie-musical Grease themes helped boost sales from 3,829 in Q4 2011 to 5,322 in Q4 2012, while the average price of each machine rose from $16,719 to $17,182 in the same period. Adjusted earnings rose 22% to $82m, while profit rose from $25.5m in Q4 2011 to $26.5m this year. On a post-earnings call with analysts, CEO Dick Haddrill estimated his company held a 19% share of all game shipments in North America.
For the full year, revenues rose 16% to $879.9m, with gaming equipment sales up 26% to $311m, gaming operations up 12% to $357m and systems revenues up 10% to $212m. Profit for the year rose from $98.2m in 2011 to $101.1m. Bally has embarked on an aggressive share repurchase plan, picking up another $73m during Q4 – the 19th consecutive quarter it has reacquired stock – making a total of $155m for the fiscal year. Since June 30, the company has picked up another $33m of its own shares. Bally also stated that it has "prudently accrued $10m for several legal matters." Bally has only just begun deploying video lottery terminals in Italy, but expects to have 1,000 such machines installed by next year. Bally is estimated to be responsible for 42% of the 1.2m slot machines installed across 3k+ casinos around the globe.
Earlier this month, Bally inked a multi-year pact with games developer High 5 Games to launch a series of new H5G products for the brick-and-mortar, online and mobile spheres. Bally president/COO Ramesh Srinivasan said such partnerships were further proof of his company's commitment to delivering "best-of-breed, cross-platform game content" to its customers, further evidenced by the "more than 25" game studios Bally has established worldwide.
Comments