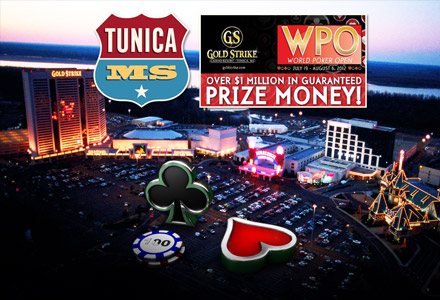 There was a time when Tunica County, Mississippi, located just south of Memphis, Tennessee, was one of the poorest areas in the entire United States. Jesse Jackson visited in 1985 and called it "America's Ethiopia," and 60 Minutes profiled the area known as Sugar Ditch Alley, named after the nearby open sewer. That all changed after the state opted to legalize dockside riverboat gambling in 1990 – and, in 1994, full casino gambling in select counties – with the express intention of developing the depressed economies of areas like Tunica. The plan worked out well as the eight casinos in the area make today's Tunica County the third-largest gaming area in the U.S., behind only Las Vegas and Atlantic City – a far cry from its pre-gambling past.
It wasn't too long after gambling was legalized in Mississippi that Tunica became a hotbed of poker action. Jack Binion, the eldest son of legendary Las Vegas casino entrepreneur and the man behind the World Series of Poker for its first 30 years, was behind the Casino Center development, which housed the Horseshoe Tunica, Circus Circus Tunica (now Gold Strike), and the Sheraton Tunica (now Tunica Roadhouse).
At a time when big-time tournament poker was mostly confined to the western U.S. (and considered to be a dying game), Jack Binion's innovations in Mississippi heralded the changes to come in the next decade. He started the World Poker Open in 2000, continuing the tradition he began at the WSOP of offering poker players great value for their money and all the action they could handle. Unsurprisingly, loyal WSOP players began venturing to Tunica for the WPO – and players from other regions began to arrive as well. The WPO was the scene of several historic moments for well-known pros, including Phil Ivey's first tournament win back in 2000 and Barry Greenstein's only career seven-figure score during the World Poker Tour's visit to Tunica in 2004.
The WPO still runs at the Gold Strike today, but it isn't exactly the same as it used to be. For one thing, it no longer bears the Binion name. It now runs in July instead of January, due to the increasingly crowded worldwide tournament schedule. And its buy-ins are much lower than they were during their peak years, with preliminary events ranging from $120 to $550 and the main event now $3,150 instead of $10,000. However, it remains popular with players around the Southeast thanks to innovations from the management; the total guaranteed prize pools of $1 million during the 2012 series have mostly been exceeded up to this point, including a $200K guaranteed event with a $340 buy-in that topped $350,000 in prizes. This year's schedule runs through August 6th, with the $500,000 guaranteed main event kicking off.
Even when there aren't tournaments running, poker remains a big draw all year round in Tunica. Half of the casinos in town have poker rooms, and the variety of games on offer – limit & no-limit hold'em, pot-limit Omaha, limit & pot-limit Omaha hi-lo, and even the occasional stud game – rivals those in larger gambling markets. The bigger rooms are usually willing to spread just about any game you might want to play if you can get enough players together for it. And nearly all the rooms are liberal with their comps, both in terms of food and drinks and hotel rooms. That's a significant difference not only from the largest American gambling markets, but also from Tunica's competitors in the Southeast and Midwest.
Perhaps the best thing about poker in Tunica, though, is the action. Tunica's poker players have something of a loosey-goosey reputation; while there are plenty of excellent players from the area, as there are from anywhere the game is played, many of those who frequent the local rooms are straight-up gamblers. Infatuated with suited cards and long-shot draws, they make the big-bet games – some of which feature uncapped buy-ins, even in games with tiny blinds – a roller-coaster ride of variance. Even some of the smaller limit games can see pots balloon in size when six or seven players take a flop and most of them find a reason to continue to the turn or river. Tired of seeing players rock it up in your local games? Head south and prepare to find yourself amazed at how little it takes to get the locals rocking and rolling.
I have to admit to being a little biased in favor of Tunica: I've spent more time at the poker tables there than anywhere but Las Vegas, and it's been the site of most of my brightest personal poker moments, including four-way chops of first place in back-to-back nightly tournaments at the Gold Strike's summer tournament series back in 2006. Still, those considerations aside, I really do think it's the kind of place just about any poker player can fall in love with. There's little else to do in this once impoverished area, which means there's nothing but time to spend at the poker table. If you're the kind of player who doesn't have a need to be distracted by glitz and glamour, who values being treated well by management and getting plenty of action at the tables, a trip to Tunica should be right up your alley.
Read the previous article, No Passport Required: Horseshoe Southern Indiana.