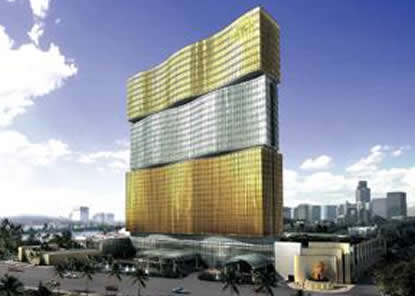 Wells Fargo has become the latest financial interest to decrease its estimates on Macau's gambling industry. The investment bank's analyst Cameron McKnight released an investor's note in which he expects the market to post a growth rate of 4 to 10 percent in gross gaming revenue for H2 2012. McKnight saved some of his analyst chatter for two American based companies with a foot in the Macau water, Las Vegas Sands and Wynn Resorts. The two saw their valuation ranges drop thanks to a combination of slow growth in Macau, market share loss and a lackluster macro-environment in China. LVS saw its range cut from US$52-US$61 to US$35-US$47 whereas Wynn's was down from US$114-US$136 to US$93-US$110. It comes after Citigroup only yesterday made a similar decision to decrease their estimates on the Macau casino business market.
MGM China, the joint venture between Pansy Ho and MGM Resorts International, is reportedly looking to secure a substantial loan. Reuters report they'll start consulting with banks over the HK$12 billion (US$1.55 billion) loan next week and it will take the form of a five-year syndicated facility. Sources told the site that it will be used for refinancing and it's likely to have something to do with them wanting to get on with their new Cotai-based resort. The company is still yet to see their application for land approved by the government and it could be a while before construction starts.
Macau has fallen one place in an index designed to rank China's cities. It came 16th in a list organized by the Advanced Institute for Contemporary China Studies of the Hong Kong Baptist University and the China Institute of City Competitiveness. This was despite their "score" moving up almost one point to 81.53 out of 100. It came 51st of 100 in terms of happiness with the most worrying fall taking place in the list of most trustworthy cities. It dropped from number two last year to being outside the top ten in 2012 as the trial of Secretary for Transportation and Public Work Ao Man Long damaged the city's reputation.
Comments