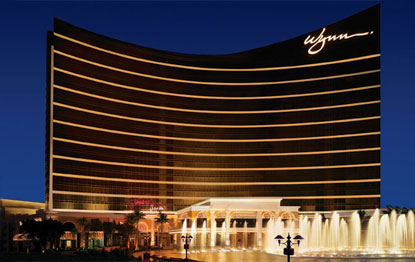 Wynn Resorts has plans of further expanding its business in Macau and with recent speculation that the Las Vegas-based company may be on the verge of signing a land deal in the gambling town, shares of Wynn Resorts Ltd are picking up serious steam.
According a report done by the Associated Press, there are rumblings that Wynn Resorts is close to securing a land grant on the Cotai Strip, which could then pave the way for another Wynn-developed hotel and casino resort in the gambling town, joining Wynn Macau and Encore.
When word spread of the supposedly imminent purchase, shares of Wynn Resorts went up by $6.08, or 4.9 percent, to $130.85 by late afternoon.
Macau's continued emergence as one of the premier gambling destinations in the world has sparked tremendous interest from foreign developers to gain footing in the gambling town. Wynn's two existing resorts – the Wynn Macau and Encore – have become the cash cows of the company, accounting for 76 percent of Wynn's operating income last year when it generated $765 million in operating income last year.
Combine that with the US casino industry's slow recovery from the recession and it seems that everybody wants a piece of the Macau pie and those that already own a slice are looking to add even more to their plate. In the case of Wynn, the Las Vegas-based company has been seeking to build a third resort in Macau and has eyed the Cotai Strip for the past six years, according to the Jornal Tribuna de Macau.
Despite the report of Wynn nearing an agreement in Macau, industry experts remain skeptical of the news, including Nomura analyst Harry Curtis who, according to the AP, said that he was taking a "conservative approach to the news because it didn't come from an official government source."
Curtis did point out that securing new land in Macau could be construed as a sign that the Las Vegas company is alive and well with plenty of room to grow its business, and could potentially lead to substantial increase in the company's stock prices.
Comments